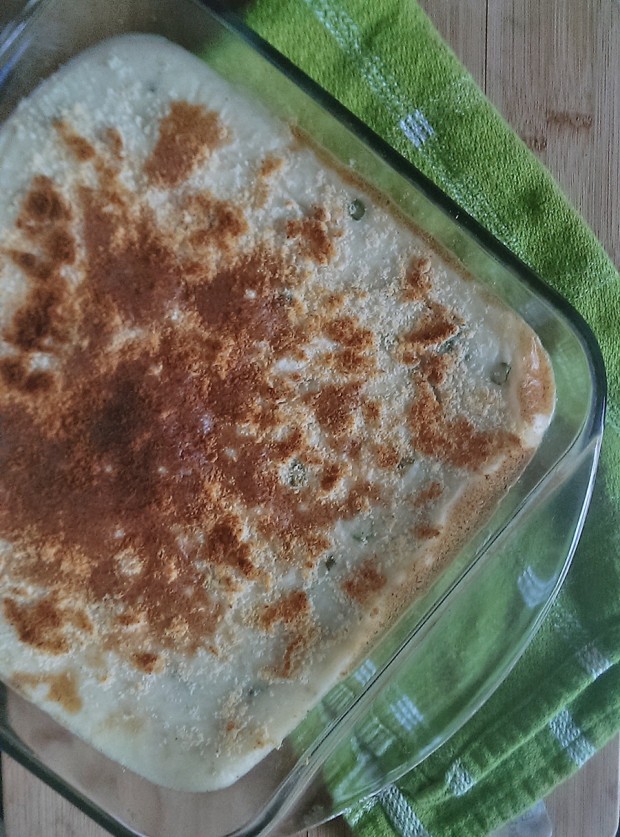 Another festive season has come and gone.  We had a really great Christmas and New Years and I hope you did too.  Heather and I have an exciting year coming up, and there will be a lot of stuff happening in the coming months with Fresh Menu Planner.  Heather's kidneys have been bugging her again however, and my focus for the  next little while will be low oxalate foods.  If you have any kidney problems, or want to find a way to help prevent kidney stones, then read my original post on this topic here.  It's time for a low oxalate meal plan, and this roasted garlic, goat cheese, and cauliflower puree is a great way to start!
On boxing day we were over at my sister and brother-in-law's house, and they always create a great meal for us.  Sometimes its nice to have someone else do the cooking!  My sister Melissa prepared this really great cauliflower mash, and I thought making my own version would be perfect for the blog.  Cauliflower is a low oxalate food too which is great for Heather's kidney issues.
What makes this dish so delicious is the goat cheese, as well as caramelized garlic and onions.  It's a relatively easy side dish to make, and can be made in large batches.  One of my favorite tools to use is a simple stainless steel vegetable steamer
 that fits right into the bottom of your pot and works well for the potatoes and cauliflower in this dish.
To add a little bit of color on top of the puree, I baked it in a Pyrex Bakeware casserole dish
 with some grated parmesan cheese.  This dish changed Heather`s opinion of cauliflower!  I love making dishes for her that she absolutely loves.

Roasted Garlic Goat Cheese Cauliflower Puree
Prep time:
Cook time:
Total time:
Ingredients
1 head of cauliflower, rough chopped
3 medium sized yukon gold potatoes, rough chopped
1 cup of goat cheese
¼ of a yellow onion, rough chopped
2 cloves of garlic rough chopped
1 Tablespoon of butter
2 Tablespoons of Organic Olive Oil
½ cup of chopped green onions
1 Tablespoon of grated Parmesan cheese
High quality Himilayan sea salt and Pepper to taste
Instructions
put 1 cup of water into a large enough pot to hold the potatoes and cauliflower.
Add in your stainless steel steam basket to the bottom of the pot, and add your rough cut cauliflower and potatoes.
Cover with a lid and steam for 15 to 20 minutes, or until the potatoes are soft enough to mash.
Heat up a small pan and saute the onions and garlic with 1 Tablespoon of olive oil and the butter. Cook until golden brown.
Add the cauliflower, potatoes, goat cheese and onion mixture into your Cuisinart Food Processor and pulse until fairly smooth. Add in the other Tablespoon of olive oil and season well. Blend until completely smooth. Add in the green onions and pulse to mix through.
Empty out into a casserole dish and top with the grated Parmesan cheese. Broil for a few minutes until golden brown.
Take out and serve right away.
If you live with, or are someone who is dealing with kidney stones, than this recipe is a great healthy start to your new year.  I've seen Heather in a great deal of discomfort when she has to put up with kidney pain, and moving forward you will be seeing a lot of low oxalate recipes.  One of the biggest things that you can do is make sure you are drinking a lot of water everyday, especially with your meals.  I hope this helps!
You may also like :