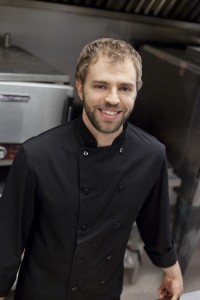 Hey everyone!  My name is Matt Kearns and I have been a chef for over 13 years and cooked in a variety of restaurants in that time.  I'm a classically trained chef and I graduated from the Southern Alberta Institute of Technology in 2005.  My passion with food used to be for fine dining, and I do love eating it and creating it.  I now have a more functional outlook on food.  Food is fuel, but it can also be delicious, without having to be complicated or expensive
I am formerly one of the owners of The Main Dish, a concept in Calgary, Alberta that focuses on Healthy Eating in a convenient way.
Over the last 4 years my career has shifted slightly to allow me to spend more time on this blog and hang out with my beautiful wife, Heather.  I currently work for Gordon Food service as a sales rep, and prior to that I spend a couple of years selling kitchen equipment to many commercial establishment.
I have had the opportunity to cook for many athletes through organizations such as the Calgary Stampeders, Bobsled Skeleton Canada, and the Calgary Flames. It is definitely a no brainer that nutrient dense food is required so these athletes can perform at their best.  If  the athletes don't get to eat properly, then their performance suffers!
I created the Fresh Menu Planner website to showcase my skills from 13 years of being in professional kitchens.  I want to take what I know and share how easy it is to create healthy, full flavored dishes.
I believe that eating food comes down to one thing; balance!  I eat healthy probably about 75 to 80 percent of the time, and more indulgent the rest of the time.  What do I like to indulge in you may ask?  Well my one favorite guilty pleasure is ice cream!  I also love eating chicken wings, and big juicy steaks.  I've once been kicked out of an all you can eat buffet!  That was a long time ago but it did happen!
I definitely don't eat myself sick anymore, but I also don't stress if I have had a larger meal, or opted for dessert when eating out.  To me, a combination of eating healthy most of the time, lots of exercise, and stress relievers like meditation all done in balance, is key to a happy, healthy, well fed life!
Thanks for checking out my website.  It's been  a fun journey over the last few years and I am hoping I can help you with some fun, tasty, and healthy recipes.  Keep it fresh!