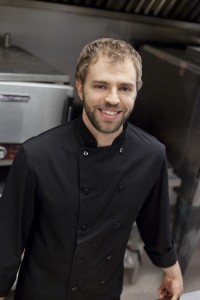 Hey everyone!  My name is Matt Kearns and I have been a chef for over 13 years and cooked in a variety of restaurants in that time.  I'm a classically trained chef and I graduated from the Southern Alberta Institute of Technology in 2005.  My passion with food used to be for fine dining, and I do love eating it and creating it.  I now have a more functional outlook on food.  Food is fuel, but it can also be delicious, without having to be complicated or expensive
I am currently one of the owners of The Main Dish, a concept in Calgary, Alberta that focuses on Healthy Eating in a convenient way.
Our customers are able to come in to our restaurant, and order freshly prepared proteins, salads, starches, and vegetables, that they can heat up and enjoy in the comfort of their own home.  Even better they can order healthy breakfast, lunches and dinners from a hot counter which makes life even easier!  Our focus is allowing the customer to enjoy good food on their terms.  This is especially important for busy lifestyles!
I have had the opportunity to cook for many athletes through organizations such as the Calgary Stampeders, Bobsled Skeleton Canada, and the Calgary Flames. It is definitely a no brainer that nutrient dense food is required so these athletes can perform at their best.  If  the athletes don't get to eat properly, then their performance suffers!
I created the Fresh Menu Planner website because I want to share all I have learned in the last 13 years of cooking, and now more recently, things I have learned about the healthy side of food.
When I was first taught cooking at SAIT, I remember one of the first things I got to learn was cooking a thick and creamy mushroom soup.  I used classical French cooking methods like using lots of flour and butter to make a roux, and then add thick whipping cream.  I won't lie it was a very delicious soup!  Most cooking in culinary school uses these types of cooking methods, which safe to say aren't always the healthiest!
I believe that eating food comes down to one thing; balance!  I eat healthy probably about 75 to 80 percent of the time, and more indulgent the rest of the time.  What do I like to indulge in you may ask?  Well my one favorite guilty pleasure is ice cream!  I also love eating chicken wings, and big juicy steaks.  I've once been kicked out of an all you can eat buffet!  That was a long time ago but it did happen!
I definitely don't eat myself sick anymore, but I also don't stress if I have had a larger meal, or opted for dessert when eating out.  To me, a combination of eating healthy most of the time, lots of exercise, and stress relievers like meditation all done in balance, is key to a happy, healthy, well fed life!
I definitely didn't create this website to tell you how you HAVE to eat.  My goals are to help influence those that want to make a greater impact on their lives.  Here are some of the things that my website will offer:
1.  Healthy and delicious recipes that are easy to make, and are great for all ages!
2.  A blog on my pursuit of eating healthier and teaching others to do the same.
3.  Ideas, tips, and tricks on how to help achieve your nutrition goals.
4.  Recommended products.  I definitely don't have all the answers, but I will be doing a lot of research on products, books, and food items that can help create more freedom in your life!
I'm excited to share my passion of great food with all of you.