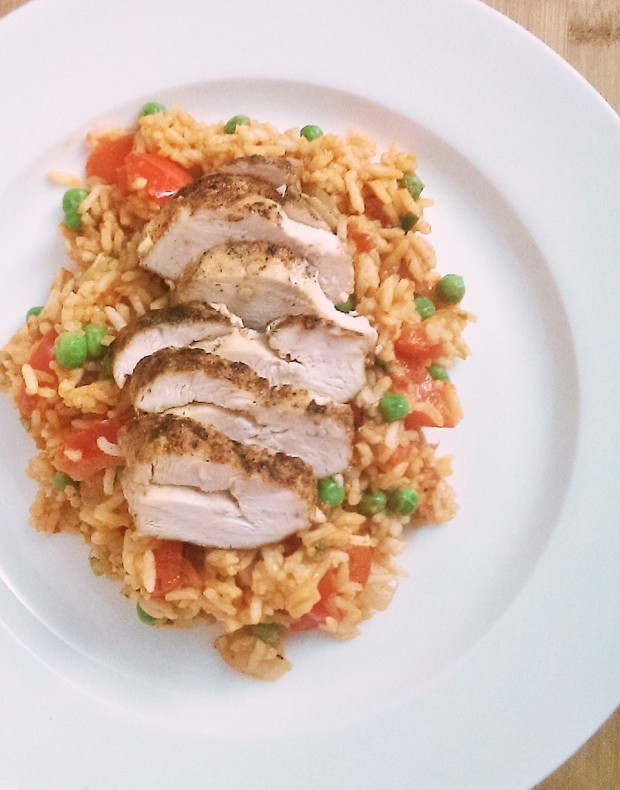 I am on a low oxalate kick.  Even though this recipe for a simple chicken jambalaya is geared towards people with kidney issues, that shouldn't stop everyone from trying this dish!  Since 2015 has started I've really been working on trying to create healthy, delicious recipes that are kidney diet friendly.  Watching Heather in pain from calcium build up, and her weak renal artery hasn't been fun. I love my wife and want her to be healthy!   I'm still trying to understand why all of these healthy foods that are so high in oxalate, are bad for Heather!  Spinach!  Beets!  Almonds!  All bad for Heather's kidneys!  She can still eat them but in smaller quantities.  Sadly she can't drink much alcohol either.
It's frustrating, but as a chef I am up to the challenge, especially when there are a lot of vegetables that she can still have.  Peas, cabbage, onions and garlic are just some of the vegetables that are fair game.
A lot of my dishes are meant to be simple.  They are something that can be made in a reasonable amount of time with a reasonable amount of ingredients on any day of the week.  This chicken jambalaya is no different.

Low Oxalate Chicken Jambalaya
Prep time:
Cook time:
Total time:
Ingredients
Chicken
1.5 lbs of chicken breasts
1 teaspoon of High Quality Garlic Salt
1 teaspoon of Chili Powder
1 teaspoon of Montreal steak spice
salt and pepper to taste
2 Tablespoons of Olive Oil
Jambalaya
2 cups of White or Wild Rice
4 cups of chicken stock
1 red pepper, ¼" dice
¼ white onion, ¼" dice
½ cup of green peas
1 teaspoon of Chipotle Powder
1 teaspoon of dried basil
1 teaspoon of chili powder
1 cup of Canned Chopped Tomatoes, Organic
2 cups of Organic Tomato Sauce
2 Tablespoons of Olive Oil
Salt and pepper to taste
Instructions
Cook the rice according to the instructions on the box. Use the chicken stock in place of water.
Heat up on high heat a large saute pan with the 2 Tablespoons of olive oil.
Season the chicken breasts well with the spices and sear in the pan until golden brown.
Add in the peppers, onions, and the jambalaya spices to the pan and put into a 375 degree F oven and cook until the chicken is cooked to 165 degrees F.
Take the chicken out of the pan and set aside. Keep warm.
Make sure the spices are well cooked out and then add in the chopped tomatoes, tomato sauce, and peas and let come to a simmer.
Add in cooked rice and mix together well. Serve on plates with slices of chicken on top.
My goal over the next little while is to keep creating these healthy, kidney friendly meals that are perfect for a low oxalate diet.  I would love to know if any of my readers out there suffer from similar symptoms that Heather suffers from.  Let me know some food items that you like to cook with.  I'm always looking for more ideas!  Throw a comment down below and let's chat about it!
You may also like :