When I think of what makes a great slow cooker recipe,  I immediately go to pulled pork.  It's one of those recipes that can be prepared once simply, and has SOOOOO many variations.  You can take a basic pulled pork recipe and add Asian flavors, southern BBQ flavors, Thai, Indian, French and the list goes on and on.  When you Google pulled pork recipes, there are 1.8 MILLION results!  Are you kidding me?  How in the hell can I compete with that many recipes??!!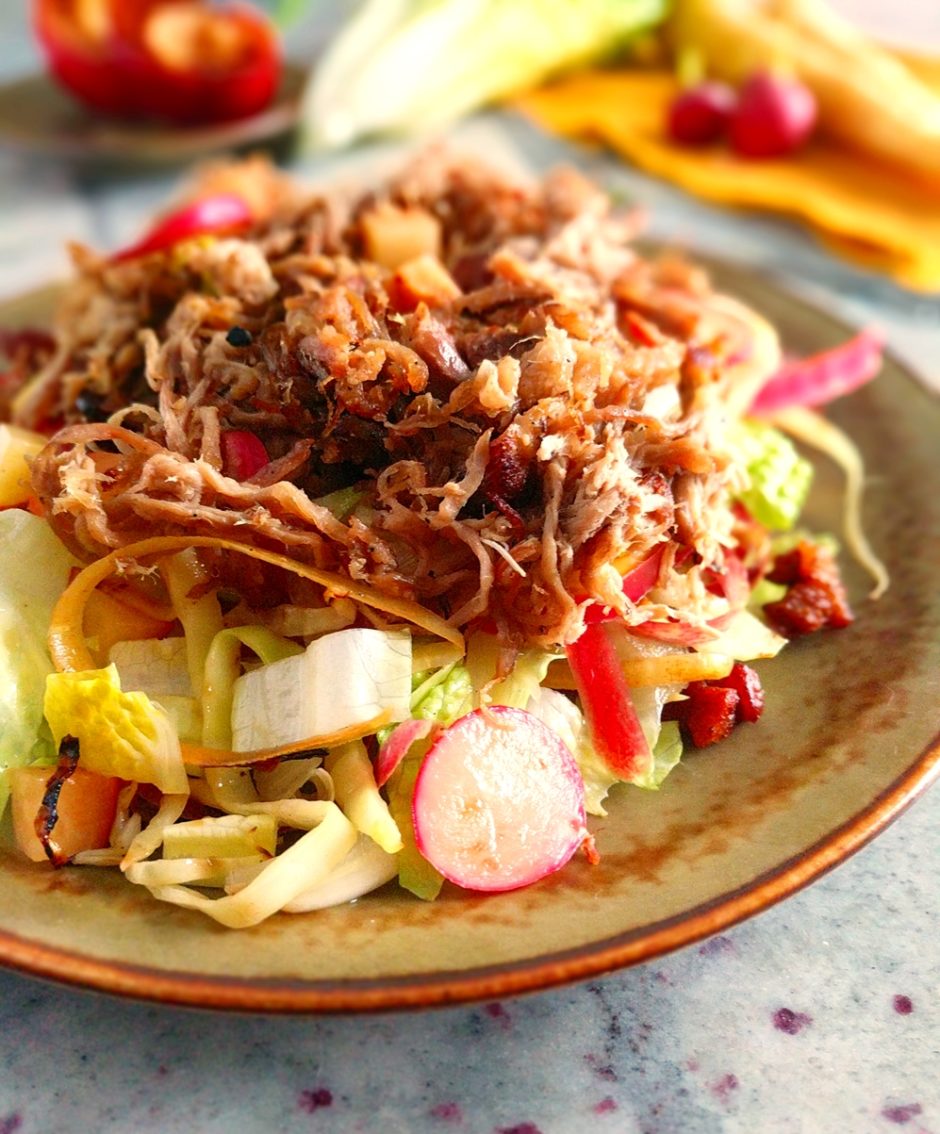 Well,  I believe I have a chance.  Just here me out on this one!  I've cooked my fair share of pulled pork recipes and think this one can not only compete, but may just out taste them.  Dare I say that??!
This pulled pork follows some very basic rules when creating a slow cooker recipe:
The meat is well seasoned and seared on high heat to develop flavor, flavor, and more flavor!  This is one of the mistakes I see most often on pulled pork recipes.  I have seen SOME recipes (I won't name names!) where the uncooked meat is simply seasoned and submerged in cold liquid in a slow cooker.  I don't want to give anyone a hard time here, but that meat is missing one of the best opportunities to develop flavor.  Cold liquid also brings me to point #2
The liquid should be hot prior to submerging said seared meat.  This allows for a quicker cooking time, and you can develop some flavor heating up the liquid prior to starting the slow cooking process.
Braising meat should be a nice, slow process.  That's why they call is a slow cooker recipe!  Good pulled pork should take 4-5 hours (this of course all depends on how much pork and how big your crock pot is!)  Many slow cookers have multiple temperature settings.  You want a nice, low simmer.  If the pulled pork is left and is boiled to death (literally, that's what it will taste like!!) it will be dry and tough.  A nice slow simmer will treat the pork beautifully and patience will be rewarded
These tips were taught to me in culinary school by 60 year old chefs who have braised hundred and hundred of pounds of meat, without a slow cooker….uphill both ways in the snow…..wait…. you know what I mean!  They really know their slow cooker recipes!
I also thought I would make this pulled pork recipe different by tossing it into a tasty, warm salad with many low oxalate ingredients!  There's those two words again.  This post isn't particularily focused on kidney stones and low oxalate diets, but it works!  For a quick reminder of how this diet works, head back to my cabbage beef wraps post.  I really love how this salad turned out.  It's crispy, crunchy, sweet, tangy, and fresh.  A very well rounded pulled pork recipe indeed.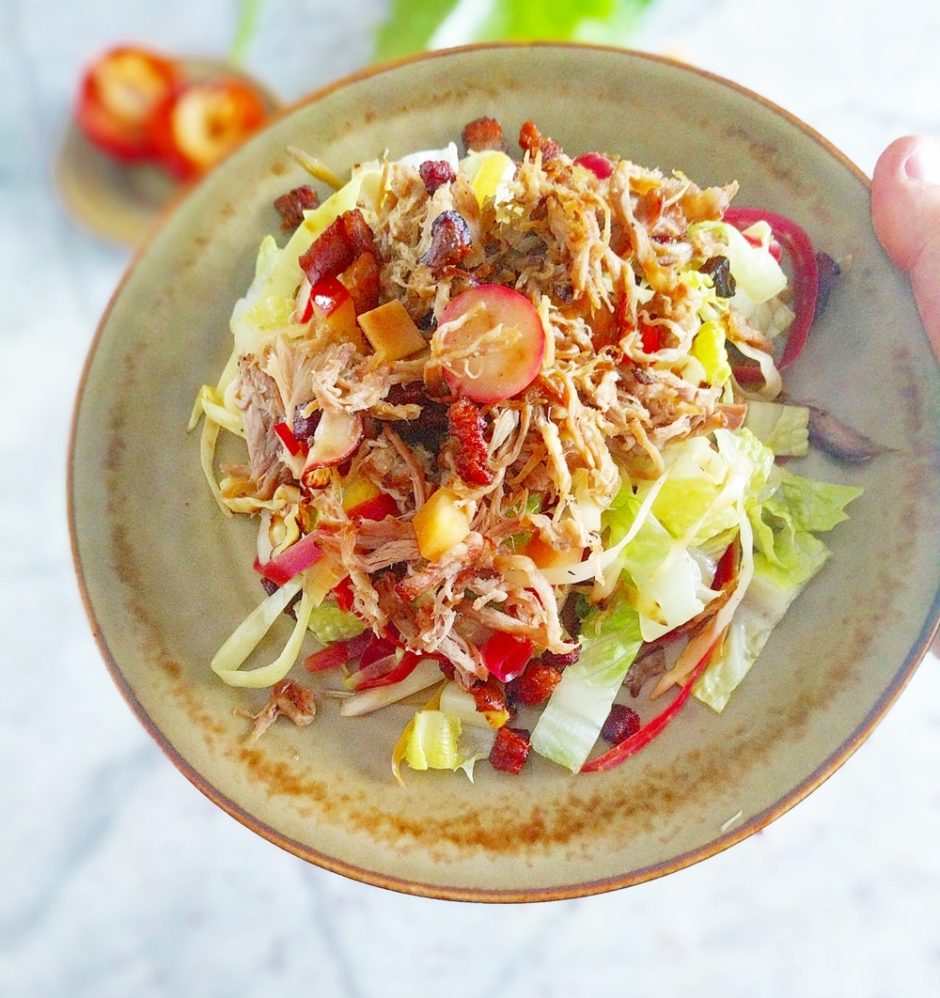 There are so many other things to talk about with this amazing salad.  Although, some of my chef friends may be disappointed that I took the fat cap off of the pork shoulder!  I promise that I turned it into something delicious….namely crispy maple lardons!  What are lardons you ask? Well they are delicious, thick cut slices of bacon, cut into cubes and cooked until nice and crisp.  So instead of buying bacon, I decided it would be a great idea to cure some fat cap with maple syrup and salt, let it sit for 4-5 hours (pulled pork cook time) and then crisp it up into something absolutely divine.  I don't usually use the word divine, but…..you know….the flavor made me say it!  The key to making these tasty crispy bits is a nice hot oven (cooked these little guys at 425) and stirring often to make sure they don't burn!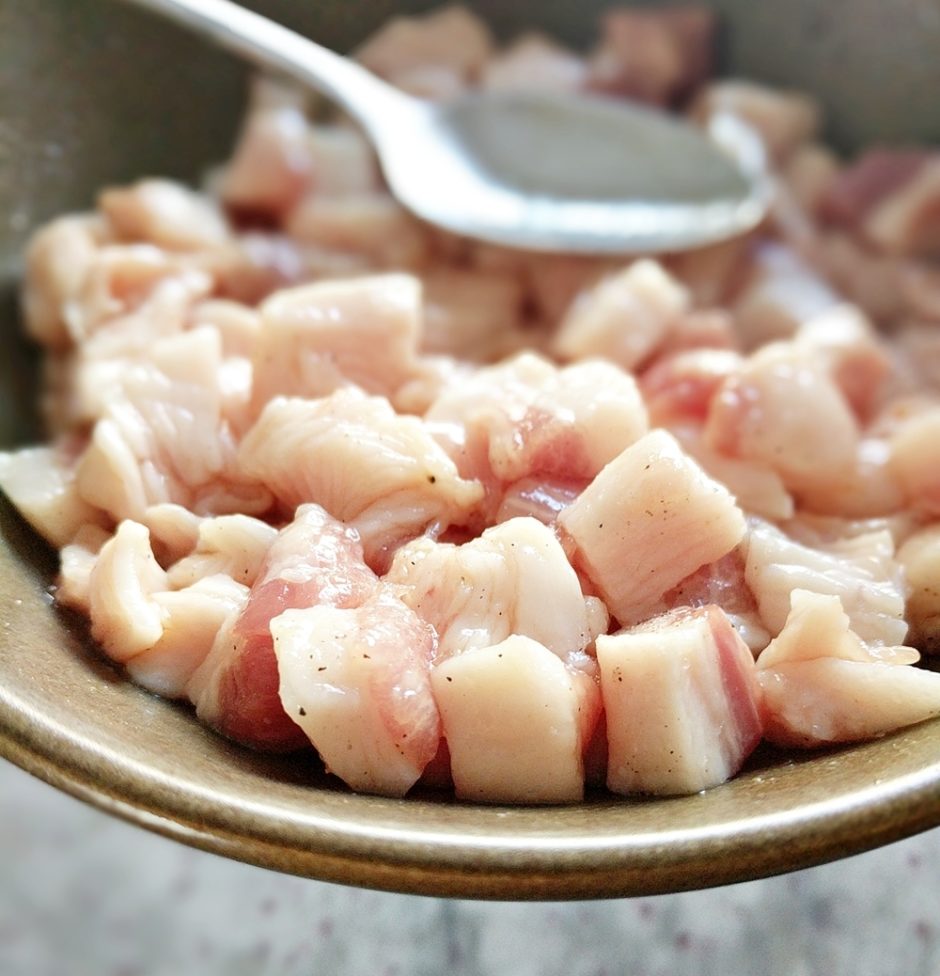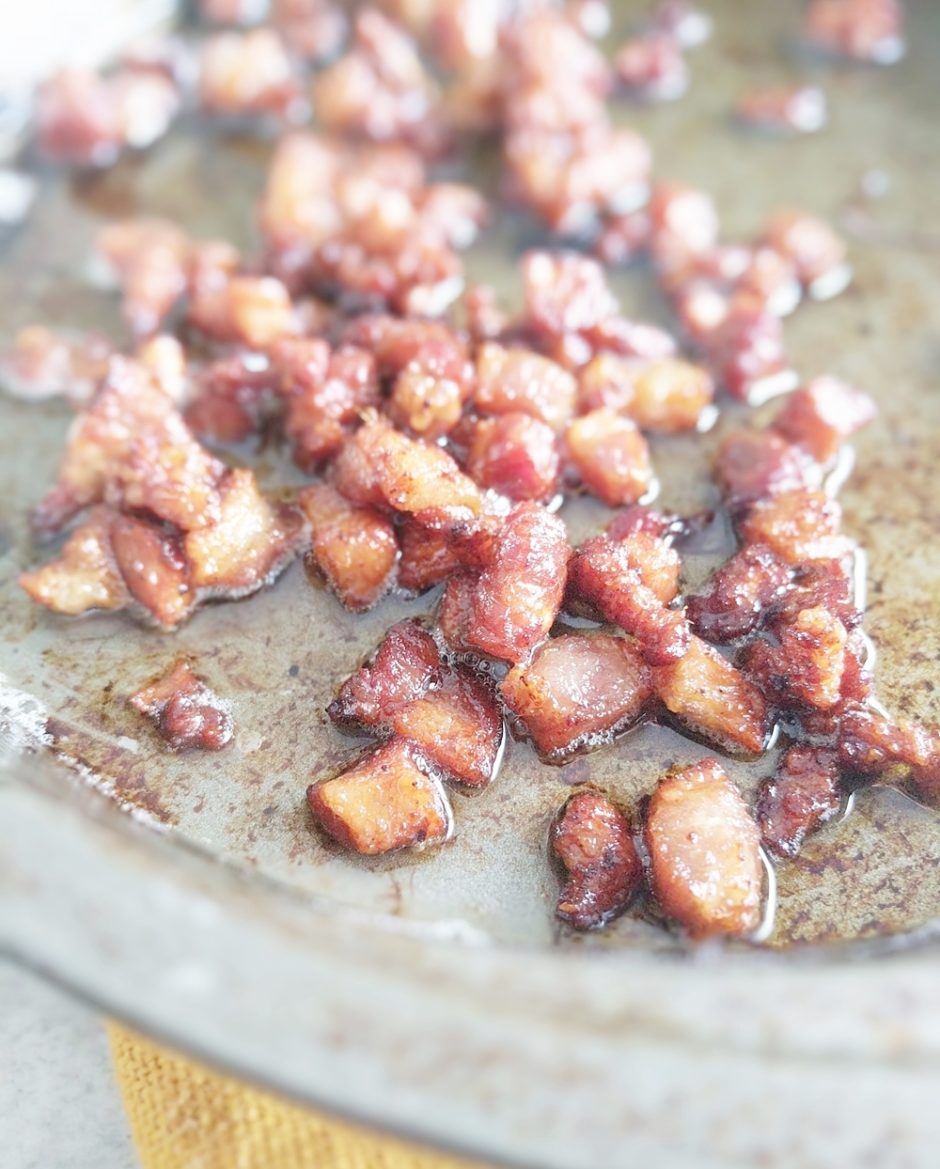 How drool worthy is that after picture?!  The best part was that when I pulled these crispy lardons out of the oven, they were sticking together like candy.  They are sweet, salty, crispy, and add some much needed texture to this salad!
For the veggies and the dressing I used ingredients that made this a low oxalate recipe.  That won't happen in all of my posts, but this one kinda worked out that way!  I roasted cabbage and sliced radishes and tossed them with freshly peeled carrot strips and some charred and diced red plums.  Sounds pretty fancy am I right??  Again I was trying to go for that full flavored and textured dish, and I still think this one turned out great!  I did use some romaine lettuce as well, which isn't low oxalate, but feel free to leave it out if you are sensitive to kidney stones.
For the dressing I used a simple combination of prepared Dijon mustard, good ol' Canadian maple syrup, and tasty and healthy Braggs unfiltered apple cider vinegar (affiliate alert!)  It's great in salad dressings and has a ton of health benefits!
Slow Cooker Pulled Pork Salad
Ingredients
Pulled Pork
2

lbs.

pork shoulder with fat cap removed

1

tbsp

smoked paprika

1

tbsp

chili powder

1

tsp

garlic powder

to taste

salt and pepper

2

tbsp

vegetable oil, for browning

3

tbsp

maple syrup

3

tbsp

prepared Dijon mustard

1

tbsp

honey

1

L

chicken stock
Crispy Maple Lardons
1

only

the fat cap diced into 1 cm cubes

1

tbsp

high quality maple syrup

1/2

tsp

salt to cure
Salad Mix
1/2

head

green cabbage, thinly sliced

10

each

red radishes, thinly sliced

3

each

multi color carrots, peeled into strips

2

each

red plums, cut in half with pit removed

1

head

romaine hearts, sliced

4

tbsp

vegetable oil, for browning and for drizzling

2

tbsp

maple syrup

2

tbsp

Braggs apple cider vinegar
Instructions
Pulled Pork
Remove the fat cap with a sharp boning knife, and set aside. Season the pork well with all of the spices. Heat up oil in a large pan until just below smoking point. Sear all sides of the pork shoulder until nice and crispy and brown.

Whisk together the honey, maple syrup, mustard and chicken stock and pour into slow cooker. Turn on and make sure liquid is hot before putting the pork shoulder in there as well. Add in a few bay leaves and set on high. Make sure the liquid just simmers, not just boils away. Cook for 4-5 hours.

NOTE: The pork in this case doesn't have to be fully submerged in the liquid. As long as you leave the lid on and let the slow cooker do its thing, the pulled pork will turn out great!

Once the pork is done, pull it out of the slow cooker and use two forks to shred the pork and set aside.
Crispy Maple Lardons
Take the diced fat cap and mix it with the salt and maple syrup, let sit for a few hours.

Lay the fat out on a tray and cook in a 425 degree oven until the pork fat crisps up and becomes quite crunchy, about 10-15 minutes.

As the fat cooks it will want to stick together. Use a wooden spoon to mix the lardons around while cooking. Set on a plate with some paper towel to drain the excess fat.
Salad Mix
Heat the vegetable oil up in a pan. Get the pan nice and hot and add in the shredded cabbage and the radishes. Cook for just a couple of minutes to get some browning on the veggies, but not over cook them. Remove from the pan and set the plum halves flesh side down to caramelize the sugars. Turn down the heat a bit so you don't burn them. Set aside to cool.

Dice the plums and add into a large bowl with the cabbage, radishes, carrot curls, chopped romaine. mix in 2 tbsp of vegetable oil, and the syrup and vinegar and toss well.

Plate the salad, and garnish with the crispy maple lardons and the pulled pork. For some added flavor, caramelize some of the pulled pork in a pan with more maple syrup. Enjoy!

You may also like :