Tasty protein balls can be made out of anything from chocolate, to oats, and all nut butter imaginable.  The problem is that these are all high oxalate foods!  This post will share how those who are susceptible to kidney stones can enjoy a low oxalate recipe for these quick grab and go energy bites!  Read on and find out more friends!

Hey guys!  First off let me say that I am so incredibly happy that January is finally over!  This January has felt particularly long and I am sure you all can relate with me, especially those that live in Canada and the colder states.  Spring can come anytime now am I right??
So it seems right now all the rage is around these little morsels called protein balls, or energy bites.  (Just check your Pinterest feed and I am positive you'll see them pretty quickly!  Whatever you want to call these things I love em! I love my protein and these little suckers are a great way of getting extra vitamins, nutrients and of course….PROTEIN!
However, the problem is that so many ingredients in recipes for protein balls contain things that are high in….you guys guessed it…
Oxalate! (If you needed to learn more about the low oxalate diet, read my previous post on it here.)
There are items like nut butters, crushed almonds, chocolate, sunflower seeds, and many other things in these energy bites/protein balls that it makes it tough for those on low oxalate diets and who are prone to kidney stones.  Whey protein, which is another ingredient in many recipes for protein balls, is also one that also isn't always the best thing for those with sensitive kidneys.  For this recipe I found a really great vegan protein from Bulk Barn of all places!  This protein powder is rice based and has a blend of healthy mushrooms for added vitamins and minerals.  You can't even taste it in the recipe.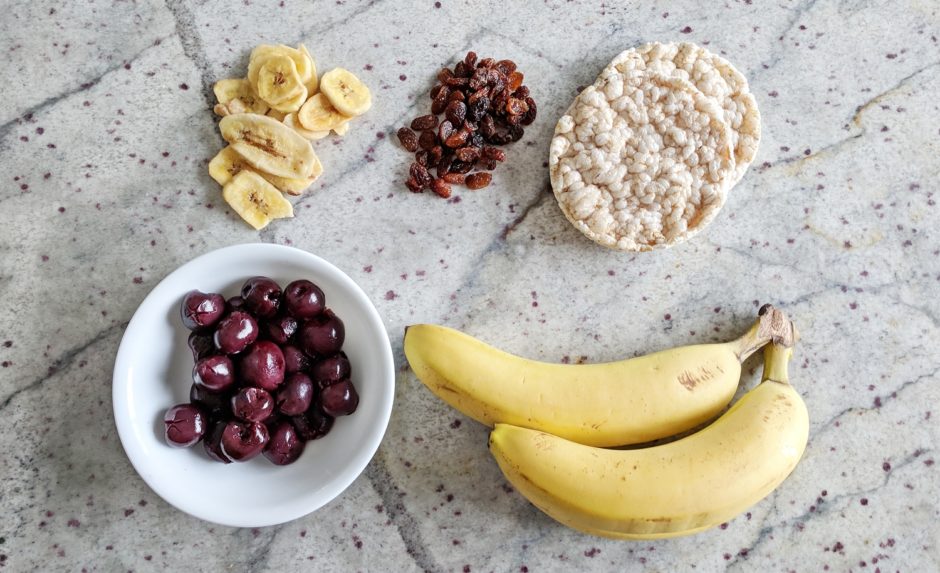 I wanted to try something different and wanted to use banana chips and rice cakes as the base.  Both of these items are low oxalate and taste great with sultana raisins, as well as canned cherries to add a touch of sour. I'm also using fresh bananas roasted with some spices and mashed together with lots of butter (YES!) used as the glue to hold these protein balls together.
There are a few key points in giving these energy bites as much flavor as possible.  First, is the bananas.  Usually with baking I make sure that the bananas are nice and black, but not with this recipe!  I like using stage 4/5 bananas and roasting them with a bit of cinnamon of cayenne.  Now, I have read up on cinnamon and this spice contains a moderate amount of oxalate, but this recipe uses such a small amount that it should be just fine!  Feel free to omit and replace with some grated nutmeg for a low oxalate option.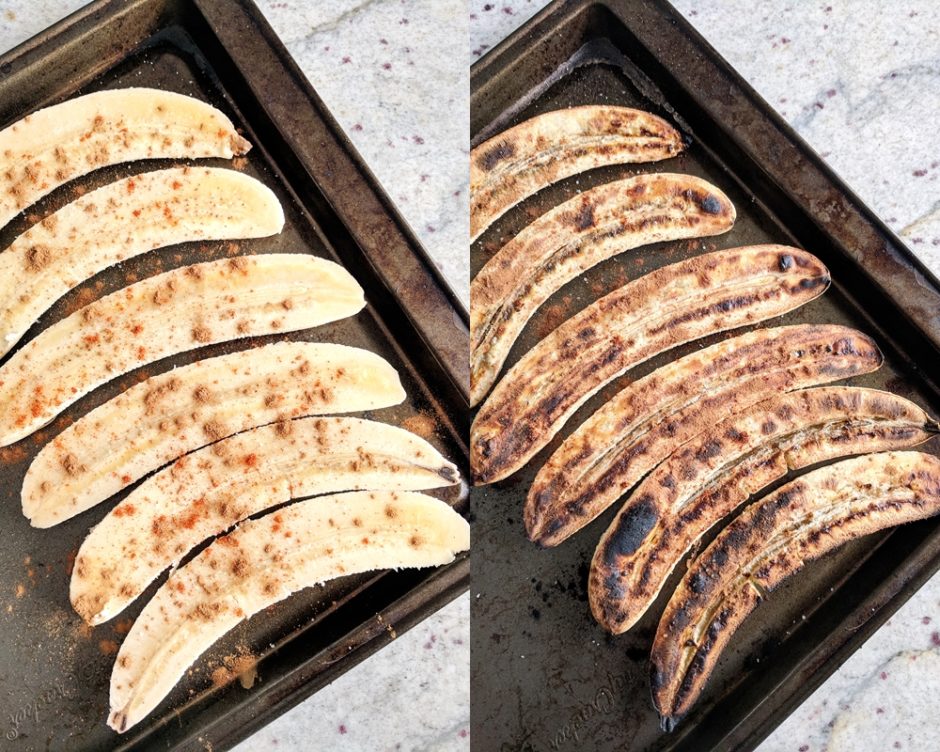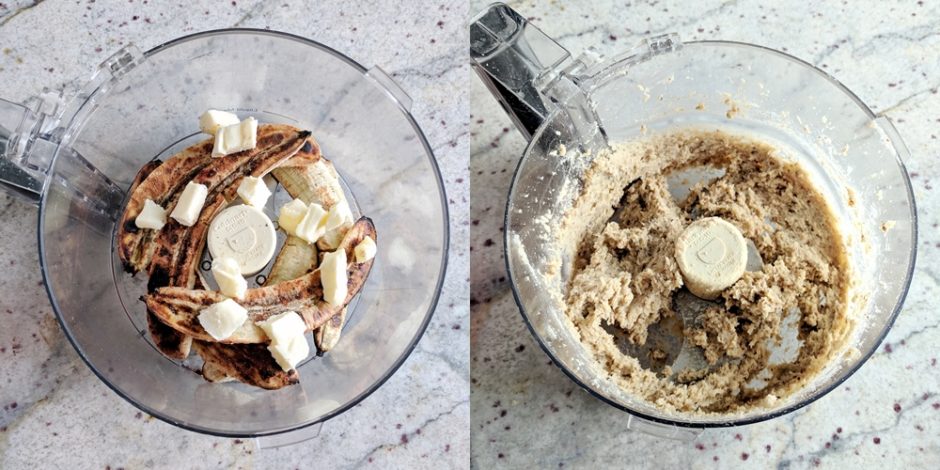 Look at that before and after?  All of that color in the 'after' picture is nothing but extra flavor in these energy bites.
And of course butter makes everything better!  It's low oxalate which is a double win!
When mixing together the rice cakes and the banana chips in the food processor I found out a very important thing.  The banana chips are way harder to blend than the rice cakes.  When I attempted my first batch all of the rice cakes disintegrated and the banana chips barely broke down!  This recipe is nice because if you want a bit of extra crunch in these energy bites, then you can leave the banana chips a bit larger.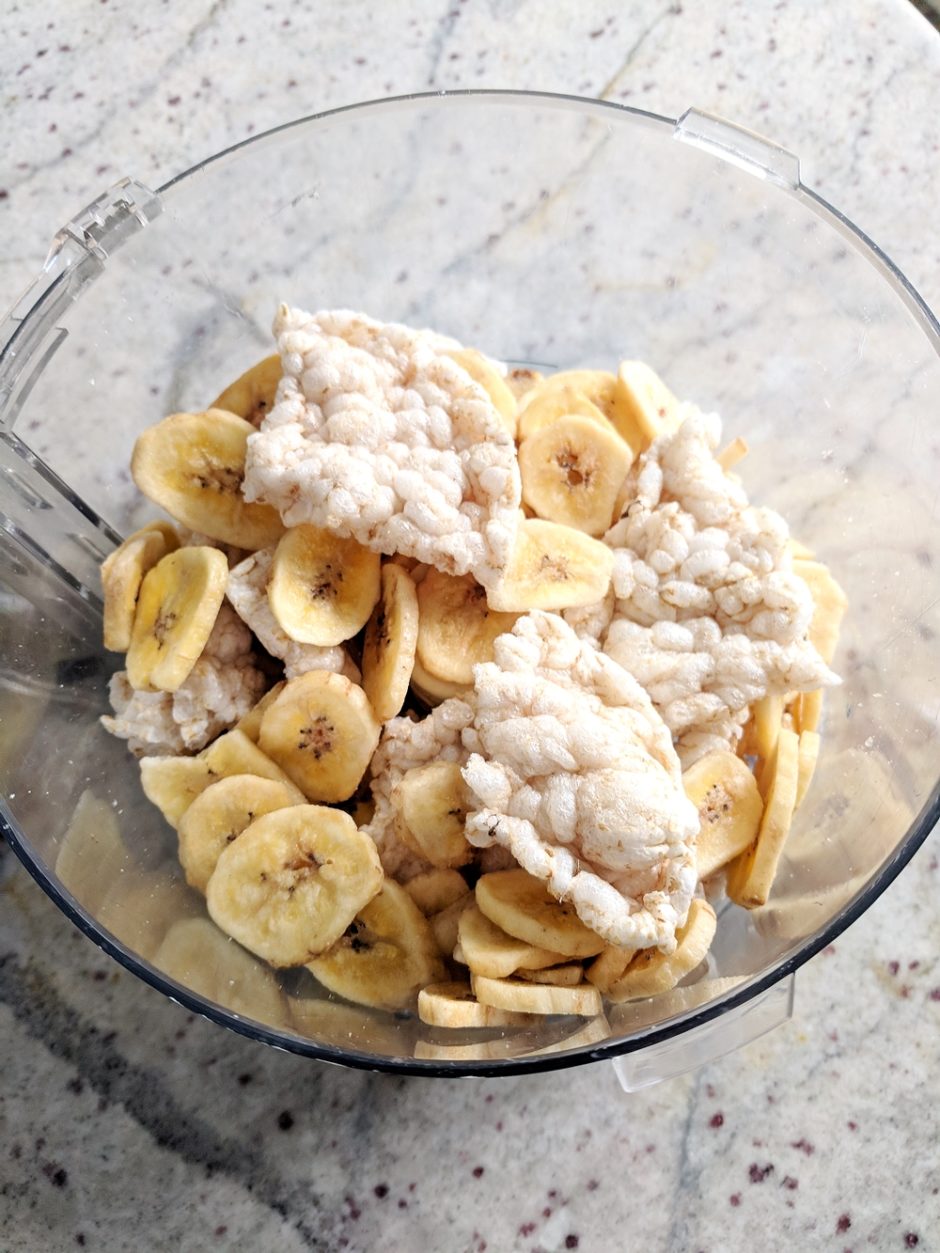 The final piece of the puzzle that holds these protein balls together is a simple egg white.  You bake them for 10 minutes at 350, and they are ready to eat!  On to the recipe!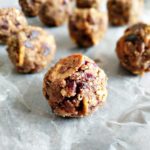 Low Oxalate Protein Balls with Cherries and Bananas
Ingredients
4

each

bananas, peels and cut in half lengthwise

4

tbsp

butter, room temperature, cut into small cubes

1

cup

banana chips

4

each

rice cakes, white or whole wheat

1/2

cup

raisins, sultana

3/4

cup

canned cherries, chopped

1/2

tsp

real vanilla extract

1/4

tsp

ground cinnamon

1/4

tsp

cayenne pepper

1

each

egg white

1

scoop

vegan protein powder (optional)
Instructions
Heat up your oven to the broil setting. Sprinkle the cinnamon and cayenne on the banana halves and put on a baking tray. Broil for 5-7 minutes or until the bananas are well caramelized. Set aside to cool

Set the oven to 350 degrees. Blend the bananas with 2 tbsp. of the cubed butter in a food processor until smooth. Set aside.

Blend the banana chips in the blender until the desired consistency has been achieved. Add in the rice cakes and pulse until chunky, and not too smooth. Put on a baking tray and bake in the oven until crispy, about 10 minutes.

Mix together the banana mixture, and the rice cake mixture with the rest of the ingredients. Mix well to incorporate all ingredients.

Make 1-2 oz balls and bake in the oven for 10 minutes until the protein balls have set. Let cool and enjoy.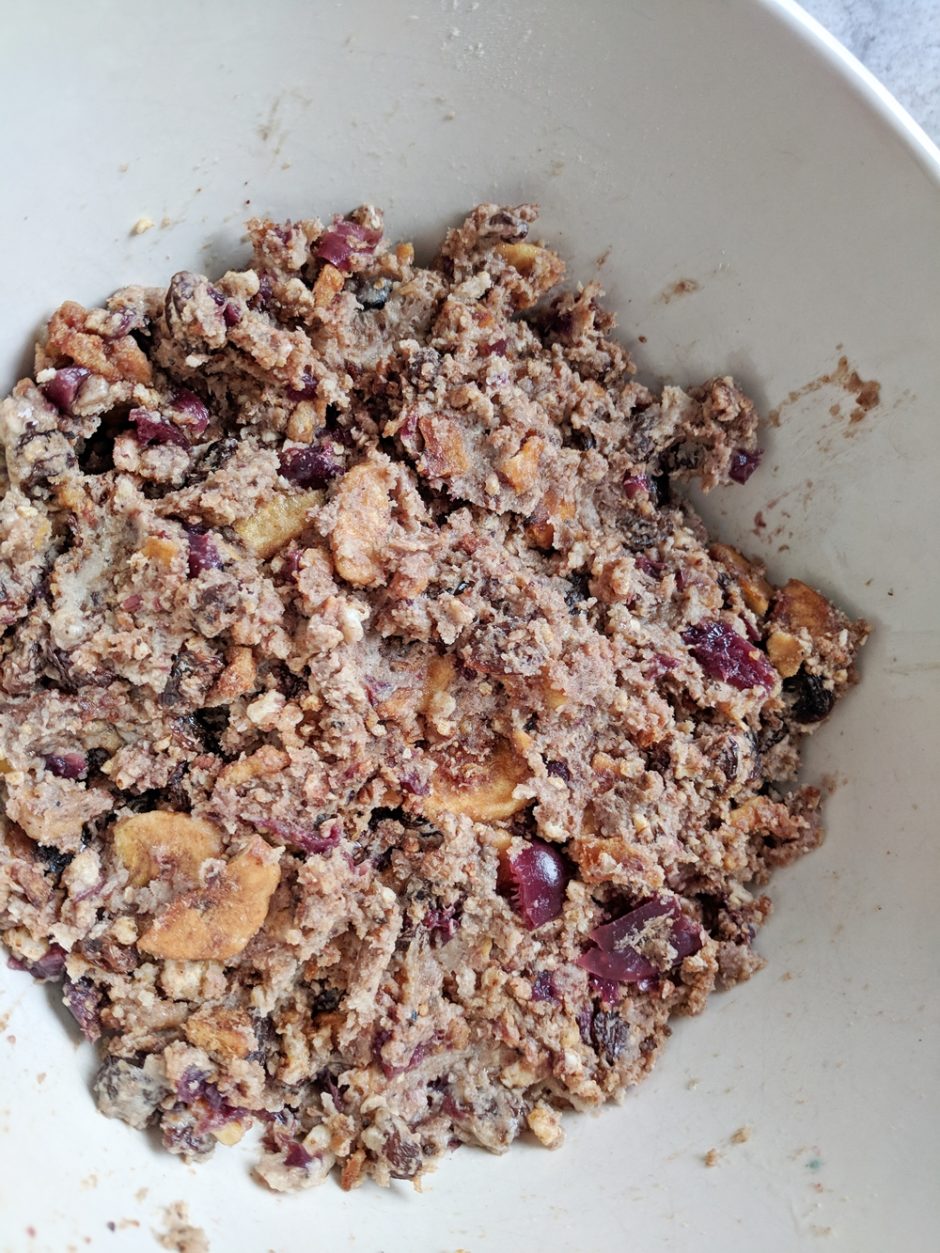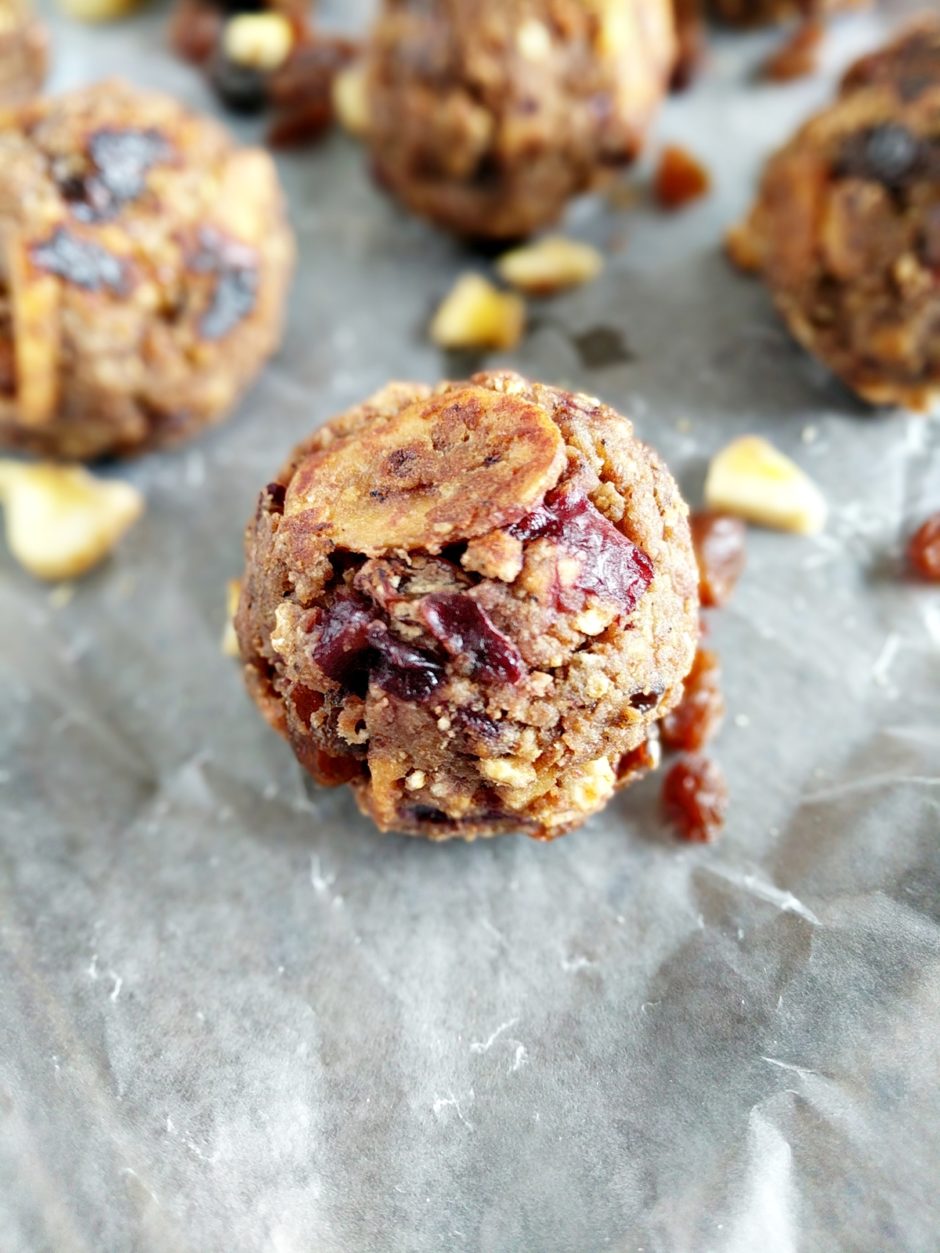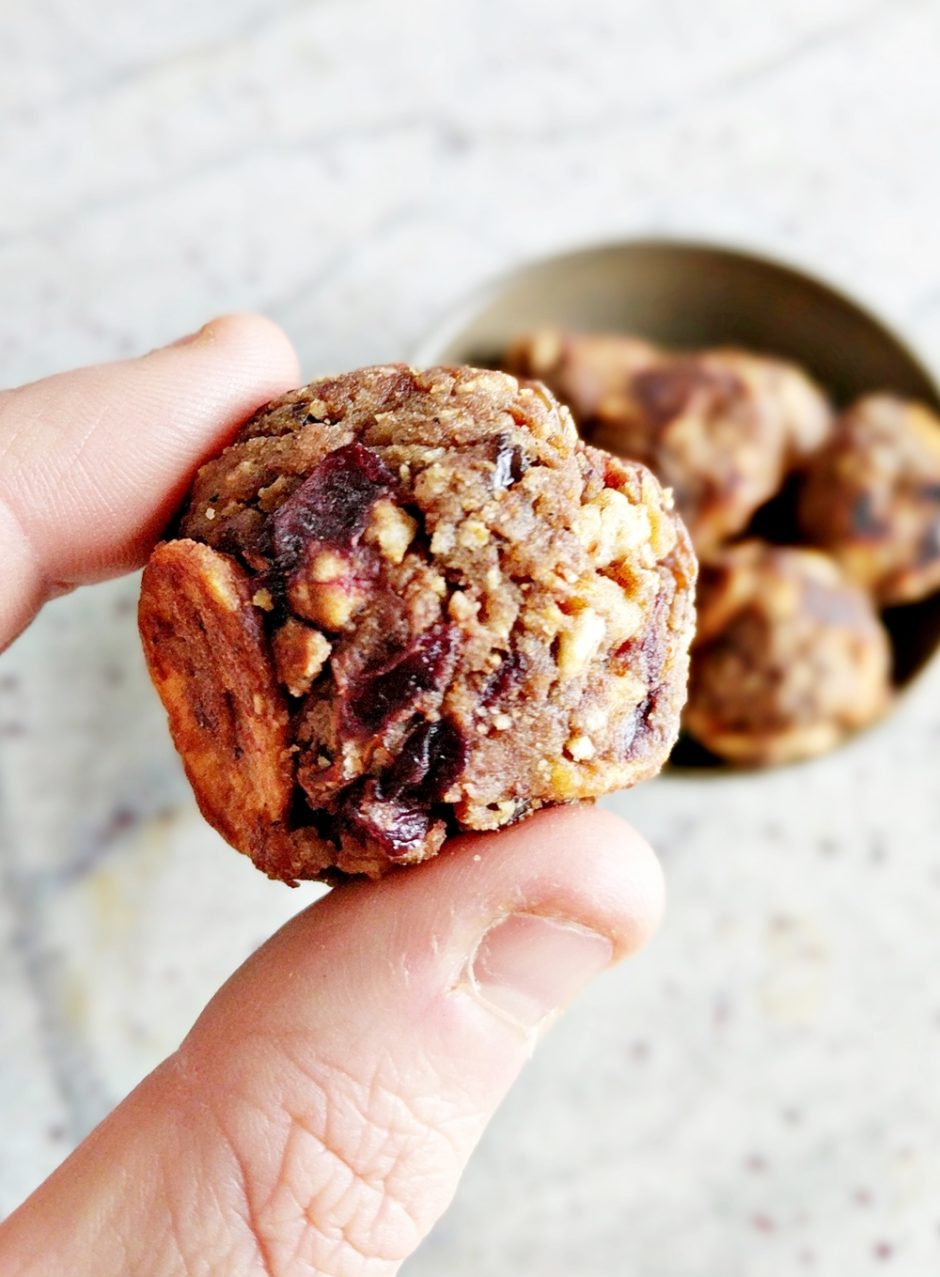 You may also like :