So you want to start juicing.  You have done the research on the health benefits, and found a way to get some of the best produce out there.  You are wondering where do you start?  What kind of juicer do you buy?  What the heck is a masticating juicer?  The purpose of this post is to show you some of the research I have done with different kinds of juicers, so that you can make a better decision about which one you should get.
There are two main kinds of juicers, centrifugal and masticating.  Both have pros and cons.  After I am done explaining the different types, however, I hope to give you better insight about which kind to buy.
The first kind I am going to go over is the centrifugal juicer.  These juicers are typically less expensive than the masticating ones, and are a good start for juicing beginners.  This juicer has a fast spinning blade that extracts the juice through a mesh strainer.  The pulp with shoot out the the sides of the juicer, which can be cleaned up after all juicing is done.
Breville BJE200XL Compact Juice Fountain 700-Watt Juice Extractor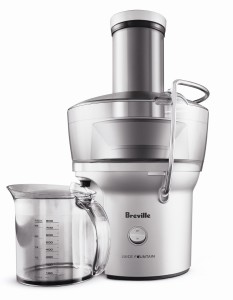 This juicer is actually the one I own now.  It is able to juice much quicker than a masticating juicer, and is relatively inexpensive off the start as a newbie juicer.  The cons of this one however is it doesn't get as much juice out of the vegetables and fruit, especially with leafy greens.  It can also be messy to clean.  Like I said, this is a great, inexpensive juicer to start with
The masticating juicer is quite a bit more expensive right off the bat if you are a beginner juicer, but is definitely worth the investment.  They are a lot sturdier, but the best part is how much more juice you get out of all vegetables and fruit.  A masticating juicer with actually crush the produce, which extracts the juice.  This allows for less oxidation, which means less nutrients lost.  These types of juicers will handle a lot of things that the centrifugal juicers won't.  Items like nuts, wheatgrass, and most leafy greens, will juice better with this kind of juicer.
Omega J8005 Nutrition Center Single-Gear Commercial Masticating Juicer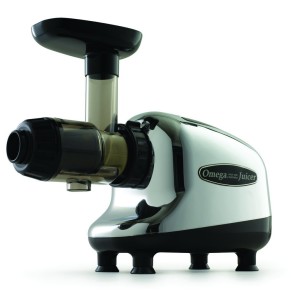 My buddy, Curtis Howden over at We Are Fortitude uses this type of juicer and he couldn't be happier.  He will just purchase all of his produce on Sunday, and juice everything into mason jars that he puts into the freezer right away!  This way you only have to juice once a week, but you still get all of the benefits of the juice.
Well I hope this has helped a bit with deciding what juicer to buy.  I have some other choices on my Amazon Astore if you wanted to look at some other options.
Happy jucing!
You may also like :