My friend Ian was the videographer at our wedding this past summer.  He's talented with a camera, and also currently works as the media and graphics content lead at a local theater in Calgary.  He's also cooked in the kitchen with me on and off for the last 8 years.  He has sent me a really great recipe for a tasty quinoa salad, and I wanted to promote this delicious recipe on the blog.
Warm Quinoa Salad with Cilantro Vinaigrette
(Makes 1 serving.  The dressing will make more but can last for a few days in the refrigerator)
1 cup cooked quinoa
1/2 cup corn
1/2 cup shucked edamame beans
5-8 grape tomatoes
2 teaspoon diced red onions
handful spinach
1 sliced radish
1 teaspoon of olive oil and salt and pepper to taste
In a lightly oiled and nearly smoking hot pan sear the tomatoes. Roll them gently until a light browning on 50% of the surface. Add corn and soy beans and sautee with a pinch of salt and liberal amount of pepper. If tomatoes haven't already exploded (yeah watch out for that, they can explode) squish the tomatoes and toss lightly. Combine
in a mixing bowl with quinoa and sliced radishes and allow to sit 5 minutes or so.
Cilantro Vinaigrette:
1/2 cup of cilantro
4 Tablespoons of lime juice
2 Tablespoons of rice vinegar
1 Tablespoon of  honey
1/2 teaspoons of sesame oil
1/4 cup olive oil
1 teaspoon of minced ginger
In a blender liquefy all ingredients other than oils. while on high slowly add the oils into the blender to emulsify. If the mixture doesn't thicken enough you can slowly add more olive oil a teaspoon at a time. It may have warmed up a bit with the friction of the blender so allow it to cool a bit in the fridge before use.
Toss the quinoa mix with vinaigrette to your desired potency and place on a bed of spinach.
This is a super simple salad that could go with a piece of fish, or works perfect on it's own as a healthy salad.  Thanks again to Ian for sending me this awesome recipe.  Good job man!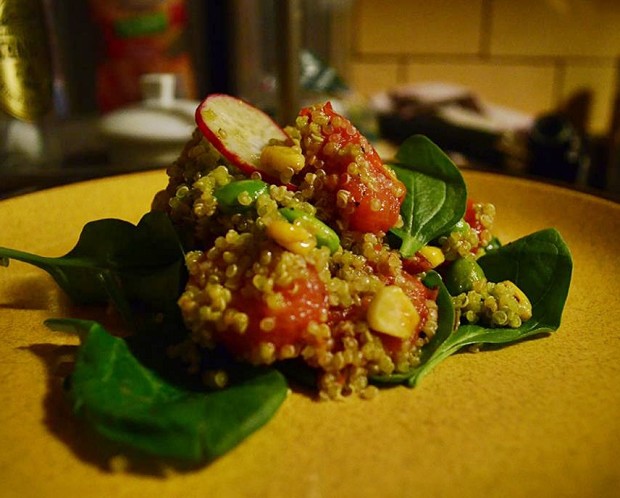 You may also like :