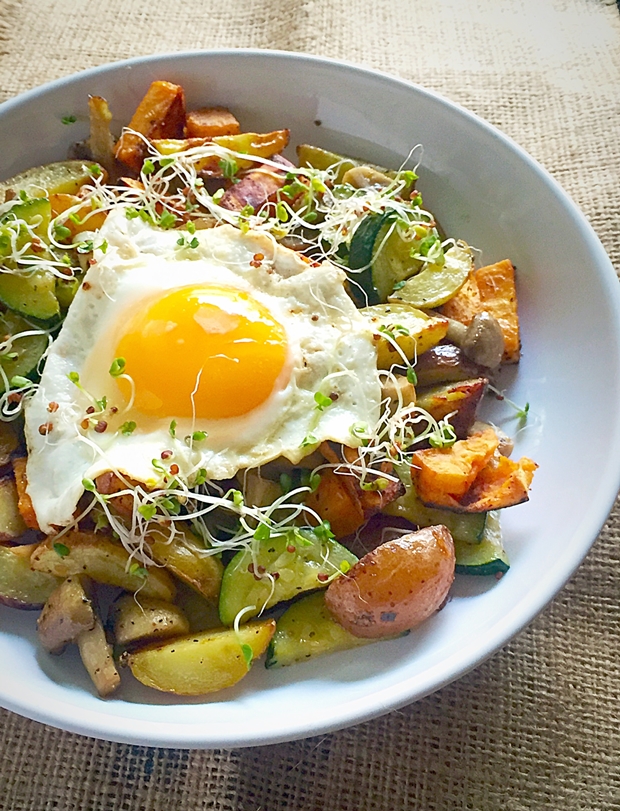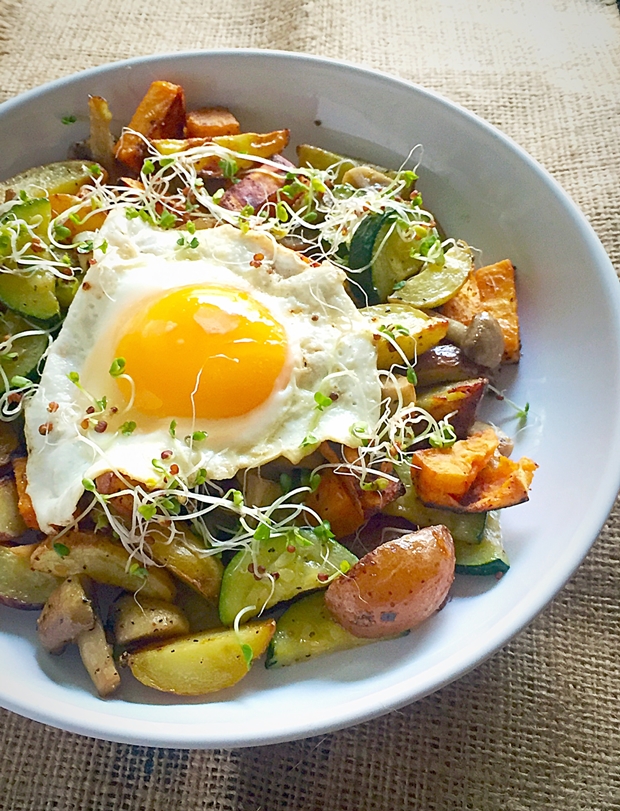 Brunch has to be one of my favorite meals of the week.  You get to sleep in on weekends with the one you love (awww) and then stand in a line up for 30-45 minutes in the cold (potentially) drinking coffee waiting outside the hip brunch place.  This was Heather and I at one point.  There are a few places in Calgary where the line up for brunch starts right at 7 AM sharp, so if you REALLY want brunch, there is no way you are sleeping in!
Brunch is also one of my favorite meals because it is the best meal to start off your Saturday or Sunday with.  It's generally a hearty dish consisting of hashbrowns and eggs, or pancakes with sausage, or fancy stuffed french toast.  Finish that off with a glass of freshly squeezed juice, coffee or tea, and you're good for hours!  Brunch recipes can also of course be really healthy too!  There's nothing better than a fully loaded egg breakfast scramble with all kind of healthy vegetables, and fresh eggs prepared however you like.  What I am doing to show you in this post is how to make a healthy breakfast scramble my way, but also how you can add whatever you like in there to make it your own.
The key for this simple egg recipe is proper roasting of the vegetables in order as to the degrees of harness.  Things like sweet potatoes, yams, turnip, or good old potatoes should be cut evenly and roasted first.  After 10-15 minutes of the roasting cycle, I'll add in the next "hard" vegetables.  Things like onions, mushrooms, peppers, whatever you like really!  Finally, I often like wilting some greens in the mix.  Something like an arugula goes well, spinach, or even kale.  Another great way to get your vegetables kids!
Then after that is the egg.  Scrambled eggs are a usual way to go, but I like yolk in dishes like this.  Wouldn't you agree? The beautiful orange yolk coats the vegetables perfectly and adds a nice richness, like a creamy sauce.  This sauce though is full of omega 3's and high in protein.  Sounds like a win to me!
Let's check out this recipe shall we?  You'll notice that I add just a bit of white wine vinegar to the vegetables after cooking.  It cuts the fat of the eggs perfectly and mixes well with the veggies.  Just make sure not to let it simmer for too long as the vinegar will become strong much too quick!

Ultimate Fall Breakfast Scramble
Prep time:
Cook time:
Total time:
Ingredients
½ cup of quartered baby potatoes
½ cup of sweet potatoes ½" dice
½ cup of quartered white mushrooms
½ cup of sliced zucchini
2 Tablespoons of broccoli sprouts
2 eggs
1.5 Tablespoon of olive oil
salt, pepper, garlic powder, chili powder to taste
1 teaspoon of butter (optional)
Instructions
Scramble
Pre-heat your oven to 375 degrees F
toss the potatoes and sweet potatoes with ½ Tablespoon of olive oil and season with salt, pepper, garlic powder, and chili powder
put on a baking tray and cook in the oven for 15 minutes, stirring every 5 minutes
add in the zucchini and mushrooms, mix in another ½ Tablespoon of olive oil and mix well with the potatoes and sweet potatoes. Roast for another 5-10 minutes. Make sure the veggies have nice caramelization.
Take out the roasted veggies and plate. Finish with 2 eggs prepared the way you like.
Scrambled
Heat up a non-stick pan with ½ Tablespoon of oil and 1 teaspoon of butter. Add in the eggs right away and scramble well with a spatula. Keep them nice and light, or let them cook for a bit more to get some added flavor. Season lightly with salt and pepper
Sunny Side Up
Heat up a non-stick pan with ½ Tabelspoon of oil and 1 teaspoon of butter. Crack in the egg right away and be careful not to break the yolk. Keep the temperature on medium heat and slowly cook the egg white until no translucent liquid remains. Keep that yolk whole!
Poached
Heat up 1 small pot with water and just a pinch of salt. Let the water just come to a simmer and drop the egg carefully into the water. Let sit for a few minutes on a simmer but never a full boil as that will break up the egg. The egg should only poach for 2-3 minutes for a nice soft to medium cooked egg.
Serve!
Even though it says the total cook and prep time is about 40 minutes, don't worry!  I recommend making 4-5 times this recipe and keep the extra veggies and potatoes stored in a sealed container in your refrigerator.  This makes it easy to just reheat some in the morning and make your eggs fresh.  This cuts down on the overall prep time!
This is another one of those simple breakfast recipes with eggs that can be created many different ways, and is packed full of healthy vegetables and protein.  The next time you are wondering what you should have for breakfast or brunch, give this scramble a try.  You won`t have to wait in line for an hour for it, and you get to eat it right away.  Plus it wasn't $18 either…plus tax, and with a $6 coffee.  I know. I'm mocking brunch!  I love it though!  Breakfast is always one of my favorite meals of the day and this egg scramble is one a great way to start off your weekend (or weekday) right!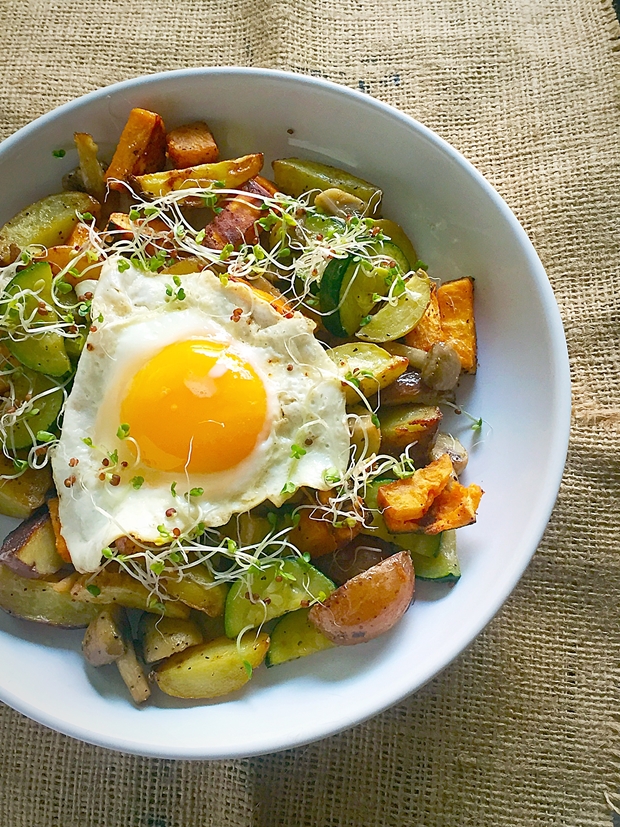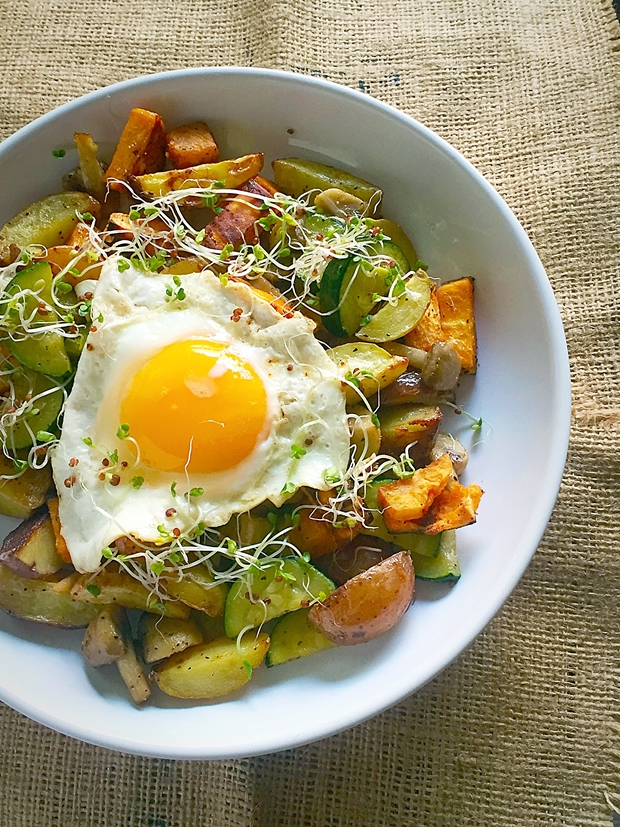 You may also like :