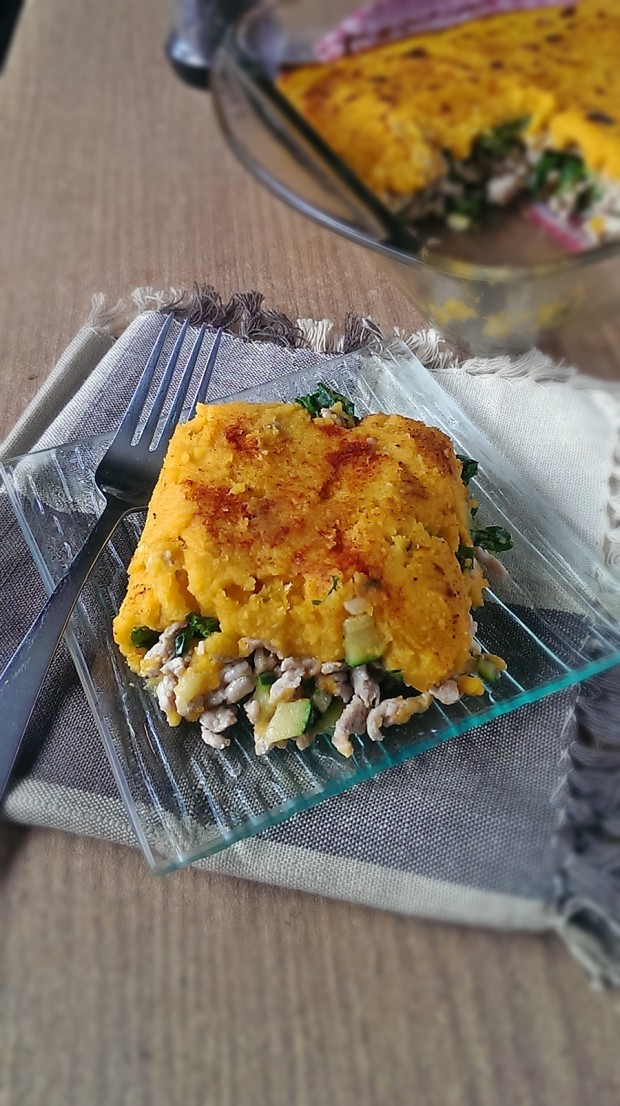 My goal over the next little while is to create, healthy, delicious recipes that are twists on classic, indulgent recipes.  There are ways to enjoy shepherds pie, or poutine without being worried about consuming hundreds of calories  I put out a request on my Facebook Page and got an amazing response with over a dozen ideas for healthy delicious classics.   Thanks so much guys!
I was actually going to attempt this shepherds pie, AND some quinoa cookies, but let's just say that my baking skills are no where near as impressive as my cooking skills.  It's so much easier to create recipes from scratch when it comes to cooking.  Baking is it's own chemistry experiment isn't it?  You need to carefully weigh out your ingredients, add them in at the right time, and you shouldn't over mix!  I promised everyone on Facebook I would come up with some healthy dessert recipes, and I intend on delivering, it just may take me a while, so please be patient!  I have a lot of experimenting to do.  Hopefully I don't blow up our house!
I've made so many variations of shepherds pie.  One of the first times I made a beef version at The Main Dish, was when we were feeding our lacrosse team, the Calgary Roughnecks.  Let's just say that after a workout these guys took back trays of this stuff in minutes!  I'm not sure if they thought it tasted that good, or if their coach worked them way too hard that day!
When I was managing the kitchen at the Edge School for Athletes, I created a sweet potato turkey shepherds pie.  The teachers and training staff loved it!  I even managed to get some of the kids to eat it too.  I figured this was a success, so of course I wanted to add a good healthy version to Fresh Menu Planner.
Our friend, Melanie shared on Facebook that her favourite way to make shepherds pie is with turkey, butternut squash and kale.  This type of recipe is right up my alley and definitely the first recipe I wanted to revamp.  Thanks for the idea Mel!  This recipe didn't take very long the way I made it.  I actually found a bag of frozen squash chunks at a health food store.  You may not be able to find this, but buying and roasting a whole butternut squash works too!  Most of the cook time below is based on using a fresh squash.  If you can find a frozen product, the time will be cut from 60 minutes of cooking time, to 30.  This shepherds pie can freeze well in a Tupperware container, so you can make a large batch and freeze portions for any night of the week!
Turkey Shepherds Pie with Butternut Squash
Prep time:
Cook time:
Total time:
Ingredients
4 cups of cooked butternut squash (will be roughly 1 squash)
1.5 pounds of ground turkey
½ zucchini finely chopped
½ white onion finely chopped
2 cups of thinly sliced kale
3 cloves of garlic, thinly sliced
2 tablespoons of butter
2 tablespoons of olive oil
1 pinch of paprika
1 teaspoon of coconut palm sugar
salt and pepper to taste
Instructions
Cut the butternut squash in half and remove the seeds.
Season with salt and pepper, drizzle with 1 tbsp. of olive oil, and roast in a 400 degree F oven for 25 to 30 minutes.
Scoop out the flesh into a pan with 1 clove of sliced garlic.
Cook until the flavor of the garlic starts to come out, about 5 minutes.
Add in the butter and the coconut palm sugar and cook for another 3 minutes.
Season with salt and pepper and puree in a food processor until smooth.
Heat up another pan with olive oil and cook the turkey with the zucchini, onion and garlic.
Season with salt and pepper and then add in the kale.
Transfer to a oven proof casserole dish, and top with the butternut squash.
Add a pinch of paprika to the top and brown in the oven under your broiler for 5-7 minutes.
As you can tell this is a gluten free recipe, and a lot less heavy than the beef versions I have made.  A lot of traditional shepherds pie recipes use pre made gravy mixes, or a lot of white flour to make a roux, and deliciously creamy mashed potatoes.  Now I am not saying you can never have that version again and only eat mine!  I wouldn't do that to you!  I'm looking out my window right now and there still is a foot of snow outside.  The thought of a rich gravy  covering a beef shepherds pie seems very comforting right now.  Yes I know it's going to be April soon!  Hopefully it warms up.  Now you have a healthier version to add to your arsenal of clean eating recipes.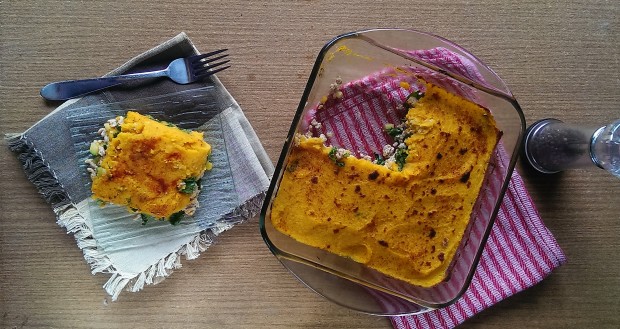 As a side note, I am excited to say I am currently working on a series of videos to help other fellow food bloggers, or just foodies in general, with their food photography.  I will have instructional videos taking you through step by step how I create these pictures.  I'll have lots of tips for you.  All of the photography I create for Fresh Menu Planner is created with my HTC one smart phone, and some free photo editing software called PhotoScape.  Smartphone photography just hit a whole other level!  The total cost for my photography setup is literally nothing, and yet my pictures are getting accepted to food porn websites like FoodGawker and Tastespotting, just like professional photographers.  This video series could be for you if you are a food blogger, or just a foodie who's Pinterest and Instagram accounts are loaded with pictures of food.  Stay tuned for more and sign up for my Newsletter so you don't miss out!
You may also like :