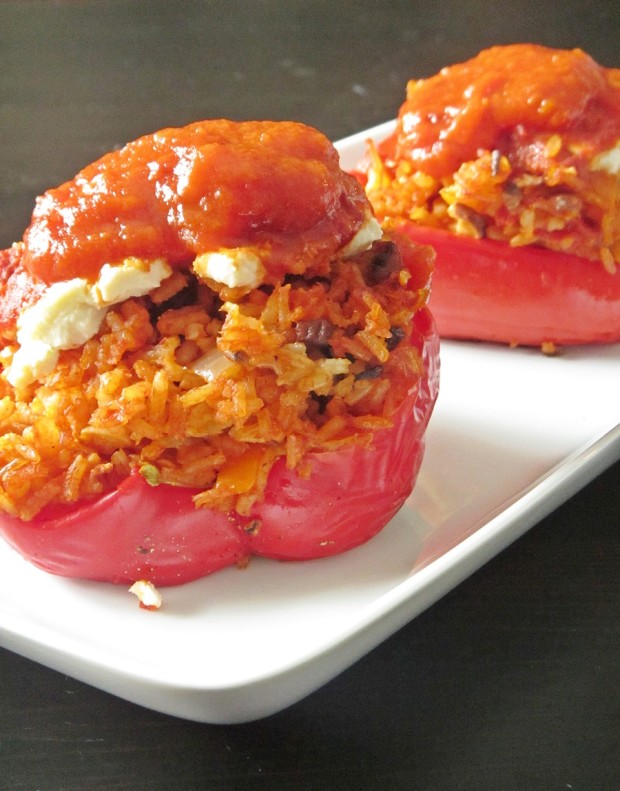 I love cooking for vegetarians.
I don't think I could ever be one myself,  I enjoy meat way too much. I do however enjoy the challenge of making something delicious that isn't just rice and steamed vegetables.
My friends Charlotte and Adam have sadly had one too many experiences where they go to a wedding, or out for dinner.  A lot of chefs surprisingly don't know how to cook really healthy vegetarian meals, and so I try to take this challenge and run with it.  I actually think people should attempt a healthy vegetarian meal a few times a week.  It doesn't have to take a lot of effort, but can be really delicious.
This meal I made for my friends was well balanced, has plenty of protein, and only took 30 minutes to prepare enough for 4 people.
Balsamic Glazed Snow Peas (serves 4-6 people)
4 cups of snow peas
2 Tablespoons of balsamic vinegar
Salt and pepper to taste
1 teaspoon of olive oil
Method
Heat up a pan with the olive  oil and sauté the snow peas for 2 minutes.  Season with salt and pepper and then add in the vinegar and reduce for 2 or 3 minutes.
Curry Roasted Chickpeas
2 15 ounce cans of chickpeas
1 teaspoon of curry powder
1/2 teaspoon of cumin
1/2 teaspoon of chili powder
1 Tablespoon olive oil
Salt and pepper to taste
Method
Toss all ingredients together and roast in a 375 degree oven for 25 minutes.  Make sure to mix the chick peas every five minutes or so to evenly roast them.  The chickpeas should be crispy and not chewy or burnt.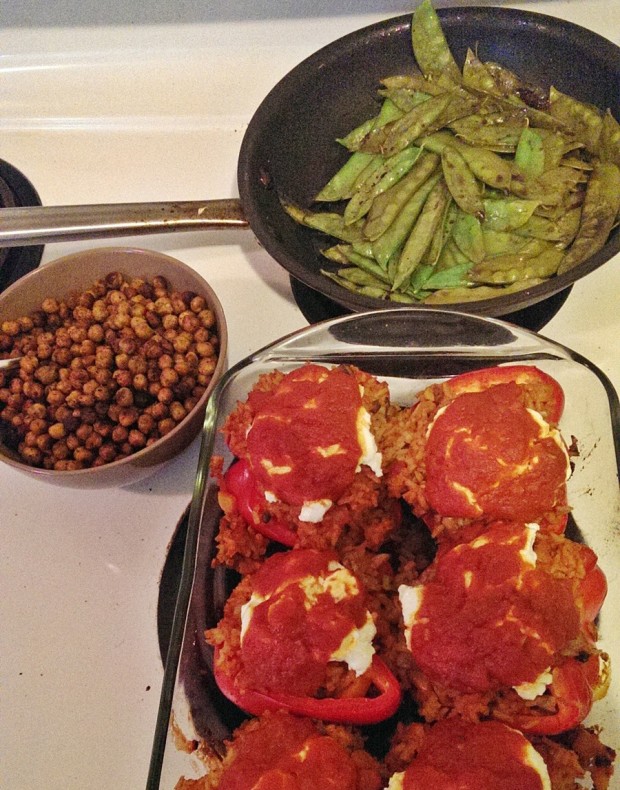 The stuffed peppers actually turned out really well.  The goat cheese was nice and rich.  They were also super easy to make, and also loved by our vegetarian friends.
Tomato and Goat Cheese Stuffed Peppers
Prep time:
Cook time:
Total time:
Ingredients
1 cup of brown rice, dry
2 cups of vegetable stock
3 red peppers cut in half and all the seeds removed
2 cloves of garlic
2 cups of finely chopped mushrooms
½ cup diced white onion
3 cups of organic tomato sauce
1 cup of goat cheese
Salt and pepper to taste
1 Tablespoon of olive oil
Instructions
Cook the rice with the vegetable stock according to the instructions on the box. Keep warm.
Heat up a pan and sauté the mushrooms onions and garlic until soft. Add in the cooked rice and 1½ cups of the tomato sauce and season with salt and pepper. Evenly distribute the rice mixture into each half of red pepper. Top with goat cheese and the rest of the tomato sauce. Bake in a 375 degree oven for 15 minutes until the peppers are soft. Make sure the peppers aren't too soft or they will fall apart.
This dish is healthy, gluten free, vegetarian, and delicious.  A great way to start out the new year after consuming so many dead animals during the holidays.  My body needs a cleanse!
You may also like :