Hey everyone!  I hope everyone is doing well.  I know what you are all thinking, it's been a long time since a blog post.  I apologize but unfortunately Heather's kidneys weren't doing very well and we had spent a bit more time in the hospital than we would have liked.  Her pain had come back in a big way and we both weren't sleeping well.
Let's just say that between keeping Heather comfortable and work, I haven't been very motivated to blog much.
The good news is we have spoken with a nutritionist and have gotten some answers as to what kinds of foods Heather should stay away from.  It's really strange though.  You would think things like almonds, spinach, beets, and kale would be high on the list of things Heather should be consuming daily, but they are high in oxalate.  In my post for a low oxalate chicken stirfry, I explain a lot more of whats going on with Heathers kidneys and things we will switch up in her diet to make sure she doesn't get this pain again, or at least lessen the pain.
I hope it helps her.  I did promise her that I would start blogging again, and I love connecting with everyone on here.  I'm sorry and I plan on getting back on track, especially now that soup Tuesday has started up again at Heather's work.  Just wait and see what I have planned for this week!  The crock pot has come out and you will be in for a treat!
So I had planned on a Thanksgiving post that involved some healthy festive options, but didn't get around to it in time.  The best part though is I am right in between Canadian and American Thanksgiving so this works out perfect!  I also got to do my first cooking demo at Community Natural Foods which was so much fun!  That's me below stuffing a turkey breast!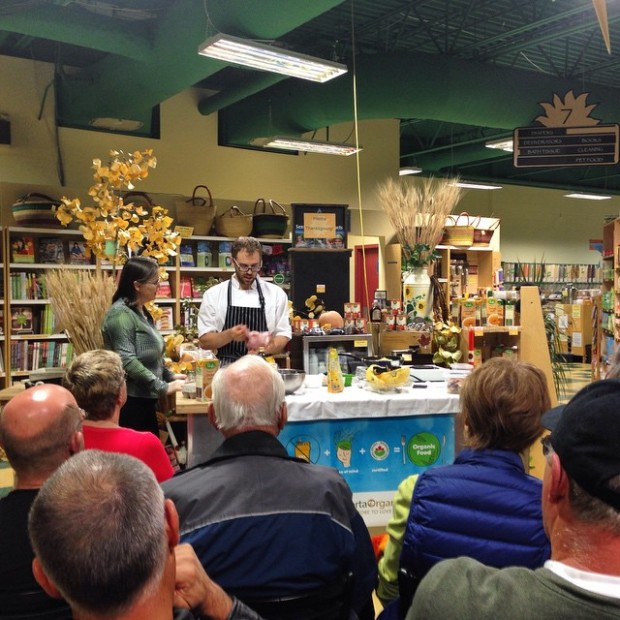 It was so much fun getting to connect with some new people and introduce them to my blog and what I stand for when it comes to healthy food.  It also helped to have some friends and family there too!  I showed my audience how to stuff the turkey breast, and make a healthy spaghetti squash side dish.  I also created a healthy chai bread pudding recipe that I will be posting later this week!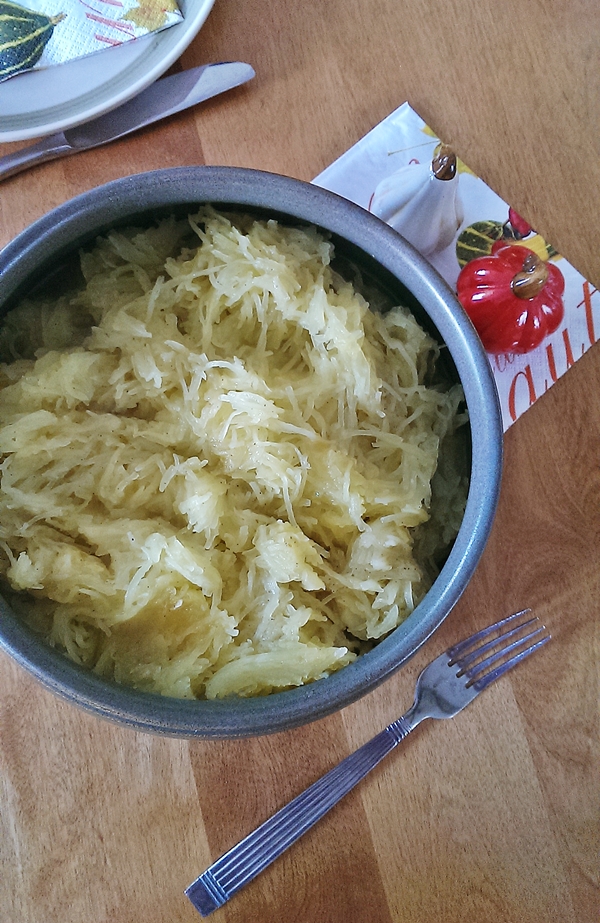 This post will be mainly about the delicious stuffed turkey I made.  I also showed the audience how to cook a delicious spaghetti squash.  This earlier blog post will show you the easy way to do it.
This turkey was so juicy and delicious.  The quinoa stuffing was very simple to make and I kept it very traditional.  you could add whatever you like to this stuffing but I stuck with traditional ingredients like carrot, celery, onions, and poultry spices.
The key to roasting a good turkey breast is to cook it to about 160 degrees F, take it out and let it rest!  Once it has had a chance to sit for about 5 minutes the juices will have gone back into the meat and you will have a great tasting turkey!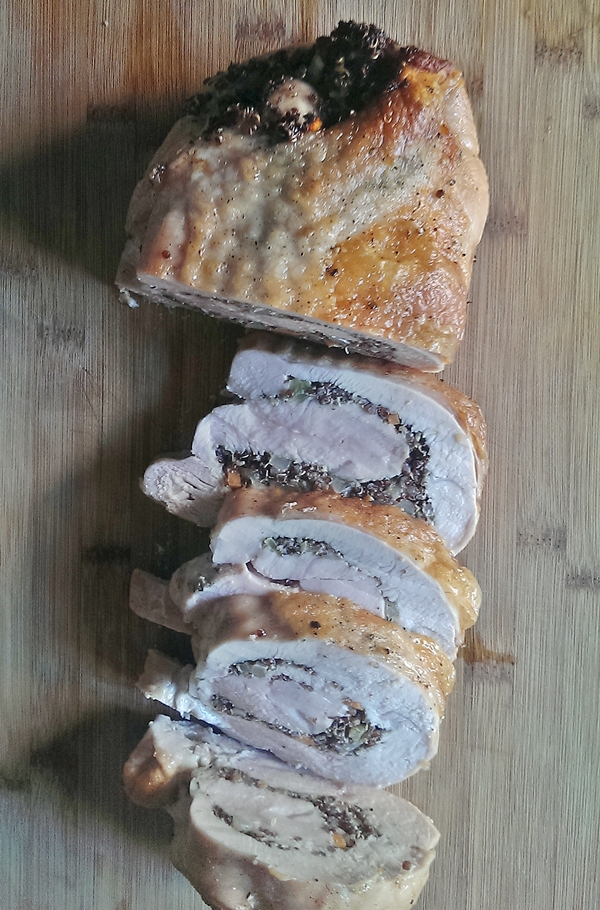 Quinoa Stuffed Turkey Breast
Prep time:
Cook time:
Total time:
Ingredients
1 turkey breast
2 cups of cooked quinoa ( I used red but you can use any kind)
1 carrot ¼ " dice
1 stalk of celery ¼ " dice
¼ of an onion ¼" dice
2 cloves of finely chopped garlic
1 egg
½ cup of organic chicken stock
1 teaspoon of poultry spice (thyme, sage, basil)
2 tablespoons of olive oil
salt and pepper to taste
Instructions
Using a sharp chefs knife, cut the turkey breast lengthwise but not all the way through. This will open the turkey breast up like a book. This is known as butterflying the breast.
Lay some cling wrap on top and using a mallet, pound the turkey breast as flat as you can without ripping the flesh. Season well with salt and pepper
heat up a pan with one Tbsp of olive oil and saute all of the vegetables and garlic for 3-5 minutes. Add in the poultry spice and cook for one more minute.
Deglaze with the chicken stock and add in the cooked quinoa. Heat everything through and then take off the heat and season with salt and pepper.
Add in the egg and mix together well. This will help the stuffing to stick together as it cooks.
Spread the stuffing throughout the middle of the turkey breast and wrap up. Season the top with salt and pepper and the other Tbsp of olive oil.
Bake in a 375 degree F oven and cook until the internal temperature of the turkey is 160 degrees. Take out of the over and let rest for a few minutes before slicing the turkey.
It feels so great to get this blog post done and share it with everyone.  It's been a bit of an emotional time for me helping Heather get back on track, but I will be posting a lot more in the upcoming weeks.  Stay tuned for more and thank you again for being such loyal readers!
You may also like :