I wanted to have quinoa all to itself in one post in my "Super Foods" category because there is a lot to talk about with this seed.  Quinoa is a very versatile food, and of course, is probably one of the healthiest foods that you should be consuming.
Quinoa (Pronounced KEEN-wah) is a seed that is native to south America.  Most of the production comes out of Peru and Bolivia, and produce up to eighty thousand metric tons of this stuff every year!  That's a lot of Quinoa! It has been cultivated by humans for more than 3000 years which is why Quinoa is often referred to as an "ancient grain."  This seems fair to me!  The seed can come in a few different colors such as red, tan, and black, and all have the same level of nutritional value.
Quinoa is extremely easy to cook.  It cooks on a ratio of two parts water to one part quinoa.  You can either use a rice cooker, which would be the easiest, or a pot.  With a pot the cooking time would be roughly 20 minutes depending on the volume you are making.  Quinoa should be light and fluffy when fully cooked, but not gummy or sticky.  It has a light nutty flavor and can be used in many aspects of cooking.
So what makes this seed so healthy for you?  What makes it a "Super Food" you ask?  Well first of quinoa is known as a complete protein.  That means that Quinoa contains all of the 9 essential amino acids in the right proportions to help promote proper body function.  I won't bore you with specifics because there are 20 amino acids in total, 9 are essential, and a lot of them have really weird names.  All I will tell you is quinoa is high in protein for being a grain/seed compared to grains like brown rice, or barley.  Quinoa is a great source of calcium, magnesium and phosphorus, as well is a great dish for vegetarians and vegans.  It is gluten free, and can be used in so many ways!
here is a list of some little ideas that you can use quinoa for:
1.  Quinoa could be used in place of noodles in a gluten free lasagna.
2.  A combination of quinoa, barley, and oats with some dried fruit and honey can make for a great hot cereal.
3.  You can purchase quinoa flour from some health food stores and an work great in making high protein pizza dough.
4.  Scramble some eggs in with some quinoa, and any veggies you with for a healthy morning scramble.
5.  Quinoa is a great side dish with any protein.
6.  Instead of using tortilla shells, put a homemade taco salad on a bed of warm quinoa.
7.  It is a perfect way of adding extra protein to any soup you wish.
8.  Quinoa makes some delicious chocolate chip cookies!
9.  Make a quinoa vegetable stir-fry with some garlic, ginger, sesame oil, brown sugar, and soy sauce.
10.  Use it to throw at a wedding instead of rice!
Well, that last idea may not be the best one, but as you can see there are so many ways to use this grain, it's crazy!  I plan on creating an e-cookbook with some of my favorite recipes I have used to utilize this grain.  Stay tuned for that!
I hope this has been helpful with learning more about Quinoa.  It's really easy to make, and super easy to be creative with.  Have fun with it and keep it fresh!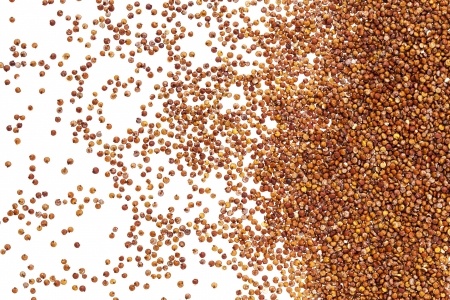 You may also like :