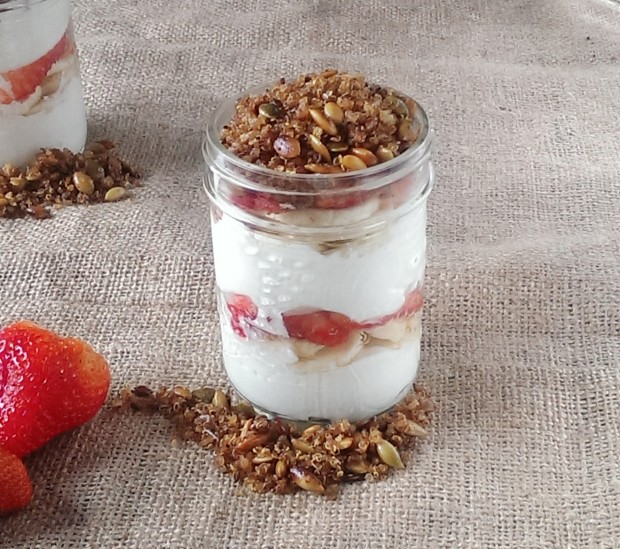 So it seems the weather in Calgary doesn't want to make up it's mind these days.  We are in this fun awkward time of the year where we are trying so desperately to forget about winter and get into spring, but it takes its sweet time. It was plus 15 not even two weeks ago, and then last week mother nature decided to dump 10 inches of snow on us.
That being said, this parfait recipe I created is sort of a combination of all different kinds of ingredients from different seasons.  It's my way of celebrating this crazy climate we live in called Alberta.  A little bit of spring, a little bit of summer, and just a touch of winter.
I created my own gluten free quinoa muesli!  It actually tastes really good, and the muesli can be made in large batches.  You an even use it as a trail mix too.  It's really simple to make.

Strawberry Banana Yogurt Parfait with Quinoa Muesli
Prep time:
Cook time:
Total time:
The quinoa muesli can be made into large batches and kept for later. It works really well as a trail mix too. It's also gluten free.
Ingredients
2 cups of cooked quinoa
½ cup of pumpkin seeds
¼ cup of flax seed
1 teaspoon of ground cinnamon
1 teaspoon of coconut palm sugar
Optional - 1 cup of your favourite dried fruit. I opted out of the dried fruit in this recipe because I really want spring to come and I chose organic strawberries and bananas instead!
Instructions
Preheat your oven to 400 degrees F. Toss all of the ingredients together except for the dried fruit (if you choose to use it in this recipe) and roast in the oven for 30 minutes, or until the quinoa has become nice and crisp, but not overcooked. This muesli should have a nice crunch to it when it's all cooked.
After this muesli has cooled, layer 3 sliced strawberries, half a banana, and ¾ of a cup of Greek yogurt in a parfait cup of your choice. Mason jars work really good for this as you can screw on the cap and take it on the go with you. Top with a few Tablespoons of the muesli, and your healthy parfait awaits!
This parfait is really simple, healthy and delicious.  It's perfect for a quick vegetarian breakfast on the go, and it's packed full of healthy protein.
Have you guys checked out my about me page?  You can click here, to learn about why I started this blog, and why healthy food is important to me.
You may also like :