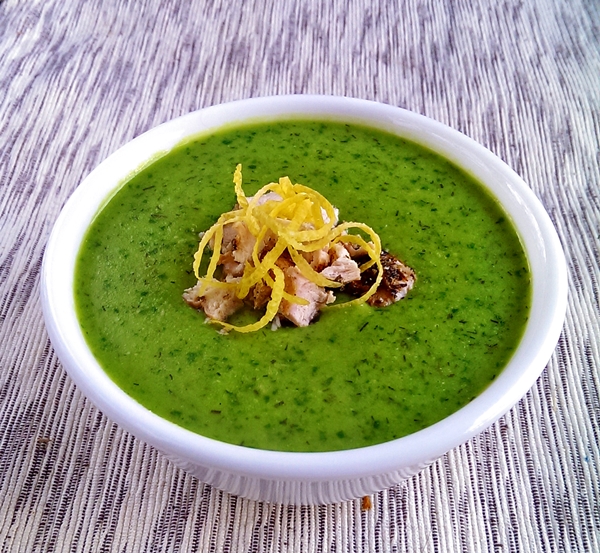 It's spring!  It's really here….I think?  I'm pretty sure the last few posts have been about how awful the weather has been in Calgary.  So far the last couple of days have been really good, so I'm going to stop complaining now and hope that spring stays here for a while!
It probably won't…..BAH no more complaining!
Heather's soup Tuesday club has disbanded for the time being, but that doesn't mean I don't want to make a healthy delicious soup for…Tuesday.  The last soup they had at their club was this delicious creamy spinach soup that Heather had raved about.  Her co-worker Sebastian was kind enough to send it over for me to use.  This recipe is a mixture of his mothers recipe and some personal tweaks he made himself.  Looking at the pictures Heather posted online got me thinking about another tasty green pea and spinach soup my old chef taught me to make.  I decided to take some elements from both soups and put a healthy spin on it!
Both soup recipes are thickened with cream, butter, and flour, in a traditional French way of making a roux.  Unfortunately as delicious as that is, celiacs and people who can't process dairy are out of luck!  The recipe I have below is inspired by Sebastian and my old chef.  Thanks guys!
Here it is folks!  A gluten free, dairy free soup thickened with a rice flour slurry, vegetables, and unsweetened almond milk.  This soup is nice and rich, as if it used mounds of butter and flour.  It's easy to take to work to reheat, and will actually freeze well too.

Spring Pea, Spinach and Chicken Soup
Prep time:
Cook time:
Total time:
Ingredients
¼ cup of diced white onion
2 cloves of thinly sliced garlic
1 Tablespoon of thinly sliced shallot
1 Tablespoon of fresh or dried dill
3 cups of fresh or frozen peas
3 loosely packed cups of spinach
1 Tablespoon olive oil
2 cups of vegetable stock
2 cups of unsweetened almond milk
2 Tablespoons of rice flour
The zest and juice of 1 lemon
2 4-5 oz chicken breasts, seasoned, cooked, and diced
Instructions
Heat up a pan and lightly saute the onions, garlic, and shallots on medium high heat. Cook until the onions are translucent.
Add in the peas and dill and cook for a couple of minutes, Add in the spinach, and 1 cup of vegetable stock and wilt the spinach for only a few seconds.
Add to your food processor and blend until smooth.
Add in the almond milk, and keep pulsing for a minute or two, until everything is combined. Make sure to check for seasoning.
Make a slurry with the other cup of vegetable stock and rice flour. Whisk into the soup until smooth.
Let come to a light simmer, or until the soup thickens.
Check for seasoning again and add in lemon juice and zest.
Top with diced chicken
Of course you don't have to add in the diced chicken if you wanted a vegetarian soup.  I prefer mine as a meal, so the chicken breast is perfect.  Do whatever you want though.  You won't hurt my feelings.  I hope you are enjoying spring wherever you are!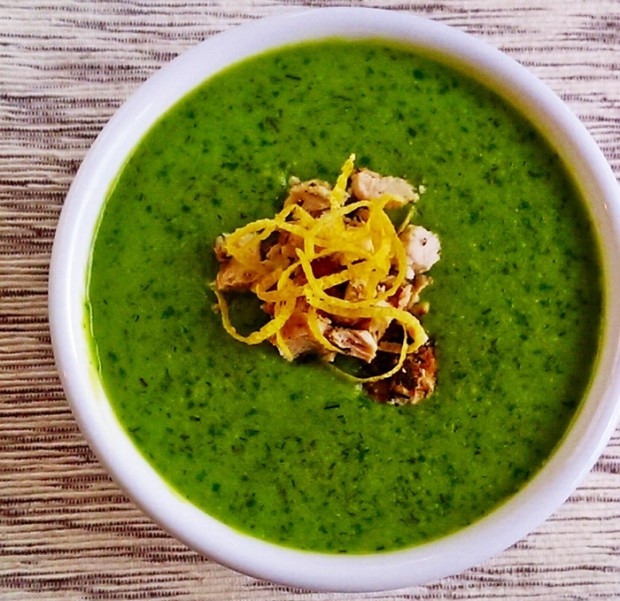 You may also like :