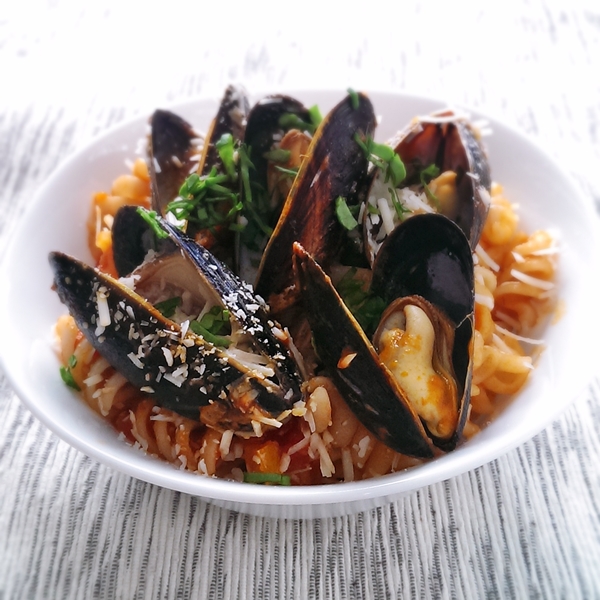 Heather and I love mussels.  Whenever we get a craving, I'll buy two pounds from Superstore and cook them in a rich white wine cream sauce.  I remember I made mussels this way for one of the first meals I ever made Heathers parents.  I wanted to impress them!  Well fast forward a few years and I'm the luckiest guy with her as my wife.  I'm guessing that means I did a good job with the meal right?
We decided on mussels tonight and I wanted to try something different.  I'm always looking for cool retail items in the gluten free section at the grocery store.  I had seen these really cool packages of quinoa pasta and I wanted to try them out for tonight's dinner.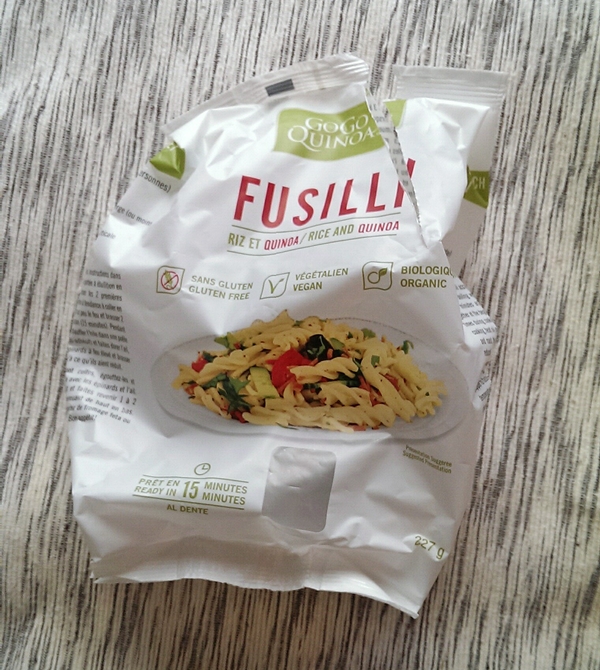 Have you guys ever used GoGo quinoa?  This stuff is great!  I've used my fair share of gluten free pasta in the past, and I have noticed that quinoa pasta specifically doesn't always keep the best.  This stuff held up really well.  I even tested some of it in the fridge and it's been sitting there for a few hours now.  It's not crumbly and holds up really well.  Awesome!  The pasta is a little pricy, but something worth trying if you are a celiac or just want to try something new.
The other thing to think about is how to clean the mussels too.  If you go to a specific seafood market, the people working the counter will most likely pick out the mussels for you that are alive and aren't broken.  If you have to fend for yourself, here are a couple tips to making sure you pick the best mussels.
1. Make sure none of the shells are broken.
2. To check if a mussel is alive you just lightly tab the shell.  The mussel with close up slowly if it's alive.
3. Any shells that don't open when you cook them are dead.  Throw them out!
4.  The mussels will also sometimes have a little bit of fuzz coming from out of the shell.  Make sure to remove it.  It can be a bit tough sometimes but a pair of pliers will do the trick.
There we go, that was simple right?  On to the recipe!

Spicy Quinoa Pasta with Mussels
Prep time:
Cook time:
Total time:
Ingredients
1 package of GoGo quinoa pasta, cooked
1 pound of mussels, cleaned
½ orange pepper, ¼" dice
¼ white onion, ¼" dice
½ cup or arugula rough chopped
2 cloves of garlic, thinly sliced
1½ cups of jarred organic tomato sauce (any kind you wish)
1 Tablespoon of olive oil
3 Tablespoons of shredded Parmesan cheese
Instructions
Cook the quinoa pasta according to the instructions on the bag. Make sure to use salted water. Drain and cool.
Heat up a large pot on medium heat and saute the garlic, peppers, and onions in the olive oil until lightly browned.
Add in the tomato sauce and let come to a simmer.
Add in the cleaned mussels and cover with a lid for just 2 minutes.
Take the lid off once the mussels have completely opened up. Make sure to discard any that haven't opened.
Add in the arugula and pasta, and stir until heated through.
Serve in bowls and top with the Parmesan cheese
I know what you are thinking.  I am using a jarred tomato sauce.  Shouldn't I be making it from scratch?  Maye if I had an extra hour to make it!
I've made a lot of tomato sauces over the years, and I know after a long day of work you don't want to cook for 2 hours to make dinner.  This dinner can be ready in even less than 45 minutes for 4 people.  Check the organic/gluten free aisle of your grocery store (if you have one) and you will be surprised at the high quality of sauces available.  Don't knock them until you try them.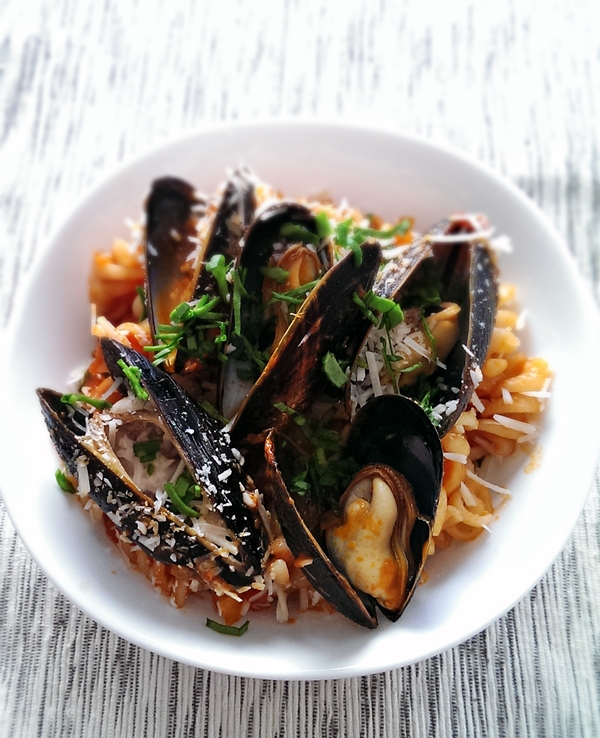 You may also like :