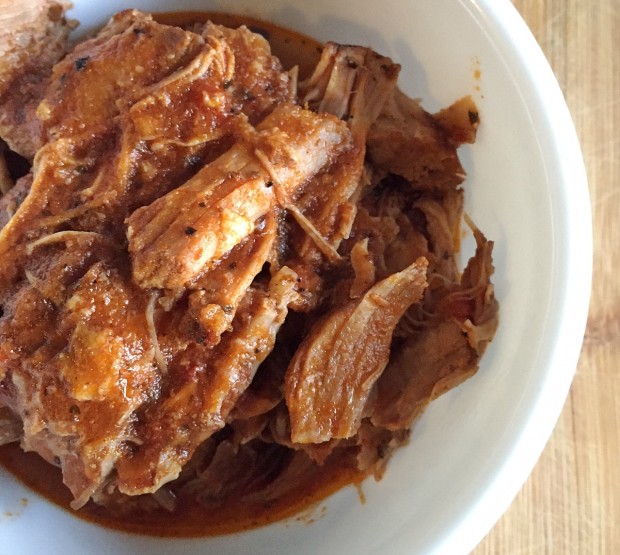 Heather had come to me about two weeks ago to let me know that we will be going to one of her co-workers houses for a delicious Central and South American themed dinner.  It was a potluck style event so of course I would be bringing a dish to add to the festivities.  I was a little nervous as many people were from these regions of the world, so I wanted to make something they would really enjoy.  Thankfully we were off to a good start because as soon as Heather and I arrived at the party, I was put on guacamole duty.
Easy.  All you need is a little oil, lime juice, garlic, hot sauce, and plenty of salt.  The guacamole was a hit.
My contribution to the potluck was something that really isn't difficult to make, but has a few important steps that make this dish great.  This dish also works well because it is that lovely time of the year when the outside starts to turn brown and yellow colors and that white stuff starts to fly.
Pulled pork is a dish I have made many times.  It combines two of my favorite things to do with tough cuts of meat:  Searing and slow cooking.  The cold weather wasn't preventing me from using my BBQ to caramelize the well seasoned pork shoulder.  I was also able to start the slow cooker bright and early in the morning and came home to this tender, fall apart in your mouth deliciousness that is pulled pork.
As mentioned, it is a very easy dish to make.  The important steps to remember are seasoning the meat well when you are grilling it, make sure all sides of the meat are grilled, completely cover the meat with your delicious sauce, and don't boil the meat!  If you can handle all of these items, then you are good to go.

Spicy Pulled Pork
Cuisine:
Central American
Prep time:
Cook time:
Total time:
Ingredients
Meat
5 lbs. of pork shoulder, but into fist sized pieces
¼ cup of olive oil
1 Tablespoon of chipotle powder
2 Tablespoons of chili powder
1 tablespoon of ground cumin
Salt and Pepper to Taste
Sauce
1 Liter of canned plum tomatoes
2-4 chipotle peppers (depending how spicy you like it)
1 tablespoon of dried basil
1 table spoon of dried oregano
¼ cup of tomato paste
1 cup of water
Instructions
Make sure the pork is well trimmed of the excess fat before cooking.
Put the pieces of pork shoulder, the oil, and all the seasonings in a large plastic ziplock bag.
Shake the bag until all the meat is coated evenly.
Heat up your barbecue on high and sear the meat on all sides. Make sure to season the meat well with salt and pepper.
Make sure the meat is well caramelized as this will develop the most flavor.
Add the meat to your slow cooker.
In your food processor, blend together all of the sauce ingredients and cover the meat.
Turn on your slow cooker until it maintains a simmer, but not a boil. Cook for 4-5 hours, or until the meat falls apart with a pair of tongs.
Check seasoning of the sauce prior to serving.
Pulled pork can be used in many different things.  You can of course make tacos, saute with some hash browns and top with poached eggs, or even turn into a delicious lasagna.  What's great is you can make large batches of pulled pork, put them into freezer safe containers and pull one out when you want a quick and easy dinner that night.
On another note there will be some exciting things happening with Fresh Menu Planner in the upcoming months.  If you or anyone you know needs some help with meal planning there will be something coming soon that will help everyone out with that.  Help spread the word by sharing my blog on your social media and I will keep you posted as things start happening.  Enjoy this recipe and thanks for checking it out.
You may also like :