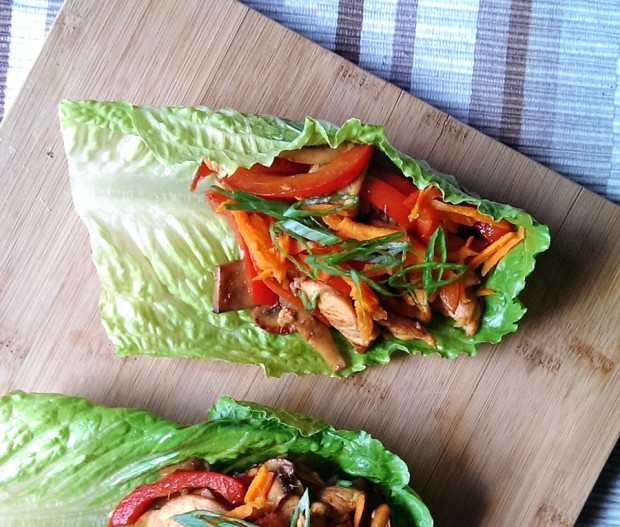 Tonight was chicken lettuce wrap night.  If you haven't checked out my first version of these delicious wraps, you can check it out here.  I made Heather the hoisin lettuce wraps, but I wanted to try something new.  I decided to go for a Thai version with lemon grass and sesame oil.  I love sesame oil.  It has so many health benefits, like helping to reduce blood pressure and boosting bone health just to name a few!
Here's the recipe, it didn't take longer than 20 minutes to throw together!
Sesame Thai Chicken Lettuce Wraps
Prep time:
Cook time:
Total time:
Ingredients
1 pound of thinly sliced chicken
3 cups of sliced brown mushrooms
2 cups of sliced red peppers
1 teaspoon of vegetable oil
1 Tablespoon of sesame oil
½ cup of slant cut green onions
½ cup of grated carrot
3 cloves of pureed garlic
1 Tablespoon of pureed ginger
1 teaspoon of red curry paste
1 teaspoon of lemon grass paste
1 head of romaine
Instructions
Heat up a wok with the sesame and vegetable oil and sauté the chicken, peppers, mushrooms, garlic, and ginger on medium high heat. Season with salt and pepper. After the chicken is 80% cooked, add in the curry paste, and lemon grass and cook for another few minutes. Once the chicken is fully cooked add in the green onions and grated carrots. Use the romaine leaves as the wraps. Serve.
These wraps aren't tossed in a heavy sweet sauce, so they are a lighter version of other lettuce wrap recipes.  They are perfect for when you don't have too much time to cook but want something healthy and delicious.
You may also like :