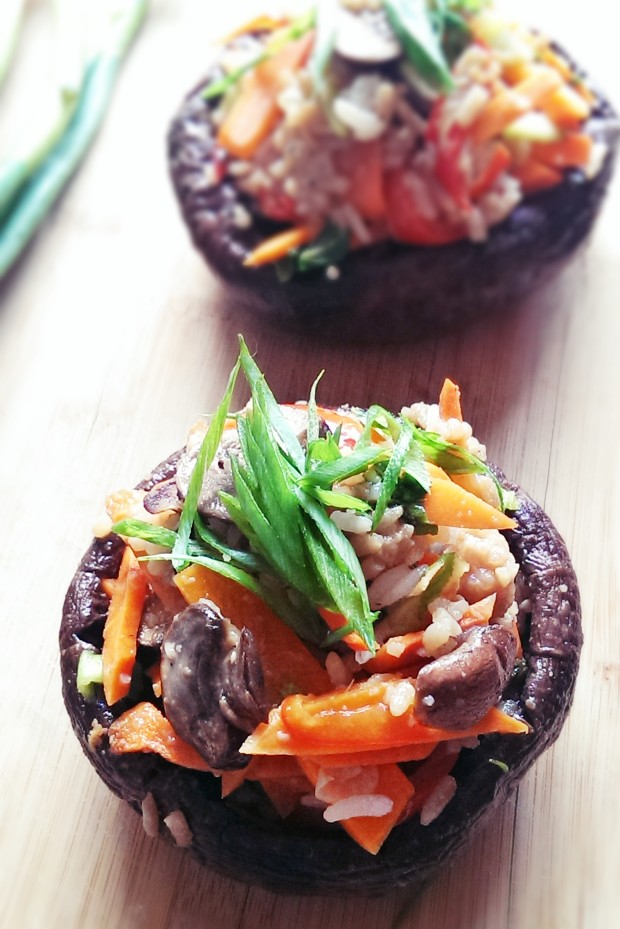 I wanted to come up with a simple idea for a stuffed Portobello mushroom.  Since Heather has become a pescatarian (that's a vegetarian that likes to each fish every once in a while) I've tried some different vegetarian recipes.  These mushrooms are awesome for vegetarians.  They make great burger patties, they are great to stuff, and they are just great sautéed with some garlic and butter.  You can also always add some meat to the filling for all those carnivores out there!
I went with an Asian theme for this dish and tossed the mushrooms in a marinade of sesame oil, miso paste, and gluten free teriyaki sauce.  The filling has a lot of delicious stir fried vegetables with ginger and garlic.  The smell in my kitchen the other day was incredible.  I love sesame, miso, ginger, and garlic all together, so these mushrooms were awesome.  They take a bit of time, just because of the time it takes to cook the rice, and marinade the mushrooms.  This can all be done ahead of time as well too.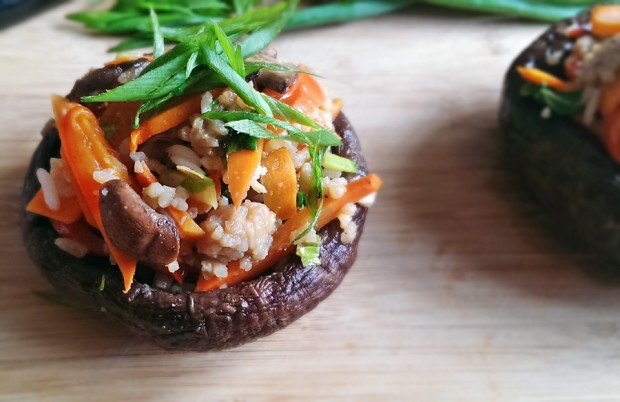 Sesame Miso Ginger Stuffed Portobello Mushrooms
Prep time:
Cook time:
Total time:
Ingredients
4 Portobello mushrooms with the stem and gills removed
2 cups of medium grain rice, dry
1 carrot peeled and sliced
2 cups of brown mushrooms, thinly sliced
¼ cup of white onion diced
½ red pepper thinly sliced
2 heads of baby bok choy sliced
1 clove of garlic, pureed
1 teaspoon of ginger grated
1 teaspoon of canola oil
Marinade for Portobello Mushrooms
½ cup gluten free teriyaki sauce
1 teaspoon of sesame oil
½ teaspoon of white miso paste
½ cup of water
Sauce for the rice filling
1 teaspoon of honey
1 Tablespoon of gluten free teriyaki sauce
1 teaspoon of sesame oil
½ teaspoon of white miso paste
¼ cup of water
½ teaspoon of Sriracha
Instructions
Whisk together all marinade ingredients and put into a shallow baking dish.
Place the Portobello mushrooms in the marinade and let sit in the refrigerator for an hour.
Turn the mushrooms over and marinade for another hour.
Take out of the marinade and pat dry.
Cook the rice according to the directions on the box, keep warm and set aside.
Heat up a wok or pan with oil and sauté all of the vegetables with the garlic, and ginger.
Once the vegetables are soft and have some color, add in the rice and cook for another minute or two.
Add in the sauce and mix together really well.
Stuff the filling into the Portobello mushrooms and bake at 350 degrees Fahrenheit for 15 minutes, just until the mushrooms get hot.
Top with sliced green onion and serve.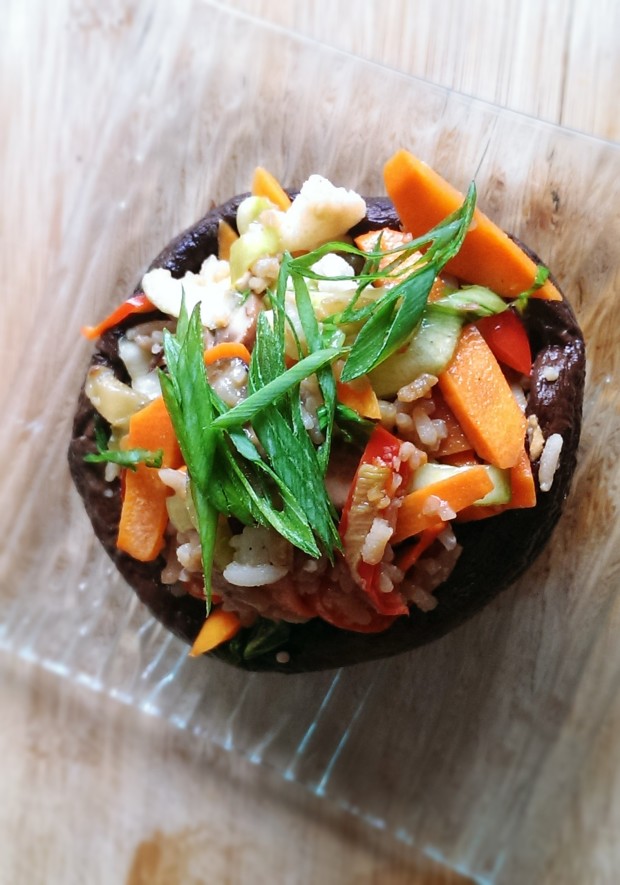 You may also like :