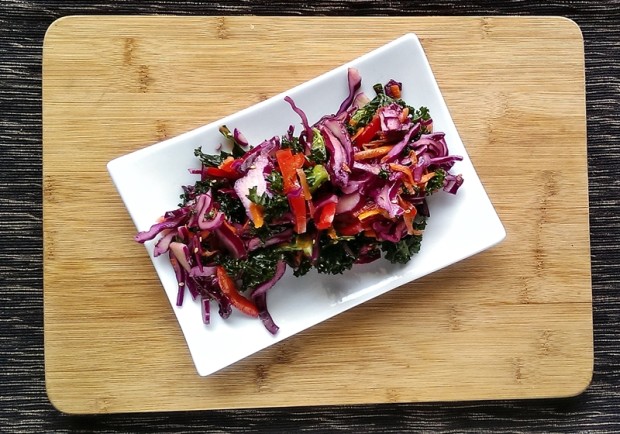 This sesame kale slaw has become a big hit at The Main Dish.  We apparently have to make several liters more than once a day!  That's crazy!  People love kale, and I won't lie, this recipe is actually one of my favorites.  It's cheap, it's healthy, and available everyday at our store!
I can't give away the exact recipe, or else you would never come in and buy it.  That doesn't make sense now does it?  I will however give you a recipe for something similar you can try at home.  If you want to make it at home, great!  If you don't have time you can always come and pick some up.  Let's be honest, a lot of you aren't from Canada, so definitely make it!  If you are from Calgary, you aren't allowed! I'm just kidding.  Your taste buds will thank you no matter what you do.
Sesame Kale Slaw
Ingredients
2 heads of thinly sliced kale (remove the stem as it will be a bit tough and bitter)
½ head of purple cabbage thinly sliced
2 carrots, grated
2 red peppers, thinly sliced
3 Tablespoons of sesame seeds
1 tablespoon of fresh grated ginger
½ teaspoon of chili flakes
¼ cup of rice wine vinegar
3 Tablespoons of sesame oil
2 teaspoons of natural honey
½ cup of canola oil
Salt and pepper to taste
Instructions
Whisk together all of the ingredients for the dressing. Mix the dressing into the sliced ingredients and let sit for an hour before serving. Season with salt and pepper.
That's it! It's so simple! The kale will actually last for a couple of days and not turn a milky green. It will stay very vibrant. Heather actually told me she put some of this slaw in a pita with some tuna and it was amazing.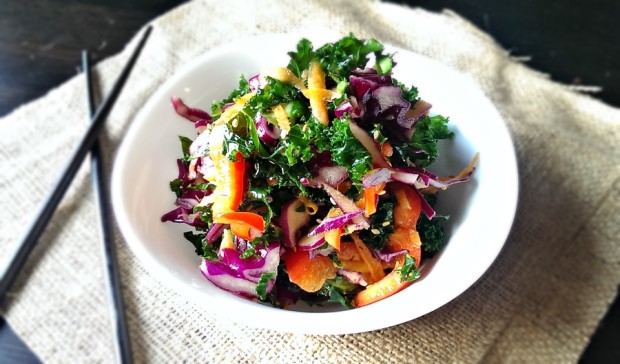 You may also like :