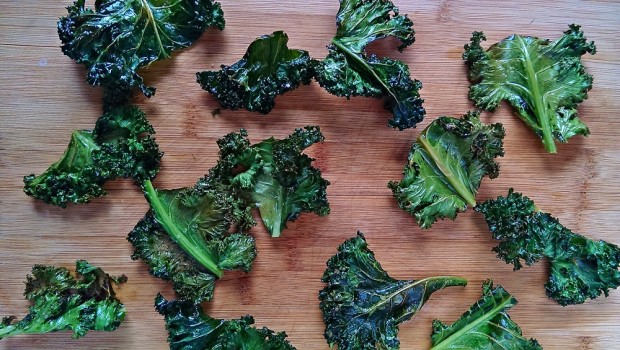 These kale chips are one of Heathers favorite snacks for me to make.  It's also perfect for the holidays.  It's definitely nothing too complicated, and sometimes the best recipes are simple.  Whenever you go to a Christmas party there will of course be snacks before the main meal.  As we all know a lot of the snacks served at these parties are of the very salty, fatty variety.  Most parties host a bevy of chips, crackers, salted meats and cheese.  I decided to make a slightly salted snack with the crunch of a chip, but the nutrients of healthy vegetables.  I wanted to add a nice twist to it and make my own salt and vinegar kale and zucchini chips.  The kale will crisp up much better than the zucchini does.  They both go really well together.  The key to making these chips is to spread everything out evenly on a tray so nothing sticks, and the vegetables can dry up properly.  I added in grated parmesan cheese, but you can easily leave it out for a dairy free option.  The vegetables are seasonal, green, and a perfect snack to start off your healthy holiday!
Salt and Vinegar Kale and Zucchini Chips
Prep time:
Cook time:
Total time:
1 Tablespoon of apple cider vinegar salt and pepper to taste
Ingredients
1 head of kale
2 green zucchini
2 Tablespoons of grated parmesan
2 Tablespoons of olive oil
1 Tablespoon of apple cider vinegar
salt and pepper to taste
Instructions
Slice the zucchini thin. Toss with half of the cheese, olive oil, and vinegar. Season well with salt and pepper and layer on a parchment lined baking sheet. Cut the kale into similar sized pieces and toss with the rest of the other ingredients. Layer on a separate baking sheet.
Bake at 350 degrees Fahrenheit until the kale has crisped up but not burnt. The zucchini will just be dehydrated but not crispy. Be careful not to burn the vegetables. Even a couple minutes is enough to over cook or even burn the kale or zucchini. This should take anywhere from 20 minutes to a half hour.
There are other versions you could try as well.  You could toss in a teaspoon of chipotle powder to make a smoky barbeque.  Toss with fresh dill to make a classic version of dill pickle chips.  I hope this gives you a great start on a healthier Christmas.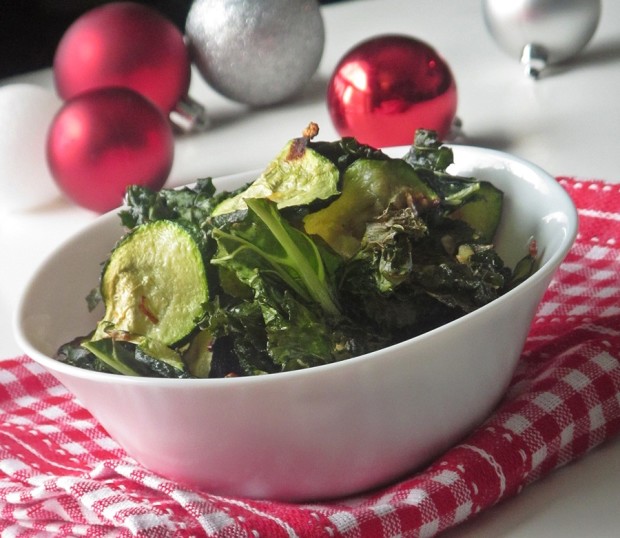 You may also like :