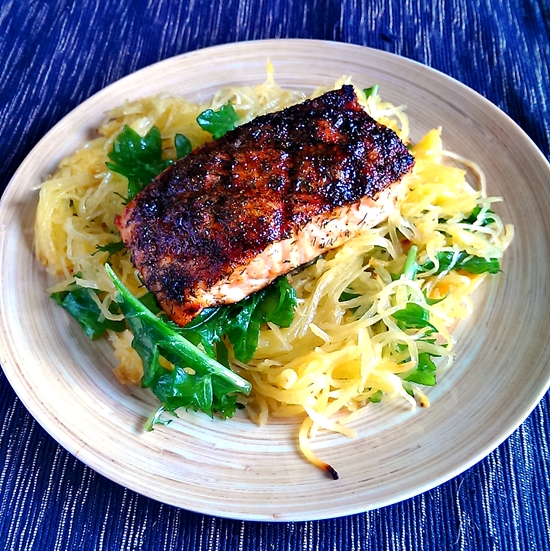 One of our favorite things to cook with in our home is spaghetti squash.  They are super easy to cook, and have a lot of versatility.  If you have never used spaghetti squash before than you are definitely missing out!  You can mix the squash with a great tomato sauce for an awesome gluten free substitute for pasta.  It also makes a great garnish for a squash soup.  This grilled salmon recipe is so simple and the spaghetti squash is the perfect side dish to go with it.
All you have to do to prepare them is the following;
1.  Cut the squash lengthwise and scoop out all of the seeds
2. Season well with salt and pepper and use a high quality oil like olive, avocado, or coconut.
3. Bake at 400 degrees for 30 minutes until soft nice and soft.
4.  Using a fork, scrape out the insides and store in containers until ready to use
The best part about this squash is because of it's mellow flavor, it can be mixed with a lot of other ingredients, plus it looks cool!  Everything is better when your food looks cool right?  Other than the half hour it takes to roast the spaghetti squash, there really isn't much prep time, or cooking time involved in making this recipe.  The salmon grills in under 10 minutes, and the squash just needs to be lightly sautéed with some healthy, simple ingredients.  This blackened salmon recipe is really tasty too!  The coconut palm sugar is a nice, healthy substitute to traditional brown or white sugar.  Your body will thank you after eating this dish,  especially if you have kidney issues. This recipe is loaded with low oxalate foods, and will help prevent the start of kidney stones.
Blackened Salmon, Spaghetti Squash and Kale
Prep time:
Cook time:
Total time:
Ingredients
1 pound of salmon skin on, cut into nice fillets
1 Tablespoon of chili powder
1 teaspoon of paprika
1 teaspoon of dry dill
1 teaspoon of coconut palm sugar
1 Tablespoon of olive oil
salt and pepper to taste
1 spaghetti squash, cooked and all of the flesh scraped out
3 cups of chopped kale
1 teaspoon of hot sauce
1 teaspoon of butter
½ teaspoon of high quality honey
1 clove of finely chopped garlic.
Instructions
For the salmon, mix together all of the dry ingredients and rub on the salmon, drizzle with olive oil and season with salt and pepper.
Using your grill or broiler, cook the salmon to desired doneness, preferably medium moist.
Lightly melt the butter with the garlic in a pan and then add the chopped kale, and spaghetti squash. Heat through and season with the hot sauce and a drizzle of honey.
Serve with the salmon.
This grilled salmon recipe really is very simple.  It's perfect for any night of the week during grilling season, and the roasted spaghetti squash is a perfect accompaniment.  If you want more recipes like this, I recommend that you subscribe to my newsletter.  I will send you a free copy of my "Ultimate Four Week Meal Plan and Shopping Guide" E-Book that is packed with healthy recipes just like this one.
Sign up below and the E-Book will be sent right to your inbox!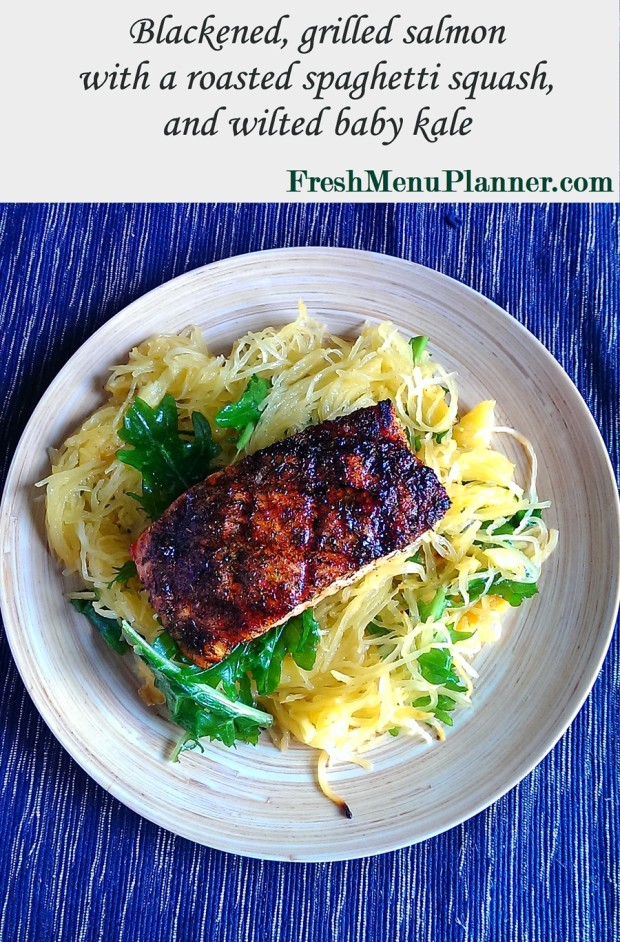 You may also like :