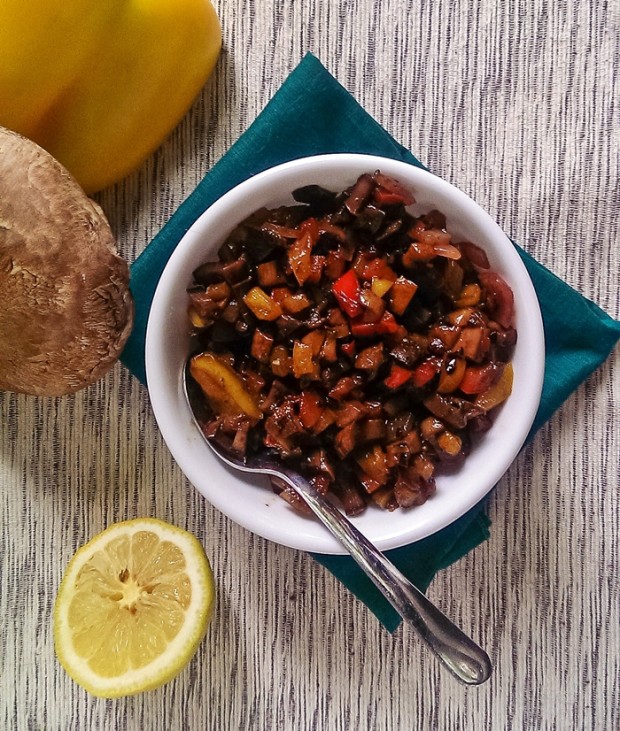 If you didn't read my last post about how to properly grill a chicken breast, please check it out.  Once you learn a few tips about cooking a juicy chicken breast, then come back here and you can make this relish.  The two will go hand in hand perfectly.
I promise!
Now that we have that out of the way, have you ever tried to make your own relish before?  It's a lot easier than you think.  To create this relish recipe I used a simple method of creating a gastrique.  What is a gastrique you ask?  It's a process of reducing equal parts of sugar and vinegar to create a delicious syrupy consistency.  It can then be used as a drizzle for vegetables, or added to a tomato sauce.  It has a lot of uses.
This gastrique is going to be used as a base for this relish.  It will thicken perfectly and hold the relish nice and tight.  I also use coconut palm sugar instead of regular white sugar for a healthier option.

Roasted Pepper and Portobello Relish
Prep time:
Cook time:
Total time:
The key to making this relish is to make sure that the relish is nice and tight, and not too watery. It will take a while for the relish to simmer down, but it will definitely be worth the wait! This recipe makes roughly two cups of relish.
Ingredients
2 Portobello mushrooms, with the stems removed
½ red pepper, with the seeds removed
½ yellow pepper, with the seeds removed
¼ of a red onion
1 teaspoon of finely chopped fresh thyme
¼ cup of balsamic vinegar
¼ cup of red wine vinegar
¼ cup of coconut palm sugar
Olive oil for grilling
Salt and pepper to taste
Instructions
Season the vegetables with olive oil salt, and pepper.
Turn on your grill to medium high heat.
Grill the vegetables until they are charred and soft. They shouldn't be burnt, but have a really nice color on them.
Once the vegetables are done, take them off the grill and let them cool. Dice them into a ¼:" dice
Heat up the vinegar and sugar in a pot, and simmer the mixture until it reduces by half.
Add in the chopped vegetables and thyme and simmer again until the vegetables are coated well with the syrupy mixture.
Cool the relish and store in your refrigerator for up to 4 days.
This relish recipe is perfect with homemade burgers, sausages or anything else you want to replace your traditional relish.  You could also mix this relish in with your favorite tomato sauce and toss with some gluten free pasta for a tasty vegetarian meal.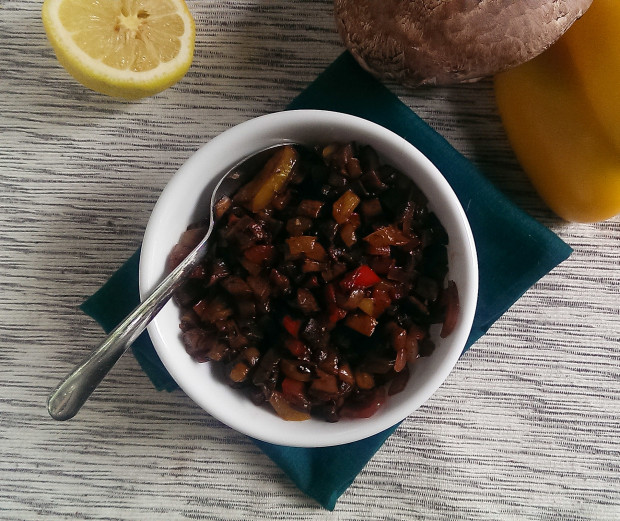 You may also like :