Chimichurri is such a classic Argentinean sauce.  Have any of you guys ever made it before?  It's perfect for marinading and saucing all kinds of meat, preferably meat.  Lots of meat.  Vegetarians don't you worry, I marinaded some Portobello mushrooms with this chimichurri sauce and they were so tasty!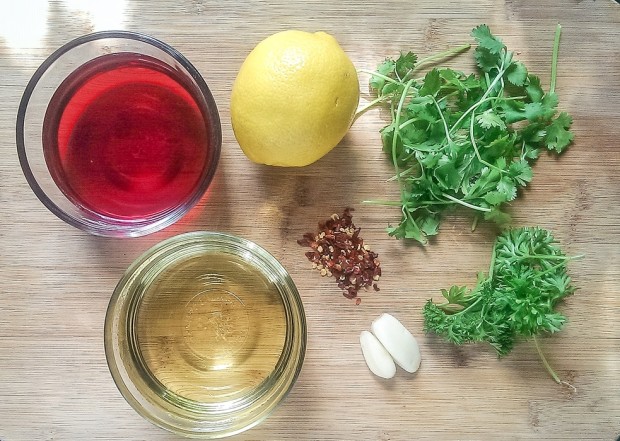 Chimichurri traditionally is made from a green herb, oil, vinegar, some chili flakes, and a lot of garlic.  My recipe used cilantro and parsley.  Normally there really isn't much else to a really good chimichurri.  I, of course want to change things up and completely add in a different element to this sauce.
Enter in caramelized onions and garlic.  I like the taste of sauteed onions and garlic, and I thought this would be a nice rich addition to my chimichurri.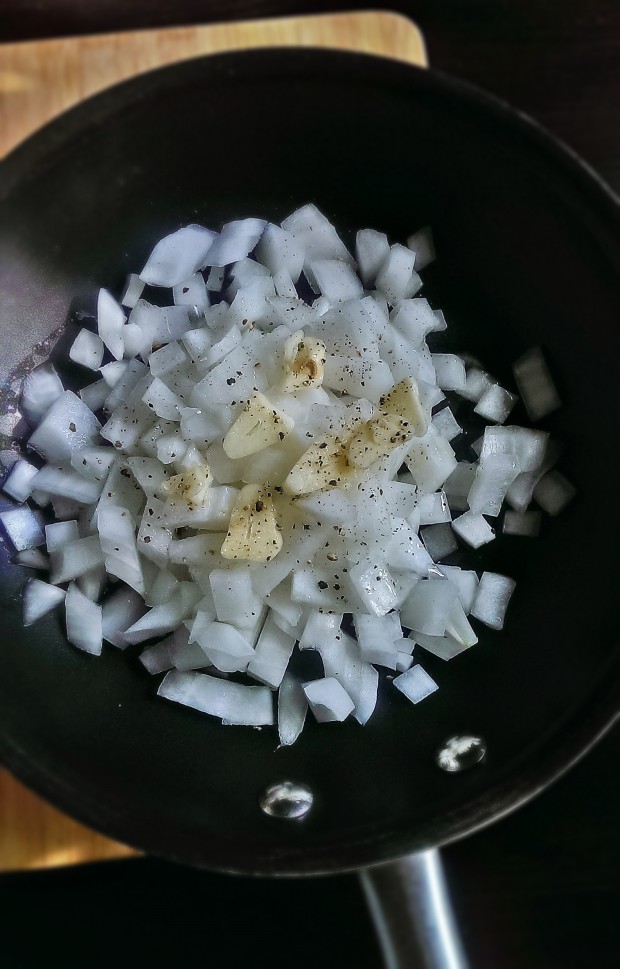 This recipe is going to have both cooked and raw garlic.  I like the taste of both, so it's going into the my sauce.  Trust me, I  know what I'm doing…most days!
The key to caramelizing onions and garlic is to keep them soft, light brown, and make sure to not but the garlic.  Garlic will have an awful burnt taste and you won't want that in your chimichurri.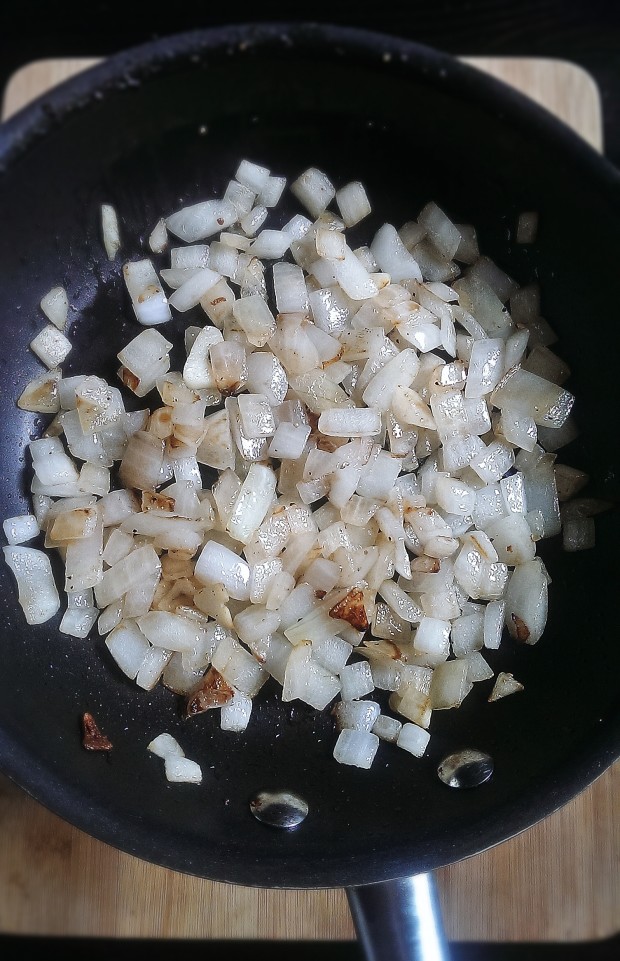 It won't take more than a few minutes to get the onions nice and soft.  I know I know, there are a couple of little brown bits of garlic!  Make sure to remove them before you mix everything else into the food processor!
All you have to do after this is add in the ingredients to the food processor and blend until smooth.  You can also feel free to leave it a bit chunkier too.  It's your sauce you can do it anyway you want!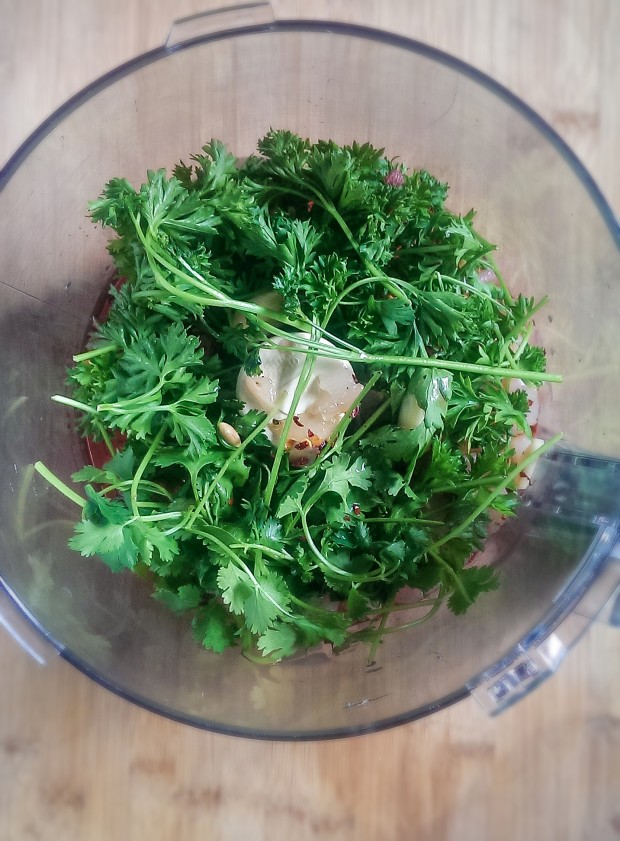 I chose to blend this chimichurri until it as smooth.  don't forget to add a lot of salt and pepper too!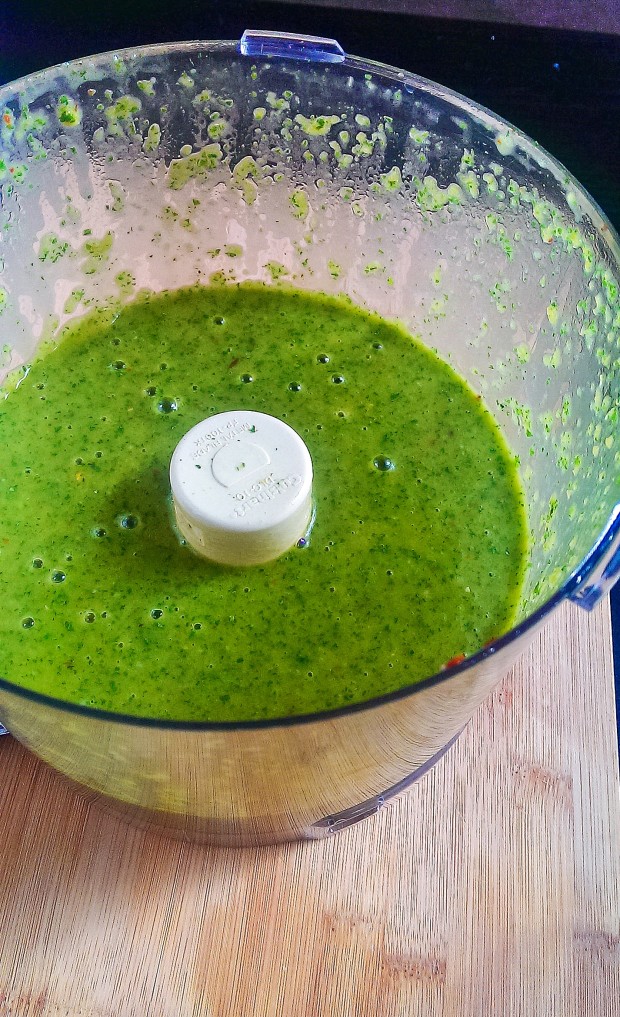 Roasted Onion Chimichurri
Prep time:
Cook time:
Total time:
This recipe will make roughly two cups of chimichurri
Ingredients
2 cups of cilantro, whole
1 cup of curly parsley, whole
3 cloves of garlic, slice one for sauteeing
½ cup of white onions
½ cup of red wine vinegar
¾ cup of vegetable oil
1 teaspoon of chili flakes
the juice of half a lemon
Instructions
Heat up 1 Tablespoon of oil and saute the onions with the one clove of sliced garlic. Cook until soft and light brown. Cool.
Blend with all other ingredients except for the vegetable oil in a food processor. Slowly add the oil in to emulsify the chimichurri.
Season to taste with salt, pepper, and lemon juice
If you are going to use this sauce to marinade some tough cuts of red meat, make sure to marinade them overnight.  That way the acid in the chimichurri will have enough time to break down the muscle tissue of the meat.  Don't season the steaks until you are ready to grill them, as the salt will draw out too much moisture before you are ready to grill.  You will be rewarded with a tender juicy steak, that has a lot of flavour.  Just make sure to save some chimichurri to drizzle overtop!
You may also like :