I sure lucked out with my beautiful wife.  She is so supportive of this website, and because of that she gets to eat pretty well if I do say so myself! I had left her this fantastic turkey dinner for her for dinner last night.  I got not only one, but five texts while I was at work saying how good it is!  Thank goodness for that.  Heather can be my little guinea pig sometimes and she doesn't always like the outcome, but it worked out this time!
The stuffing actually turned out really well.  The added orange juice works well with the cranberries, and the poultry seasoning was just the right touch.  Of course one of my favorite dishes to serve with turkey dinner is Brussels sprouts.  I whipped together some really quick that just had a touch of honey, dill, and garlic.  They were awesome!
The turkey is actually pretty simple.  I used a big turkey breast and stuffed that, but you could use this stuffing recipe for the whole turkey if you want!  It can also be a good side dish for any gluten free folks out there too.  Here's how to make it: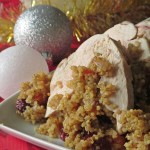 Roast Turkey with Cranberry Herb Quinoa Stuffing
Ingredients
1

cup

of dry quinoa

1

carrot finely diced

1/2

red onion finely diced

1

teaspoon

of poultry seasoning

1

clove

of garlic finely chopped

1/4

cup

of dried cranberries

1/2

cup

of orange juice

2

cups

of organic chicken stock

1

teaspoon

of olive oil

salt and pepper to taste

1 1/2

lbs

of turkey breast

butterflied
Instructions
Heat up the oil in a pot and sauté the onions, garlic and carrots. After a few minutes add in the quinoa and roast the kernels. After another 3 minutes add in the orange juice, chicken stock, dried cranberries and poultry spice and mix well. Season well with salt and pepper. Put on a lid and cook until the quinoa is fully cooked. Let cool.

Season the inside and outside of the butterflied turkey breast with salt and pepper. Put the stuffing right into the middle of the turkey and wrap up the meat around the stuffing. Use butchers twine to tie the turkey so the stuffing doesn't fall out. Cook the turkey in a 375 degree oven until the turkey's temperature reaches 165 degrees F. Pull out of the oven, and let cool a bit. Slice and serve.
This was a great start for food for the holidays, and of course, it's healthy!  We're allowed to be healthy during the holidays right?  I'm sure some people would agree December is a cheat month and then you can start fresh in the new year.  But I say you end the year with a delicious and healthy dinner.
You may also like :