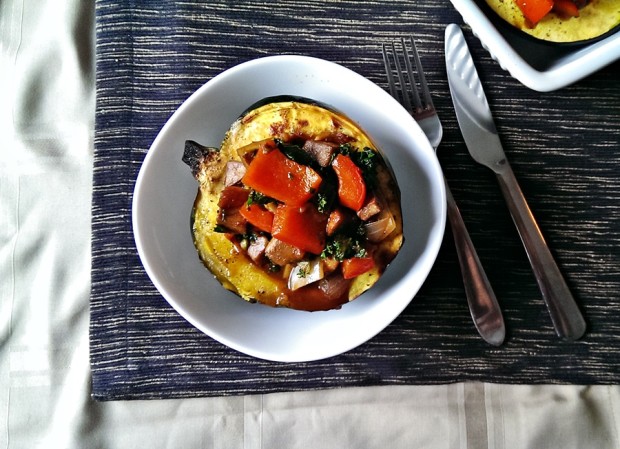 Ratatouille is one of my favourite Pixar movies.  I can't imagine why I would think that right?  A tale of a young chef (not a very good one) trying to make it in Paris, one of the food meccas in the world.  Sounds pretty magical.  Paris is a place Heather and I will want to travel to and eat our way through.
I wanted to create a nice side to go with the Stuffed Turkey Meatballs I made yesterday, so I decided to stuff some squash.  After this meal I have tonight I think I'm going to be a little bit "stuffed"……. I know I know that's a terrible joke.  Oh well, on to the recipe.
Ratatouille Stuffed Acorn Squash
Prep time:
Cook time:
Total time:
Ingredients
1 acorn squash, cut in half and guts scooped out
1 Tablespoon of olive oil
salt and pepper to taste
2 Portobello mushrooms cleaned and ½" diced
1 red pepper, ½" diced
½ cup of white onion, ½" diced
2 cloves of finely chopped garlic
1 cup of finely sliced kale
1 cup of organic tomato sauce
2 tablespoons of balsamic vinegar
½ teaspoon of basil, dry
½ teaspoon of oregano, dry
1 Tablespoon of butter
Instructions
Roast the squash in the oven at 400 degrees Fahrenheit for 25 minutes.
While the squash is roasting, sauté the chopped vegetables with the butter, garlic, and dried herbs.
You may have to add in a teaspoon of olive oil too.
Once the vegetables are nicely caramelized, deglaze with the balsamic vinegar, and then add the tomato sauce.
Mix in the kale, and then stuff the mixture into the squash.
Put the squash back in the oven for another 20 minutes, or until the squash is nice and soft.
The ratatouille will be well reduced and the balsamic vinegar will almost turn syrupy. It's so good!
Another easy to make dish for all my Fresh Menu Planner friends.  I also wanted to let all my readers know that I will have a featured blog post on
Yummly
coming up on March 6th!  I'm really excited for this as it will be a great opportunity to showcase what I have done.  Stay tuned friends!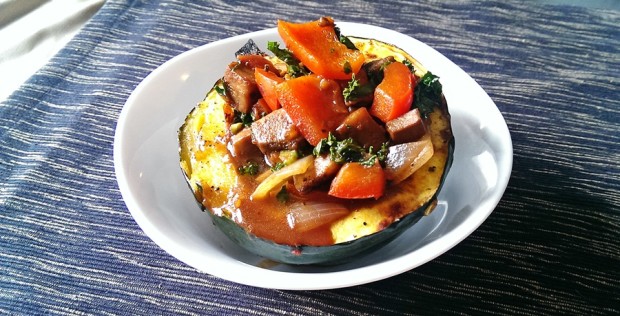 You may also like :