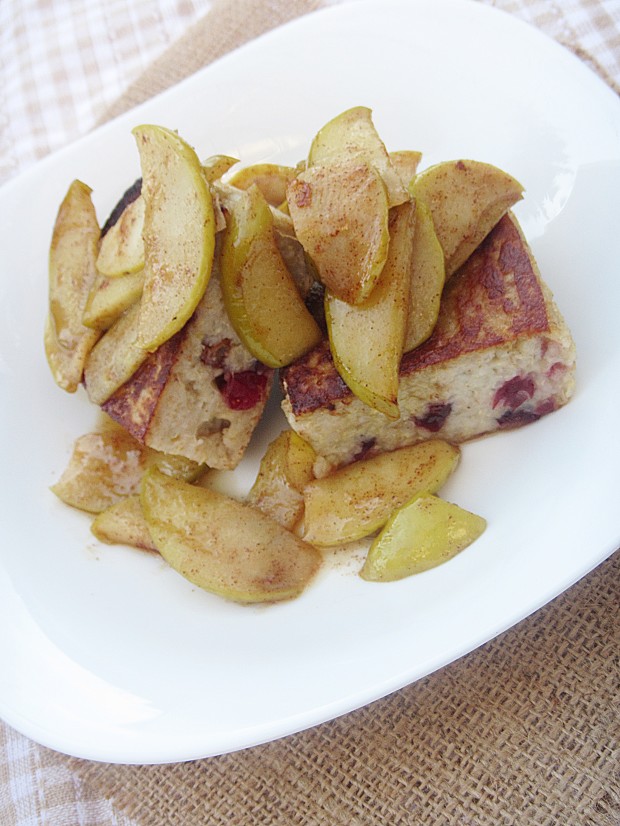 Something very exciting happened to me yesterday.  I was fortunate enough to have the opportunity to be on television to promote The Main Dish, and another company called Classroom Champions.  I had cooked up some healthy breakfasts and so I figured it only make sense that I show one of them on here, and this oatmeal was awesome!  It's a simple quinoa oatmeal recipe, but with a twist.  It's baked, and served with delicious roasted apples.
Classroom Champions was created by our good friend Steve Mesler, who is a gold medal American bobsledder.  He creates this amazing relationship between Olympic athletes and kids from all over North America.  The athletes will work with the kids to help them set goals, become an example for others, and create fair play.  It's a really great organization, and there are a lot of schools around the country already signed up!
You can check out a video clip of me and Canadian Olympic Luger Sam Edney Here
Alright now that I have successfully name dropped, let's get down to some delicious breakfast.  This quinoa oatmeal is so easy to make.  It can be cooked in large batches, chilled, and cut into squares that can be reheated whenever you need some extra protein.  There are a couple of eggs in the mixture to help the oatmeal bake properly.  There is a bit of maple syrup in the oatmeal, as well as the baked apples that go on top.  It's a simple quinoa oatmeal recipe that is packed with protein and really tasty.

Quinoa Oatmeal with Maple Roasted Apples
Prep time:
Cook time:
Total time:
Ingredients
Maple Caramelized Apples
4 apples, cored and sliced (I used granny smith apples, but use whatever kind you wish)
2 Tbsp of butter
½ teaspoon of cinnamon
1 Tablespoon of maple syrup
1 pinch of salt
Cranberry Quinoa Oatmeal
2 cups of rolled oats
2 cups of cooked quinoa
2 cups of water
¼ cup of raisins
¼ cup of dried cranberries
2 eggs
pinch of salt
1 Tablespoon of maple syrup
Instructions
For The Caramelized Apples
Heat up the butter in a pan on medium heat and sauté the apples and cinnamon for 2 minutes. Add in a pinch of salt and the syrup, and simmer for another minute or 2. Set aside.
For The Quinoa Oatmeal
Spray a casserole dish with non stick cooking spray and preheat your oven to 375 degrees. Heat up the water, quinoa, oats, and fruit in a pan until the mixture starts to simmer and thicken. The consistency should be thick and starchy. You can always add a bit of water to the mixture if need be. Take the pan off the heat and mix in the eggs. Add in the salt and maple syrup and transfer to the casserole dish. Bake in the oven for 20 minutes, or until the oatmeal is a light golden brown. Take out of the oven and serve with the maple roasted apples.
You can always add more syrup to the mix if you have a bit of a sweet tooth, but we are trying to keep it healthy here. Another way to add some more protein to the mix is to add a scoop of vanilla protein powder when the mixture is simmering.
I had just read a couple articles about if rolled oats were gluten free or not. From what I gather I believe they are for the most part, but only if they haven't been cross contaminated with gluten in the place it was processed. You can always try using gluten free oats, or even rice as a replacement for the oats. It may not bake as well as the rolled oats do.
Try out this recipe and let me know what you think.  I got a thumbs up from Heather so I think it's a win!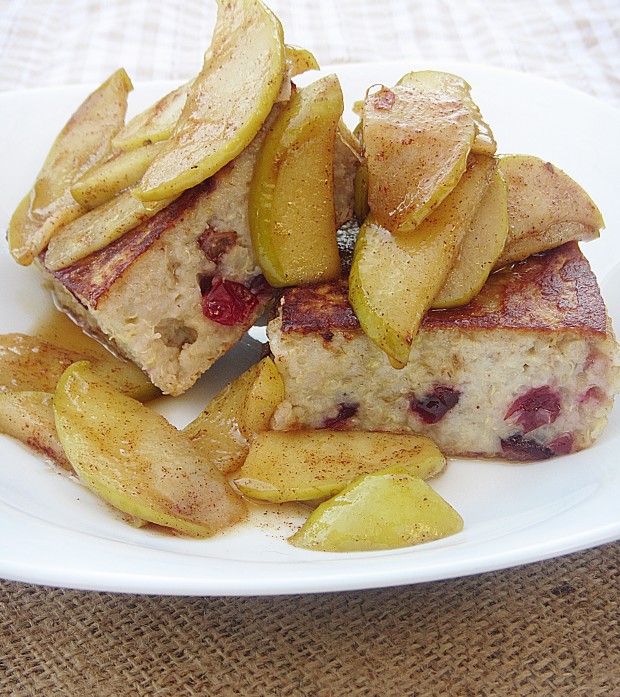 You may also like :