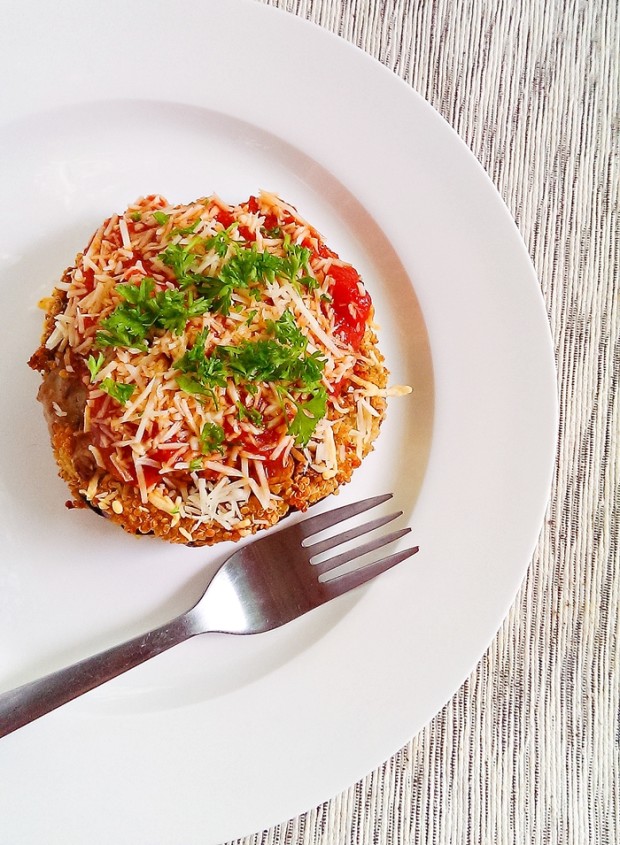 This quinoa crusted eggplant parmesan was a tasty, gluten free dish that our vegetarian friends enjoyed last night.  I was testing out a menu for their wedding.  I'm honored to be cooking for them.
Since I've known our friends Adam and Charlotte, I've always wanted to outdo myself with vegetarian creations.  They have told Heather and I so many stories about when they go to restaurants, and all that's offered is steamed vegetables and rice.
Vegetarians are people too!  Rice and steamed vegetables isn't really going to cut it now is it?
Charlotte and Adam have also enjoyed my Tomato and Goat Cheese Stuffed Peppers as well.  I like to keep them fed!
The idea for this actually came from another blogger.  Chung-Ah over at DamnDelicious.net  came up with a quinoa chicken parmesan recipe. I thought that it would be the perfect way to create a high protein vegetarian meal.
I'm a big eater, and so when I go to a wedding, I do expect a fairly large meal.  What better way to fill up for vegetarians than a nicely breaded piece of eggplant loaded with buffalo mozzarella, tomato sauce, and more cheese!
I used gluten free, rice flour as the first layer of breading, than an egg wash.  I repeated these layers one more time before I packed on the cooked quinoa.  The eggplant needs a little bit more glue compared to a chicken breast.
I also make sure to season the eggplant with a fair bit of salt and let it sit for about a half hour to draw out the moisture, and then proceed with the breading.

Quinoa Crusted Eggplant Parmesan
Prep time:
Cook time:
Total time:
Ingredients
1 egg plant, sliced into 1" thick slices
1 cup of gluten free rice flour
4 eggs
4 cups of cooked quinoa
2 Tablespoons of basil, dry
2 Tablespoons of oregano, dry
2 cups of high quality tomato sauce
1 cup of buffalo mozzarella sliced
2 Tablespoons of balsamic vinegar
1 cup of shredded parmesan cheese
¼ cup of finely chopped parsley
salt and pepper to taste
Instructions
Peel and slice the eggplant into 1" slices. Season with salt and let sit for a half hour to draw out some of the moisture.
create a breading station with flour, the eggs mixed with some water (egg wash) and the cooked quinoa with the dry herbs all in seperate bowls. Make sure to lightly season each of the 3 bowls with salt and pepper.
Dredge the eggplant in the flour, than the egg wash, the flour, the egg wash, and then the quinoa. Make sure to pack the quinoa on tightly.
Bake in a 375 degree Fahrenheit oven for 20 minutes, or until slightly brown.
Mix together the mozzarella and the balsamic vinegar. Top on the eggplant, with the tomato sauce, and parmesan.
Bake for another 5 minutes, or until the cheese is melted and slightly brown. Garnish with the chopped parsley.
You may also like :