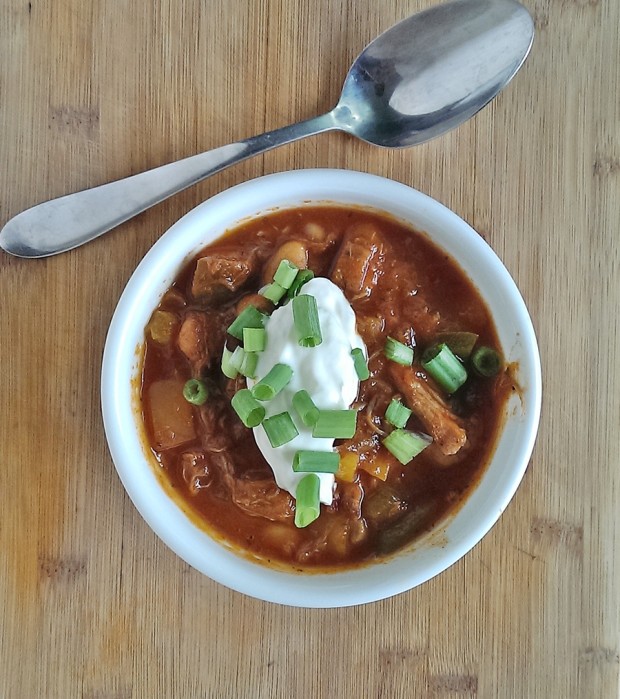 Hey everyone, before I get to this delicious recipe, I wanted to share with you the newest website that I teamed up with.  Aloha is a great health and wellness website that has a lot of like minded people like me that focus on healthy, easy to make recipes.  Their food photography is pretty amazing too!  You should check out their recipes here.  They also have some super healthy products you should check out as well here.  On with my pulled pork chili!
Soup Tuesday has finally come back!  A few of Heather's co-workers have prepared some delicious soups, but now it is my turn.  One of Heather's favorite things these days is pulled meat.  She mentioned she wanted me to prepare a chili.  I immediately thought pulled pork.
How delicious does this chili sound?  You should have smelled it in our kitchen!  I love the smell of chipotle and cumin.  The weather has gotten pretty cold here in Calgary the last few days and this dish is perfect.  All of Heathers co-workers really enjoyed this chili.

Pulled Pork Chili
Prep time:
Cook time:
Total time:
Ingredients
1.5 lbs. of pork shoulder
2 cans of a bean medley (kidney beans, white beans, garbanzo beans)
1 cup of ¼" dice white onion
2 cups of ¼" diced peppers (red, green, or yellow)
1 cup of frozen corn niblets,
3 cloves of garlic
1.5 L of organic tomato sauce
2 Tablespoons of your favorite hot sauce
½ cup of sliced green onions
2 Tablespoons of olive oil
Salt and Pepper to taste
Pork Rub
1 Tbsp of chipotle powder
1 teaspoon of ground cumin
1 teaspoon of chili powder
1 teaspoon of dried oregano
1 teaspoon of dried basil
Instructions
Rub the pork shoulder with all of the spices and also season with salt and pepper. Heat up a pan with the olive oil and sear the pork shoulder on all sides. Add into a crock pot and cover with the tomato sauce and hot sauce. Turn on the crock pot to high and cook for 2 hours.
Heat up another pan with a bit of olive oil and saute the vegetables for a few minutes to soften. Season with salt and pepper and then add into the crock pot.
Cook for another 2 hours, or until the pork falls apart and starts to shred. Add in the beans and check for seasoning. If you want to increase the spice add more of your favorite hot sauce. Enjoy!
This chili is such a simple recipe.  That's why I love braising meat so much.  You just let it sit in a crock pot for a few hours, and time does all the work.  Another great part is that this recipe is super cheap too.  The best cuts of meat are sometimes the cheapest and toughest.  Once you break down that connective tissue of the meat, it becomes so delicious and tender.  You're going to enjoy this chili!
You may also like :