I hope everyone had a safe and happy Halloween.  Heather and I take Halloween very seriously, and it was another great night at our house.  We had all sorts of decorations.  Fake blood, spiders that drop down on you, and LED skulls were just a few of the tricks that the kids got to experience.  We average 80 to 100 kids every year and this year didn't disappoint.  We went through roughly 350 pieces of candy, and of course consumed a fair bit of it ourselves.
That's the main reason for this blog post today.  Over the last month gearing up for Halloween,  I will admit that I haven't been eating nearly as healthy as I usually do.  The Main Dish has been keeping me super busy, and lately when I have been coming home from work all I want to do is go out for dinner, or eat something that definitely isn't as healthy.
We are all human, and of course will stray off course from time to time.  I've been pretty consistent lately, but when you get me around small individually packed chocolates, I go a little crazy!  How can you resist Reese's peanut butter cups, or all the Smarties you can eat?
From what I have read and heard, it's that my body is nutrient deficient.  I wouldn't be surprised as I work hard, work out, and sometimes don't listen to my body as well as I should.  If my body were getting everything it needed, I probably wouldn't have so many cravings for the sweet stuff.
That being said I am going to try a different approach for a bit.  As you can see from the picture I went on a really productive shopping spree and purchased a lot of vegetables, fruit, and lean protein for Heather and I to help get our nutrition back on track.  It's definitely not a cleanse, but all it will take is eating some good hearty salads, juicing, and staying hydrated.
I look forward to sharing with everyone how I feel in a week or so.  Putting this on the internet gives me even more added pressure to follow through on this.  It will also help improve my health, which I guess is a good thing too right?
Last night was a great start as I threw together this really simple gluten free pasta with spaghetti squash and arugula.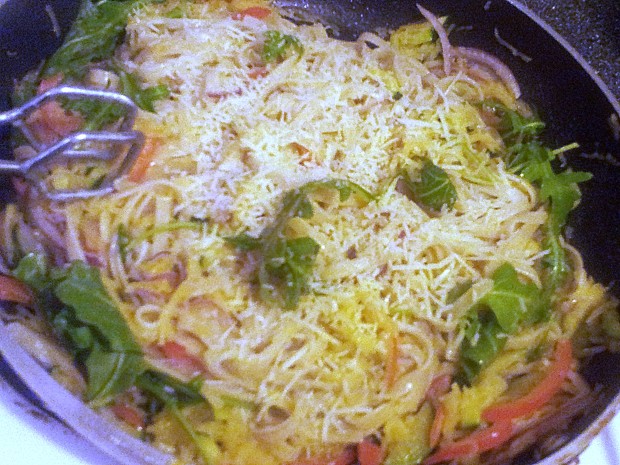 KR2WNFJ3BCUT
You may also like :