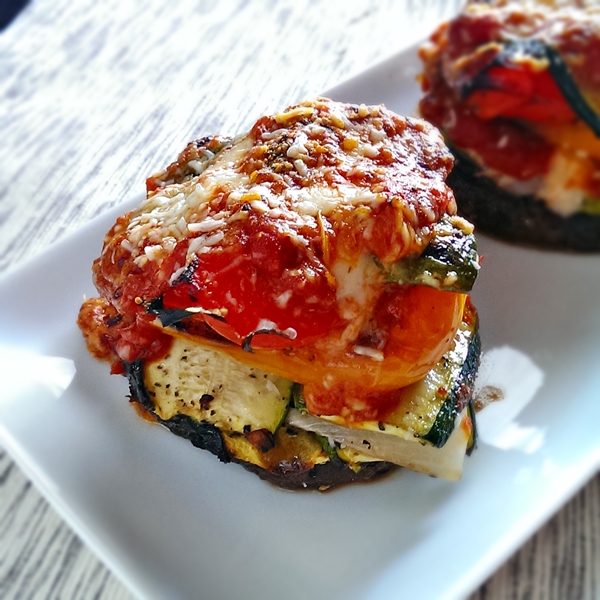 So one of the guys at work will often make mushroom stacks for the vegetarians that we have to feed.  Normally he will just roast some vegetables and top it with cheese and bingo, happy veggies!  I figured as I am still reworking some classic indulgent favorites, I thought I would create a lasagna stack with Portobello mushrooms.  It got Heathers approval tonight which is always great!  I commend her for trying some of my experiments.  She is a huge support for me and I love her immensely for that.
It's also finally spring here in Calgary (I hope!) and this is a great dish that's nice and light and packed with all kinds of vegetables.  Yes, yes I know there is a lot of cheese in this lasagna recipe, but hey, It's LASAGNA!
Besides, you will feel a lot better after eating this dish, compared to packing away a huge slice of lasagna that's layered with noodles.
I know what you meatatarians are saying… "What about us?"
Well the best part is you could easily create a simple Bolognese sauce with the tomato sauce, and then top these roasted vegetables with that, and of course lots of cheese.  Don't forget the cheese….ever.  I'll throw a meat eaters version in the recipe below.
There are also a bunch of other vegetables you can use in these stacks too.
Eat this!  You'll like it!

Portobello Mushroom Lasagna Stacks
Prep time:
Cook time:
Total time:
Ingredients
4 Portobello mushrooms, stem removed
1 red pepper, quartered
1 yellow pepper, quartered
¼ of an onion, red or white
1 zucchini, halved and thinly sliced
3 cloves of garlic, finely chopped
2 cups or organic tomato sauce
½ cup of shredded parmesan
1 cup of thinly sliced buffalo mozzarella
1 Tablespoon of oregano, dry
1 Tablespoon of basil, dry
Balsamic vinegar for drizzling
Olive oil for drizzling
salt and pepper to taste
Want to make this a meat lasagna? Brown 1 lb. of ground beef, drain off the fat, and then the tomato sauce. Let simmer for a few minutes to make a quick Bolognese that you can layer in with the vegetables and cheese.
Instructions
Preheat your oven to 375 degrees Fahrenheit
Toss all of the vegetables well with olive oil, balsamic vinegar, garlic, the dried herbs, salt and pepper.
Spread evenly on a baking tray (or two) and cook until roasted nicely, but not burnt. This will probably take about 20 minutes or so.
Take out the vegetables and let cool.
Build layers of the vegetables, cheese and tomato sauce, and make sure to top with lots of the cheese too.
Change your oven to broil, and brown the stacks in the oven until golden brown, and cheesy. Serve.
Portobello mushrooms are great for dishes like this.  They hold up and can handle a lot of toppings, almost like a good loaf of bread.  They also make great burgers too.
Have you had a chance to follow me on Instagram?  If not you can follow me here, and see what else I cook for my wife and I, when I'm not blogging all the time.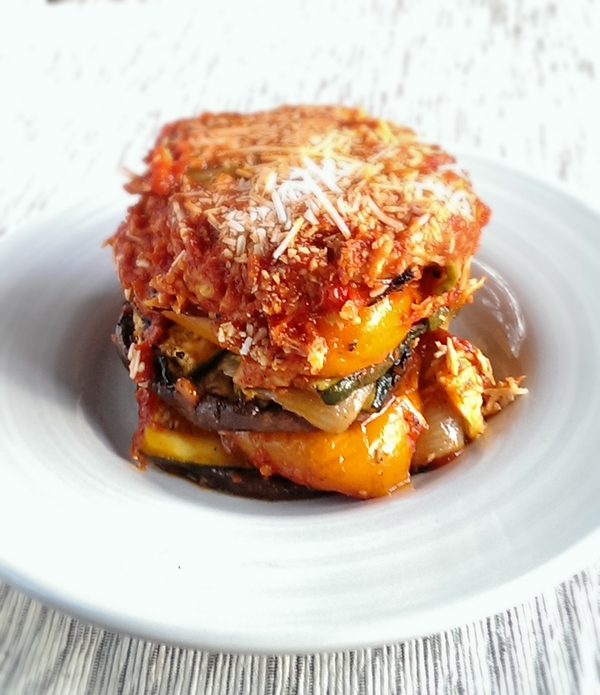 You may also like :