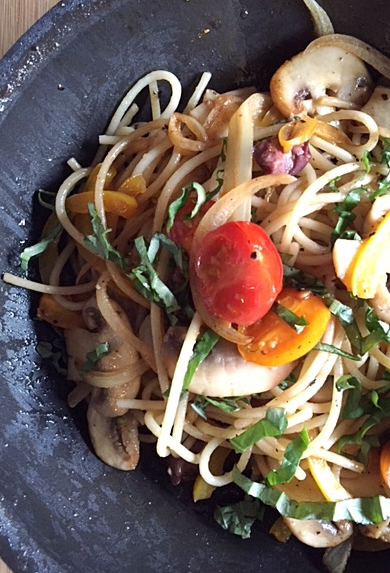 Heather and I had our fantastic friends Adam and Charlotte over this past weekend.  It had been a while since we have seen them, and I love cooking for them.  They are vegetarians, and I like keeping things simple and delicious for them.  One of Heather's favorite dishes I have been making for her lately is a primavera pasta with caramelized onions, garlic, butter and Parmesan cheese.
I figured this would be a perfect dish to make for our friends.  I made it a build your own type set up with lots of vegetables to choose from.  The base of the sauce is a simple white wine reduction with a little bit of butter melted in right at the end to add some richness.  This is a very easy dish to make any night of the week, and it reheats really well the next day.  Any of your favorite pastas would work for this dish as well.

Pasta Primavera
Recipe type:
Pasta, Entree
Prep time:
Cook time:
Total time:
Ingredients
2 lbs. of Cooked Pasta (any of your favorite kinds will do)
½ Cup of thinly sliced white onion
4 cloves of garlic, thinly sliced
½ cup of thinly sliced red peppers
½ cup of grape tomatoes, halved
1 cup of sliced mushrooms
½ cup of sliced black olives
chiffonade basil as garnish
½ cup of white wine
3 Tablespoons of olive oil
4 teaspoons of butter
salt and pepper to taste
The juice of 1 lemon
Parmesan cheese
Instructions
Cook your favorite pasta according to the directions on the back of the box. Cool and set aside.
Heat up a large pan with the olive oil and add in the sliced onions. Cook the onions down until light brown in color and then add the garlic and the rest of the vegetables.
Add in the wine and deglaze the pan. Cook the wine down about half and season well with salt and pepper.
Add in the pasta, butter and whatever amount of parmesan you like and heat through.
Finish the pasta with the chiffonade basil. Serve
For all you meat eaters out there, a delicious Italian sausage would go really well with this, as well as some prawns.  Have fun making this simple pasta!
You may also like :