This was a dish I whipped up one night not too long ago.  The key to making the ratatouille is a really good quality tomato sauce.  You can spend the time cooking onions, tomatoes, garlic, and any other ingredients you can think of!  Or you can simply get a high quality tomato sauce.  My preference would be organic if you can. Here is a list of organic tomato sauces.
  As you can tell there are a lot to choose from and I don't think there is once sauce that is preferred over another.  I think you should just try them all and see for yourself!
This is a super easy dish that shouldn't take any longer than a half hour, and the longest part of this dish is the roasted spaghetti squash, which you could easily leave out.  I just love spaghetti squash and all it needs is some salt and pepper and a bit of butter.
Serves 4
Chicken
1 pound of Chicken breasts (4 equal portions)
4 teaspoons of grated parmesan cheese
2 teaspoons of oregano, dried
2 teaspoons of basil, dried
1 Tablespoon of olive oil
salt and pepper to taste
Ratatouille
1 red pepper 1/2″ dice
1 green pepper 1/2″ dice
1 zucchini 1/2″ dice
1/2 a red onion 1/2″ dice
5-7 cremini mushrooms, quartered
2 cloves of garlic finely chopped
1 Tbsp olive oil
2 cups (500 ml) or organic tomato sauce of choice
salt and pepper to taste
1/2 spaghetti squash roasted and scraped into a bowl to use for garnish
Method
1.  Preheat your oven to 350 degrees.  Using a cast iron skillet or non stick pan, heat up 1 Tbsp of olive oil and get it nice and hot.  Season the chicken breast with salt and pepper and sear the chicken until it is golden brown.  Mix together the dried herbs and parmesan cheese and top on the chicken breasts.  Cook in the oven until the chicken reads 165 degrees Fahrenheit with a thermometer
.
2.  Heat up the other olive oil in another pan and sauté all of the vegetables with the chopped garlic for just a few minutes to start developing the flavors and colors.  Add in the organic tomato sauce and heat through.
3.  Slice the juicy cooked chicken and serve on top of the ratatouille.  Top with the delicious spaghetti squash.
4.  Enjoy!
Nutritional Information
32 grams of protein , 24 grams of carbohydrates, 698 mg of sodium 10 grams of fat, 4 grams of fibre, 68 mg of cholesterol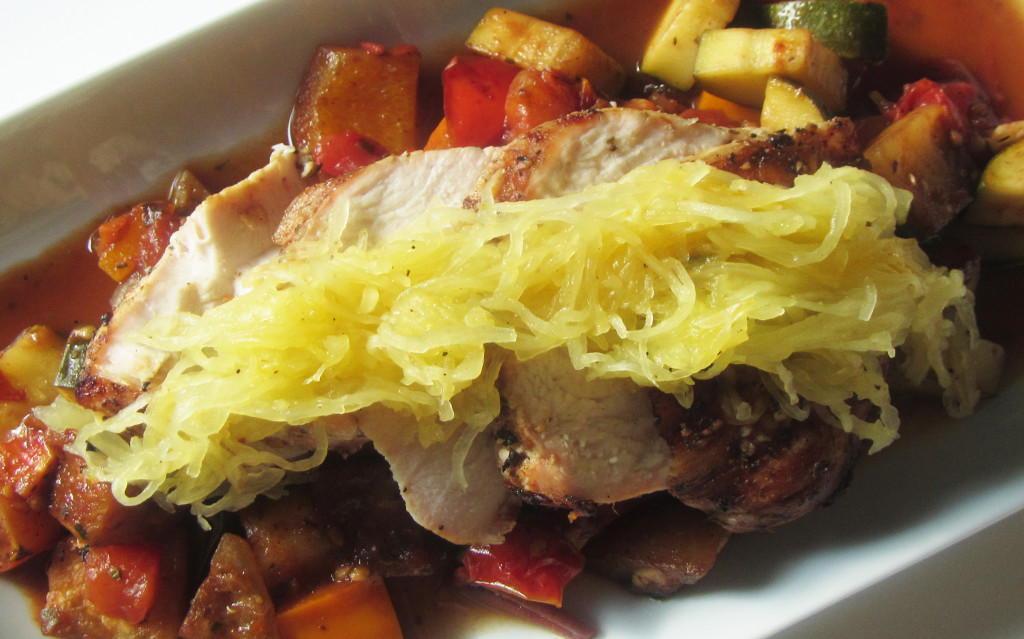 You may also like :