Being born and raised in the province of Alberta, I have always been a meat and potato guy.  There's nothing better than a really good roast beef dinner with all of your friends and loved ones, and with all the trimmings.  The problem of course is that you end up eating way too much, and consuming things like processed gravy and eating reheated frozen vegetables.  At least this is the way I remember my family preparing the Sunday meals!  I think I can do better than that!
I wanted to show everyone how I do meat and potatoes for my wife and I.  The first step is to get a really great cut of meat.  I was at Superstore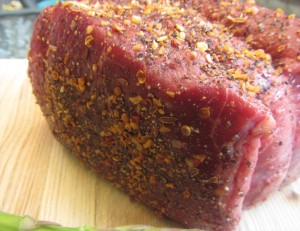 yesterday and picked up a good sized roast that was free range, and hormone free.  I made a really delicious marinade of red wine vinegar, olive oil, brown sugar, and black peppercorns, just enough to cover the meat.   This was an inside round roast and so was a little bit tough, and wanted to marinade it to tenderize the beef.  I let it sit for a couple hours, dried it off and seasoned really well with salt, pepper, and steak spice.  The plan is to heat up the BBQ and slow roast the beef until cooked to a beautiful medium rare.  I heated up the grill to a medium high heat and started searing the roast on all sides, making sure to take my time as it will take around 30-40 minutes to get this sucker cooked to medium rare.  I made sure to have a meat thermometer so I could accurately take the temperature of the meat.  A good medium rare should be around 125 degrees Fahrenheit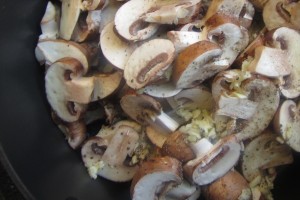 The next part was the wild mushroom gravy I made.  I wanted to try my hand at an alternative to flour, so I used organic spelt flour.  It isn't gluten free, but it high in nutrients and organic.  It actually worked really well!  First I sautéed organic cremini and portabella mushrooms with lots of garlic, fresh thyme, and olive oil.  As the mushrooms start to sweat and get nice and soft, I added in 3 Tablespoons of spelt flour and cooked it out for a good 5 minutes.  This will help to cook out the starchy taste and give the gravy some added color.  I then added organic beef stock little bits at a time, incorporating everything with a whisk until everything was nice and smooth.  This is definitely a healthier way to do gravy.  Make sure to use a lot of salt and pepper too!
While my gravy was simmering and roast cooking on the grill, it was time to roast my potatoes.  I got these really great baby potatoes that are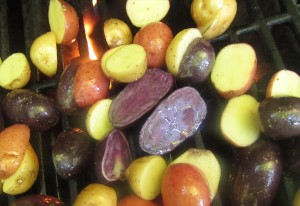 yellow, red and blue.  I seasoned them with salt, pepper, and olive oil and simply put them right on the grill.  These guys cooked up in roughly 10-15 minutes on medium high heat.  They were delicious!  I threw on some asparagus too while everything was cooking for the last few minutes.  I took the roast off the grill and made sure to let it rest, or else all of the juices would start running.  You obviously want them in the meat!  I sliced this guy after about 5 minutes of letting it sit and it looked amazing.  I was so proud to be serving this healthy meal to me and my wife.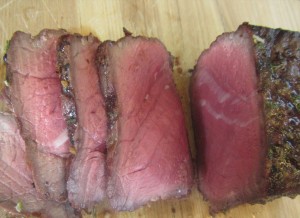 We got 4 good sized portions out of a 1.3 pound roast.  It was so good!  This dish is healthy, the gravy was amazing, and a lot of the products were organic which was also a plus!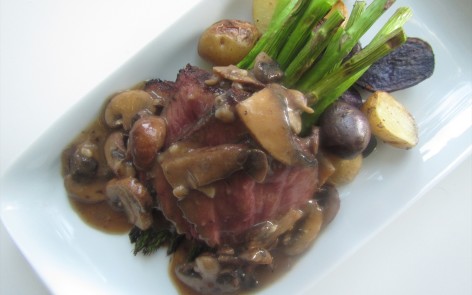 You may also like :