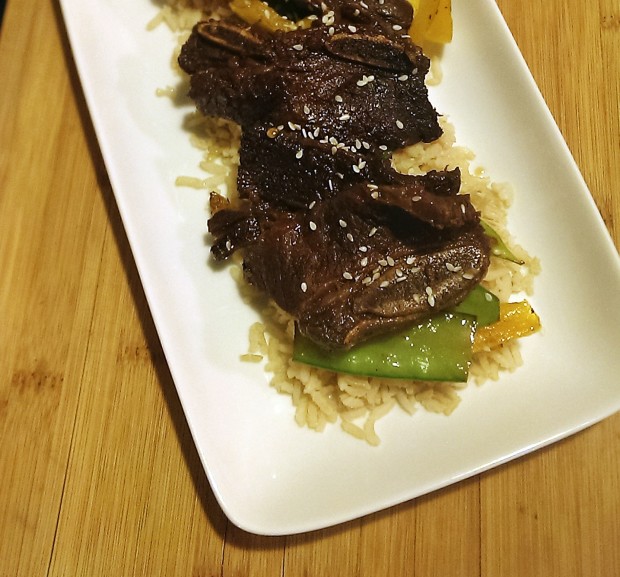 I'm sure by now that you guys have realized that I love cooking with my slow cooker.  Can you blame me?  The weather here in Calgary isn't exactly predictable, or warm for that matter!  It also works perfect because Heather and I will then have a healthy lunch all ready to go the next day.
I also have some interesting news on the job front.  I'm out of the restaurant business…for now!  I know it will probably come as a shock to some people, but I'm still going to be working with chefs.  I took a job in sales with a commercial equipment company!  It's been about 5 weeks and a bit of a transition for me.  What's really nice is I still get to engage with kitchens without the 14 hour shifts and my clothes smelling like food all the time!  It also gives me more time to blog which is going to be a big thing moving forward.  The commission isn't bad either!
For this recipe, I used some thinly sliced short ribs.  This is great because when I get home from work at 5, I can put them on and they will only take an hour and a half, as opposed to 4 hours for the thick ones.  They are just as tender too!  This is a healthy, gluten free dish that uses lots of garlic, ginger, molasses, and gluten free soy sauce.  I just sauteed some peppers and snow peas and served everything on some warm rice.

Korean Braised Short Ribs
Prep time:
Cook time:
Total time:
Ingredients
2 lbs. of thinly sliced beef short ribs
1 tsp of garlic powder
1 Tbsp of Steak Spice
Salt and Pepper To taste
Braising Liquid
1 cup of gluten free soy sauce
1 cup of water
¼ cup of molasses
1 tsp of grated ginger
½ tsp of sesame oil
½ tsp of chili flakes
Sesame seeds as garnish
Instructions
Season the short ribs well and place on a baking sheet and broil in the oven for 3-5 minutes to get some color.
Add into a small slow cooker.
Whisk together the braising liquid and cover the short ribs. Braise on high for 1 hour and check periodically until tender.
Serve over sauteed vegetables and rice. Drizzle the braising sauce over top. Garnish with sesame seeds.
On another happy note, Heather's kidneys have been doing a lot better.  They haven't been hurting for over three weeks and she's been able to catch up a lot of sleep which she needed.  We still haven't found out what's wrong with them yet, but once we know, I'll be sure to let all my loyal readers know.
You may also like :