Kale definitely makes a delicious, healthy substitution for traditional cabbage in this coleslaw.  The quinoa that's added to it helps to make this a heartier side, or a perfect dish for a vegetarian.  I actually had this coleslaw with some salmon today, and it was a perfectly filling meal without being too heavy.
Kale Quinoa Coleslaw (makes 4-6 servings)
1 head of kale, sliced very thin
2 carrots, peeled and grated
1/2 a red onion, sliced thin
1 red pepper, sliced thin
2 cups of quinoa, dry
Dressing
1/4 cup apple cider vinegar
1 Tablespoon of honey
1 cup of Greek yogurt
1 teaspoon of dill
1/4 cup of roasted shallot oil (take two shallots and heat up in a cup of olive oil.  Let lightly simmer until the shallots turn golden brown.  Put into the refrigerator.  The shallot oil will keep up to at least a week!)
Method
Cook the quinoa according to the directions on the box.  One cool mix together the cold quinoa with the sliced vegetables.  Whisk together the dressing and add to the salad mixture.  Add as much or as little as you like!
The salad can keep for a few days in the refrigerator and is perfect to take for a lunch, or to have as a side with your favorite piece of fish.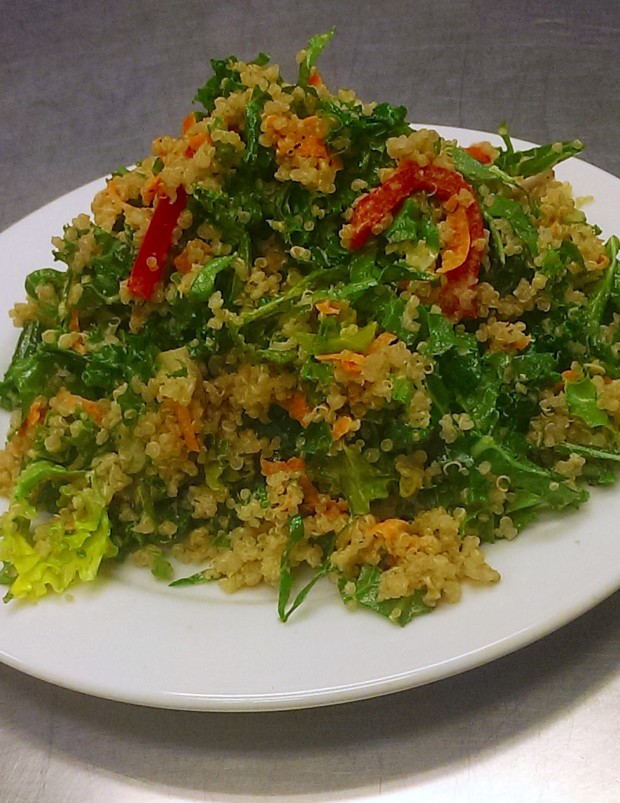 As I had mentioned on my Facebook page, over the next couple of weeks I am planning to switch gears and focus on healthy, simple, easy to make breakfasts for people on the go.  I will be creating dishes that can be prepared in under 10 minutes!  Sounds crazy right?  Well that's the only way I figure I can get you guys to eat breakfast that isn't fast food!
I have realized that after being in the restaurant business for 13 years now, I have become a seasoned veteran in preparing breakfast for customers in a short amount of time.  It's time I teach you all my secrets and help you make breakfast for yourself.  Stay tuned for these delicious recipes and comment on them and let me know what you think.  My goal is to help you eat healthy while still giving you time for yourself.  I'm up to the challenge!
You may also like :