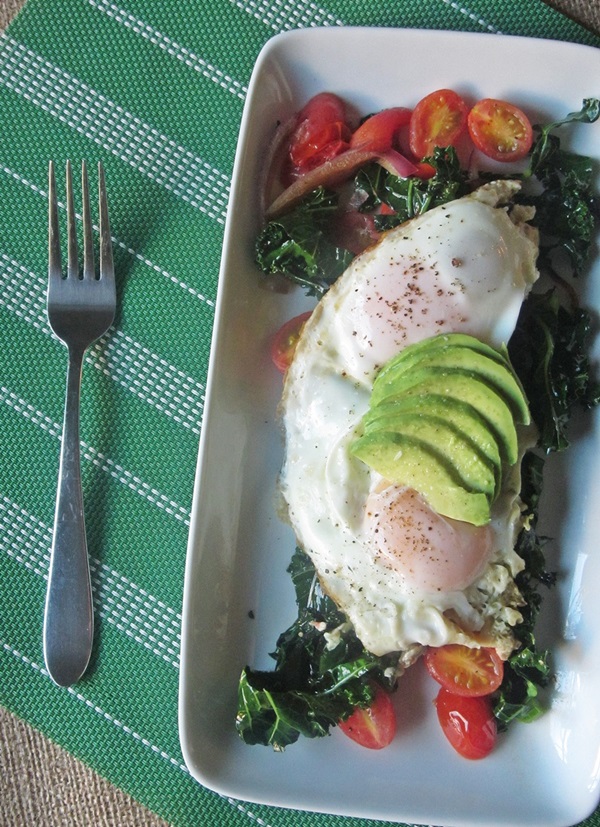 The goal of these blog posts is to show you how easy it can be to make a healthy, delicious breakfast in under 10 minutes.  Getting ready in the morning can be one of the more hectic times of the day, especially if you are trying to get kids off to school.  I believe that starting off with a good breakfast is crucial, but sometimes we are forced to grab what's convenient on the way to work or school.  These recipes are going to give you guys ideas for all kinds of different ideas to help satiate the first meal of the day.
The first recipe I want to start with is one I made in about 5 minutes.  I'm not even joking.  One of my favourite things to make for breakfast is basted eggs.  You put a bit of oil in a pan, crack an egg, add in a bit of water, and then cover and crank the heat for only a minute or two.  The yolks will still be nice and runny, and it is healthier than frying the egg all the way through.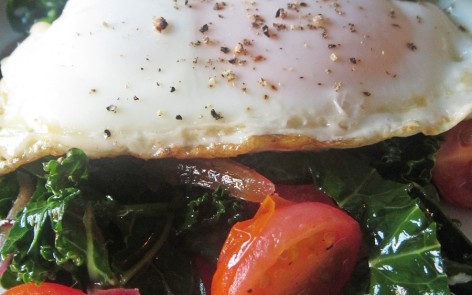 Breakfast in 10 - Kale Avocado and Basted Eggs
Prep time:
Cook time:
Total time:
Ingredients
4 large eggs (you can use any variety you want)
2 cups of kale, thinly sliced
¼ cup of red onion, thinly sliced
½ cup halved grape tomatoes
2 teaspoons of hot sauce
1 teaspoon of butter
1 teaspoon of olive oil
Salt and pepper to taste
Instructions
Toss the grape tomatoes with the hot sauce and salt and pepper. Heat up a non-stick pan with the olive oil and butter and lightly sauté the onions and kale. Move them to the side of the pan and add in the tomatoes. Crack the eggs on the other side of the pan, add in 2 Tablespoons of water, and cover with a lid. Steam for 1 minute on high heat. Cook the eggs until desired doneness is achieved. Put on a place and top with salt, pepper, and slices of avocado.
In the next installment, I will be showing you how to cook an omelette properly (which also will take under 10 minutes) and will give you 10 ideas for different varieties of omelettes.  Stay tuned!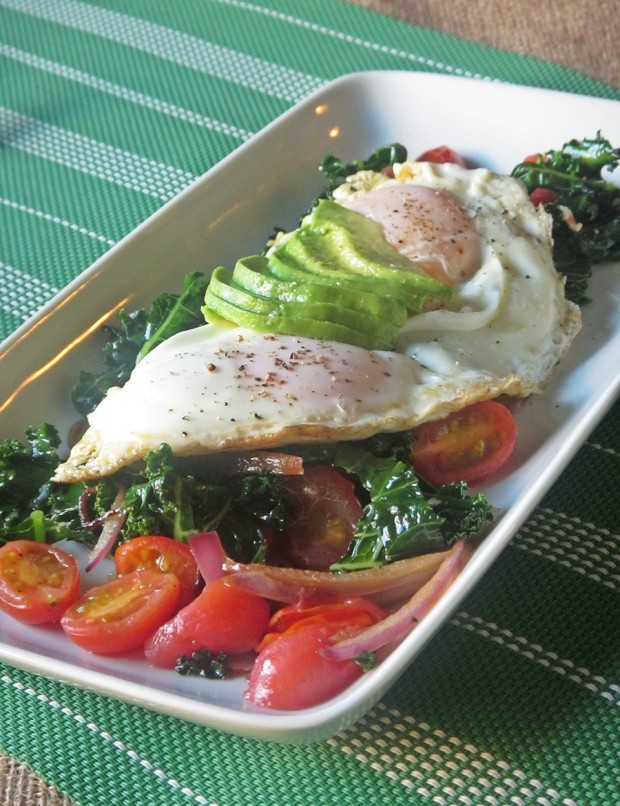 You may also like :