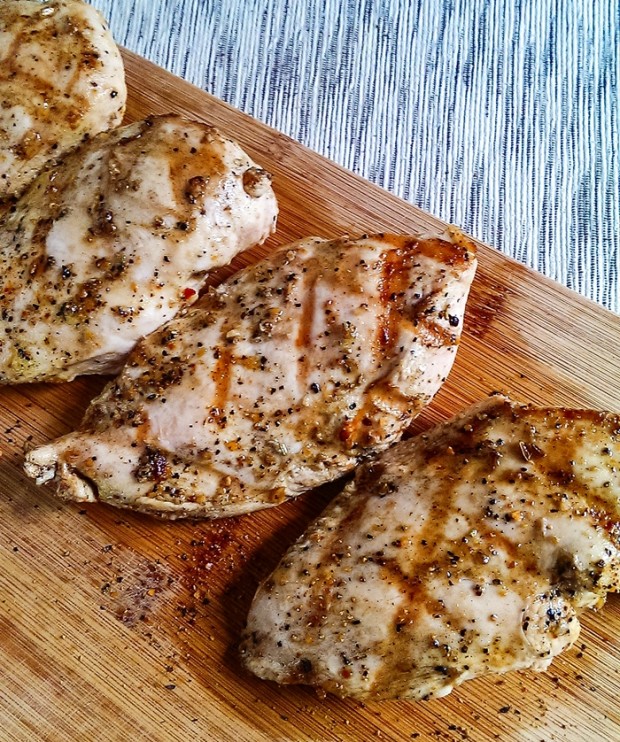 It's happened to you so many times before.
You go to a friends or family barbecue, and all you can smell is delicious grilled meat.
You go have a look at the grill to see what you are having for dinner, and sure enough what do you see?
DRY….BURNT…OVERCOOKED….chicken.
You are a good friend, and so take your charred piece of protein and smile, knowing full well you will have to slather it in BBQ sauce, ketchup, or anything else you can find to moisten up your charcoal of an entree.
I'm not saying this happens all the time, but we've all had over cooked protein before haven't we?
Do you have trouble cooking your own poultry?  Does your chicken breast lack flavor?  Dryer than your skin in the winter time?
Fresh Menu Planner to the rescue!
This blog post is here to help everyone with the task of grilling protein the way it is supposed to be.  Sauces should enhance an already tender, juicy chicken breast, not try to fix it!
This recipe below will give you a simple method of how to grill chicken breasts without overcooking, and proper seasoning.
Grilled Chicken Breasts
Prep time:
Cook time:
Total time:
This little marinade for the chicken will act as a tasty brine that will tenderize the meat a bit and season it from the inside out. This is a basic way to cook chicken, but will make a huge difference on how your grilled poultry will taste from now on. You can also add your favorite sauce to the chicken, but now it will enhance it instead of hide how dry it actually is!
Ingredients
4 chicken breasts
3 Tablespoons of extra virgin olive oil
the juice of one lemon
1 Tablespoon of white wine vinegar
Good quality Himalayan salt and pepper
Montreal steak spice (make sure there is no msg!)
Instructions
whisk together the olive oil, lemon juice, and vinegar and cover the chicken breasts with this mixture. Season the chicken with salt. Mix around well and leave in the refrigerator for a couple hours.
Make sure the grill is preheated on medium high heat, and cleaned well. Use some paper towel and dip into some olive oil. Be careful and lightly grease the grill with the oil to season it.
Lightly pat the chicken dry and season well with some steak spice. Put the chicken on the grill. After a few minutes, quarter the chicken. After another few minutes, flip over the breasts and cook for a similar amount of time. Use a meat thermometer and make sure the temperature reads 163 degrees Fahrenheit.
Once the chicken breasts are cooked to the right temperature, take them off the grill and let them rest for a few minutes before slicing or serving. Enjoy!.
This is just one of the many recipes you will find in my "Ultimate Four Week Meal Plan and Shopping Guide" E-Book.  If you want to snag yourself a free copy, just sign up for my newsletter below.  The E-Book will be sent directly to your inbox!  Sign up today.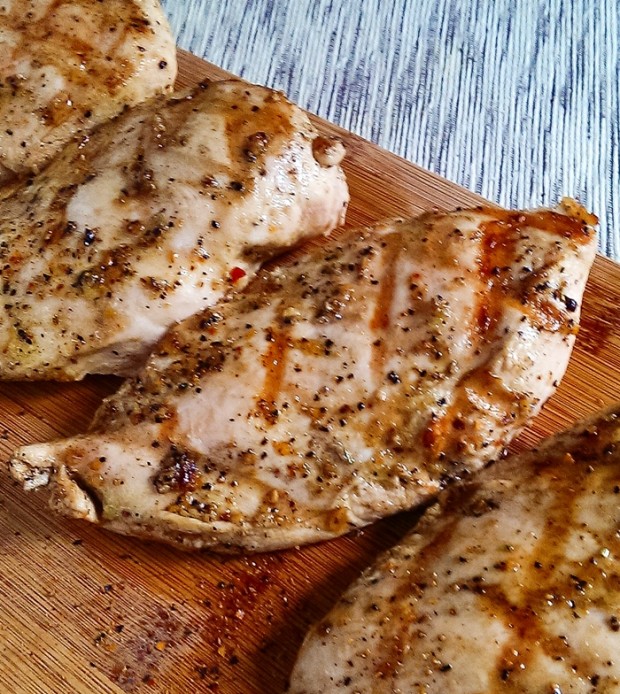 You may also like :