Having the right type of equipment in your kitchen can help save you time, prevent frustration, and just make cooking a heck of a lot more fun for you and your family.  I think everyone should have a blender in their home to prepare smoothies and shakes.  Blenders are easy to use, and you can have your breakfast ready in under 2 minutes in the morning.  Since we all have busier schedules than ever, having a blender is a no brainer.  Which one do you buy though?  There are so many brands out there with different options and costs and you definitely don't want to break the bank.  Here are a few examples of some blenders with some different options and prices:
Hamilton Beach 58148 Power Elite Multi-Function Blender, Black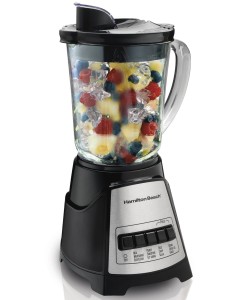 Here is your basic model of blender.  It definitely doesn't break the bank as this particular model comes in at around $30.  This would be a great blender for the beginner smoothie maker.  This blender will blend ice or frozen fruit, but will have a bit of a harder time pureeing things like leafy greens or chia seeds.  It is a fairly study blender with a glass jar, and at 40 ounces can make 2-3 smoothies in one go no problem.
Blendtec TB-621-20 Total Blender, Black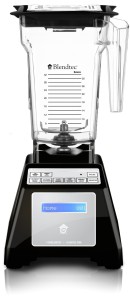 If you want something that can puree anything to a nice smooth consistency, than a Blendtec is the direction you want to go.  You can actually get some funny videos if you search "will it blend?" on YouTube.  They have blended broomsticks, IPods, light bulbs, and a lot of other things, just to prove how tough these blenders are.  The price of these bad boys is right around $400, which isn't actually that bad.  Some blenders like a Vitamix
, can range all the way up to $700.  These blenders really will last forever and will blend things like kale, ice, frozen fruit, and seeds into a nice smooth consistency with the rest of the liquid in your smoothie.  I actually use this brand of blender at The Edge School for Athletes, and I average 100 protein shakes a week.  These blenders will last for a very long time, so will most likely be a one stop investment, plus you will be drinking healthy smoothies too!
Hamilton Beach 51101B Personal Blender with Travel Lid, Black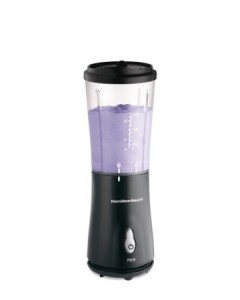 This type of a blender is perfect for single serve smoothies and shakes.  The price on this one is even better at around $20.  There are many different types you can get, and a lot of them will actually use the jar as a travel mug so you only have to dirty one dish.  It's great!
I hope this has helped you with deciding on what kind of blender you should get.  Like I said there are many other brands than this, but hopefully this will point you in the right direction.  Stay tuned for more reviews on other types of kitchen equipment that can help make your life easier.
You may also like :