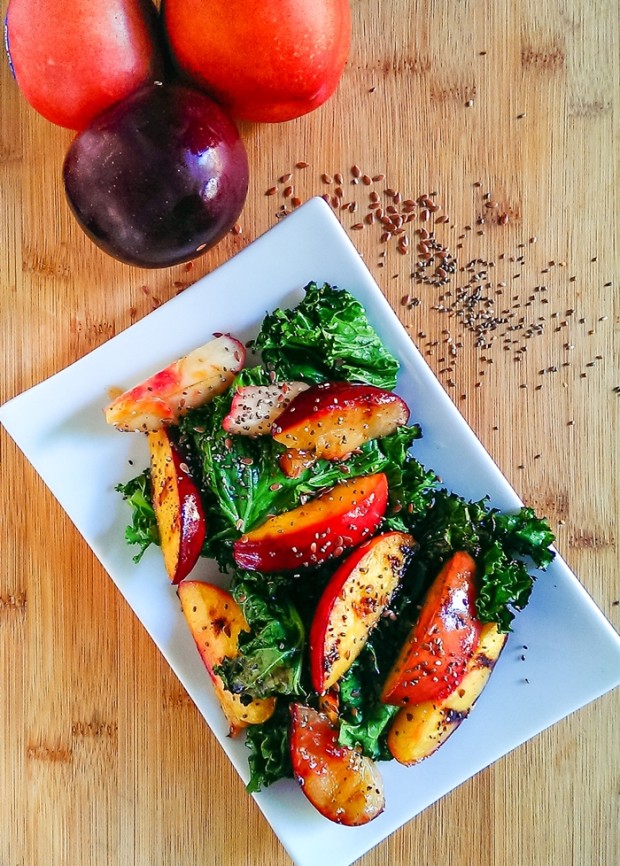 It's been over a week since I last posted.  I'm sorry friends!  That won't happen again!  This past week has been full of some ups and downs but now I am back with a delicious grilled summer fruit and kale salad.  If you didn't check out my last post, you should learn more about Leanne Vogel and her Real Meals Meal Plan Program and see how it can make a difference in your health.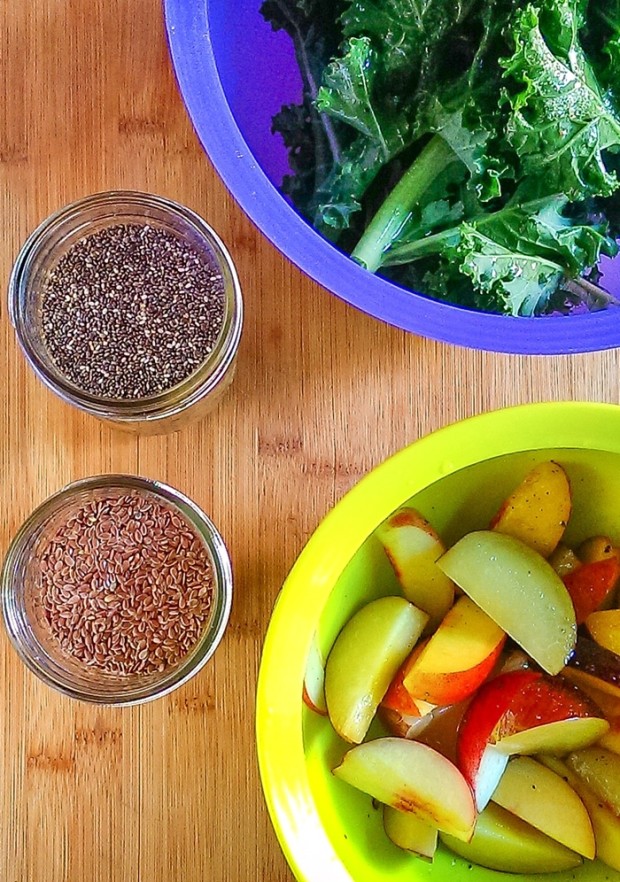 So I've decided that I love grilled fruit.  Have you guys ever tried it before?  You should.  It adds this whole other dimension to the way fruit tastes.  It's sweet, caramelized flavor is just….wow.
Be careful though!  It's very easy to burn the fruit because of it's high sugar content.  The time it took me to grill the nectarines and plums was roughly 5-7 minutes on medium heat.  Make sure your grill is really clean and well seasoned.  The fruit may stick to the grill and then fall through.  Don't do that!  The picture below will show you what kind of grill marks you are looking for on your fruit.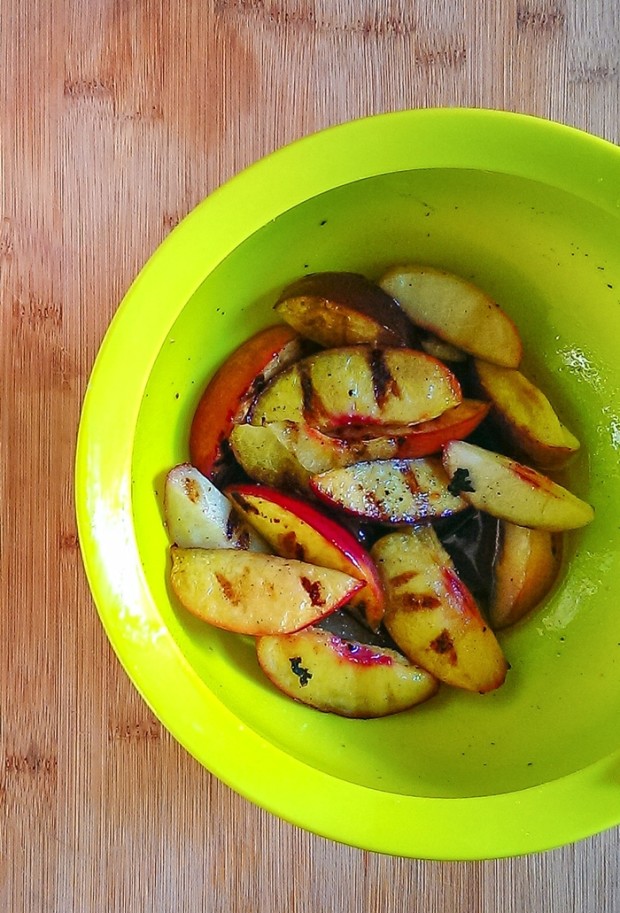 The kale just needs a minute or two on the grill at the most.  It will start to wilt quickly, and the purpose of the grilling is to cook the leafy green, while trying to maintain it's bright vibrant color.  It will also add a nice sweetness to the kale.
The only other thing I added to this simple salad was some flax and chia seeds.  What else could you add you ask?  How about some diced cheddar?  Almonds perhaps?  This is a really great base salad, and you can add so many different ingredients to it.  Let me know what you would add in the comments below!
Got it?  On to this simple recipe!

Grilled Summer Fruit and Kale Salad
Prep time:
Cook time:
Total time:
Ingredients
1 medium sized red plum, sliced
1 medium sized nectarine, sliced
½ head of kale, kept whole
1 teaspoon of chia seeds
1 teaspoon of flax seeds
½ cup of diced cheddar (optional)
2 Tablespoons of vegetable oil
1 Tablespoon of white balsamic vinegar
Salt and pepper to taste
Instructions
Make sure your grill is turned on to medium high heat. Season well.
Take both the nectarine and plum and make vertical cuts of equal size all around the fruit. Using a paring knife cut out little wedges and toss with the balsamic vinegar and half the canola oil. Season with salt and pepper.
Toss the kale with the other half of canola oil and season with salt and pepper as well.
Put the fruit on the grill and cook for 3 minutes per side. The wedges of fruit should have nice grill marks on them and have softened slightly.
Add on the kale leaves and grill for just a moment or two. The kale will make a crackling sound, but don't let it sit on for too long.
Allow everything to cool in the refrigerator.
Cut the kale into bite sized strips and toss with the fruit, flax, chia, and cheddar (optional) Serve
This really is an easy salad that takes advantage of delicious, seasonal produce.  You will be surprised how little you need to add to a recipe when you have ingredients like this.  Respect them and they will reward you with delicious flavor.
You could even have this salad for breakfast.  It's the perfect way to start off your day.  Have you grilled fruit before?  What kinds of fruit did you grill?  Let's chat in the comments below!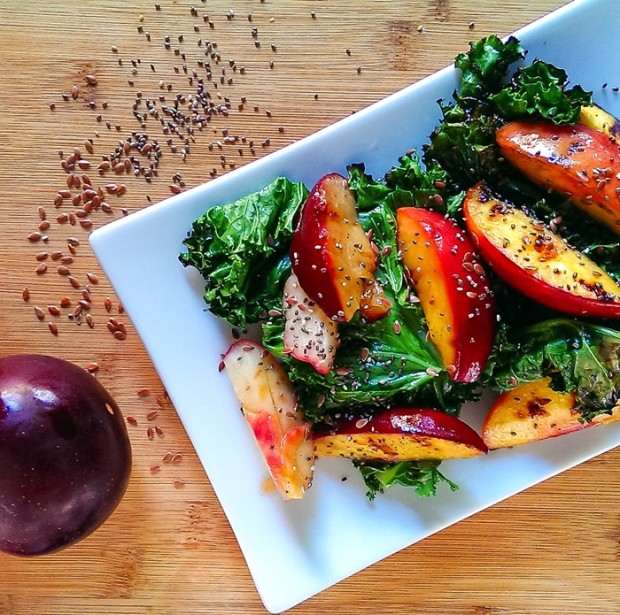 You may also like :