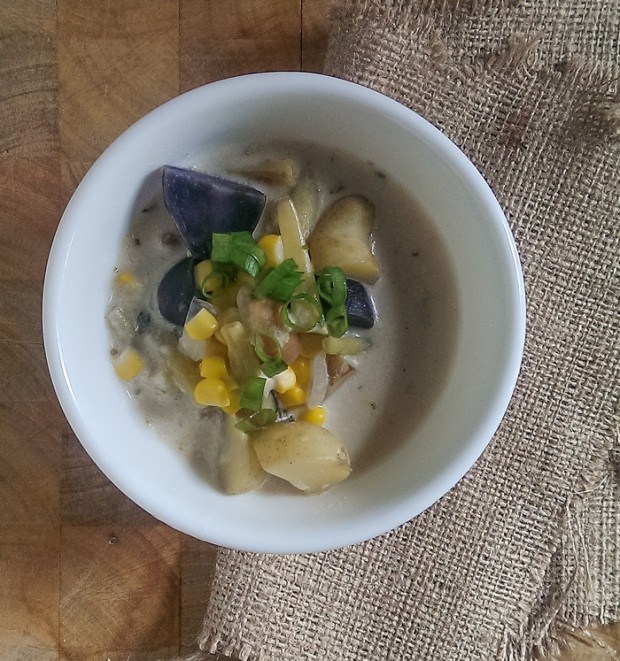 Man do I love corn!  I remember growing up eating so much of the stuff on weekends for Sunday dinners.  My dad would go out and buy 10 cobs at a time, and we would just go through it like crazy.  I wanted to try something different with this recipe today, and now one of my favorite things to do with corn is grill it!
This grilled corn and coconut chowder is sweet, salty, and perfect to showcase the corn I picked up from the Cherry Pit in the Calgary Farmers Market.
Sharla and the Cherry Pit have been around since 1995, where she started in Canmore with two tables, selling local B.C. produce every weekend.  She has a deep passion for fresh, locally grown vegetables, and she generally cares about peoples health and what her produce can do.  She has 8 rules of vegetable enjoyment, read them here!
I know that corn has gotten a bad reputation for being a highly modified product.  It's usually genetically grown on a massive scale and is used in just about everything.  The corn that I received from Sharla is straight from Taber, Alberta, and is locally grown and a Non-GMO product.  She even had a certificate that made it official!  Taber corn also has a lot of flavor, and is really sweet.  I also picked up some baby potatoes, white beans, and green onions.  I was ready to make some chowder!
This recipe is simple and makes use of the natural flavors of the produce.  The secret to the flavor is grilling the corn and then cutting it right into the chowder and letting it simmer for a good half hour to develop the flavor.
Grilled Corn and Coconut Chowder
Prep time:
Cook time:
Total time:
Ingredients
3 cobs of taber corn
½ a white onion, finely chopped
3 cups of white beans, chopped
3 cups of baby potatoes, quartered
2 cloves of garlic, finely chopped
1 teaspoon of fresh thyme, finely chopped
½ cup of sliced green onions
3 tablespoons of olive oil
1 liter of organic vegetable stock
1 can of coconut milk
½ cup of gluten free rice flour
salt and pepper to taste
Instructions
Turn on your grill to medium high heat. Shuck the corn and season with half the oil, salt, and pepper. Grill the corn until it gets a nice brown color to it, and then set it aside to cool.
In a pot, heat up the rest of the oil and start to cook the potatoes, onions, garlic and beans until soft and lightly browned. Cut the kernels off the corn into the pot and add in the chopped thyme. Cook through for another few minutes and then add in the stock and simmer for 15 minutes until the potatoes are nice and soft. Add in the coconut milk and heat to a simmer. Whisk the rice flour with a half cup of water, and slowly add into the chowder. As the chowder simmers, it should thicken.
Once the chowder can coat the back of a spoon, season it with salt and pepper and serve.
This has been such a fun journey with the Calgary Farmers Market so far.  I get to pick up local fresh produce, make delicious recipes for Heather and I, and then I blog about it!  It's a rough life but someones got to do it!
You may also like :