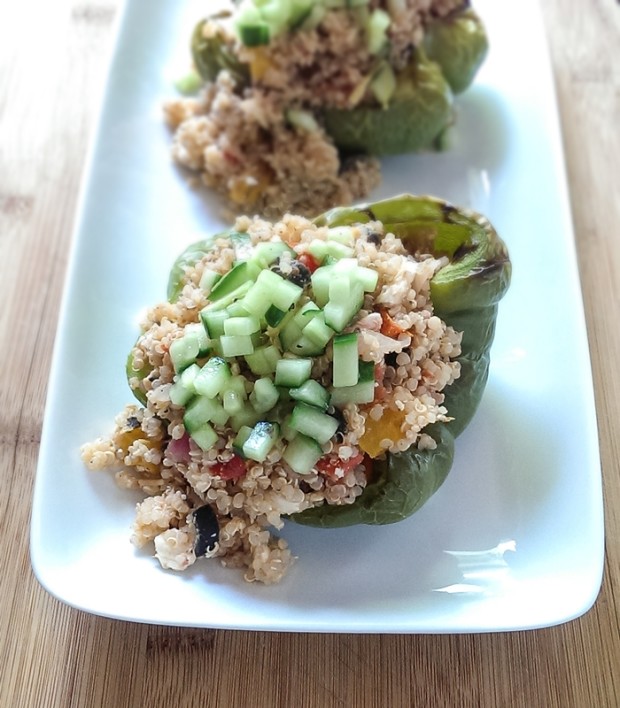 I have no problem eating a tasty vegetarian meal when it's something like this.  Quinoa is always filling, and the recipe for my roasted peppers is also something you don't want to miss.  All you have to do is mix everything together with some feta, olives and top it with a nice cucumber salad.  Make sure to dice up the cucumbers nice and small like in the picture.  It makes your food look fancy.  Now you will be able to wow all your friends with an easy vegetarian meal, that's packed with a lot of flavor, and garnished professionally.
If you want to make this a completely vegan meal, you can opt out of the feta.  It's a great meal that stands all on its own.  It's very complete, clean eating, and very healthy.
I also know that this isn't a low oxalate meal.  Quinoa unfortunately is high in oxalate as well as the peppers and cucumbers.  hat;s okay, Heather didn't want to eat them anyway.
More for me!

Greek Quinoa Stuffed Peppers
Prep time:
Cook time:
Total time:
Ingredients
2 Green Peppers, halved with seeds removed
Roasted Peppers
1 Red Pepper
1 Yellow Pepper
2 Tablespoons of balsamic vinegar
2 Tablespoons of olive oil
the juice and zest of one lemon
Salt and pepper
1 Tablespoon of dried oregano
1 teaspoon of dried basil
Salt and pepper to taste
Stuffing
4 cups of cooked quinoa
1 cup of the roasted peppers mixture
¼ cup of black olives sliced
¼ cup of crumbled feta
Garnish
½ cucumber, ¼" dice
1 teaspoon of white wine vinegar
juice of half a lemon
1 teaspoon of olive oil
Salt and pepper
Instructions
To make the roasted pepper mix, quarter the red pepper and yellow pepper and removed the stems and the seeds. Toss the peppers with the vinegar, olive oil, lemon juice, zest, and the dried herbs.
Season well with salt and pepper and put on a baking tray.
Broil in your oven until the peppers are well caramelized.
/4 inch dice the peppers and mix a cup with the rest of the stuffing. Make sure to season well.
Stuff the quinoa mixture in the green peppers.
Bake at 400 degrees Fahrenheit until the peppers are soft and the stuffing is hot, approximately 20-25 minutes.
Take the peppers out of the oven and garnish them with the cucumber salad.
Serve
This is my second awesome delicious stuffed pepper recipe, but so far it's my favorite.  If you want to check out my
tomato and goat cheese stuffed pepper
, and let me know which recipe looks better in the comments.  It's okay though, you can tell me they are both equally delicious looking.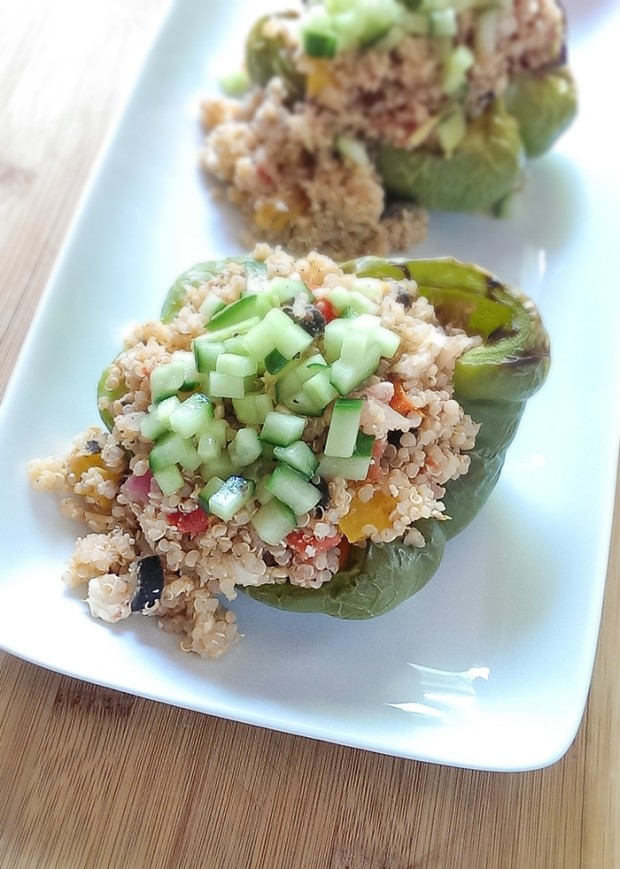 You may also like :