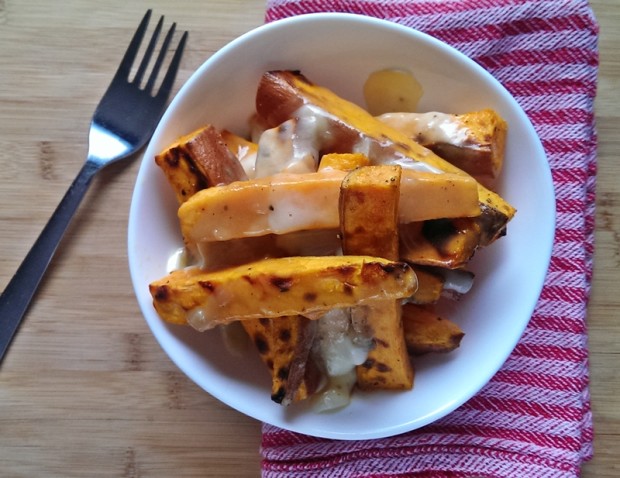 When you think about an indulgent classic, poutine has always been a favourite.  It's been around for a long time in Canada, and I think was designed for us to survive long winters on.  The rich beef gravy with greasy French fries and cheese curds are a staple in Canadian cuisine, but why does it have to be so unhealthy?  I know moderation is everything, so I am definitely not saying you shouldn't eat it!  This recipe I came up with should be a nice break from the mundane and allow you to try something new.  I think this creation is just as good as the original recipe, and it got Heathers approval tonight!
This version uses baked yam wedges in place of the classic French fry.  I made a really quick and easy gravy that was thickened with brown rice flour, and has a really nice garlic flavor to it.  Instead of the cheese curds I opted for extra cheesy buffalo mozzarella.  You are probably asking yourself if this is considered a healthy dish.  Compared to a salad, it probably is a bit more indulgent.   I don't call this website Fresh Menu Planner because everything I cook is low calorie or fat.  I call this website Fresh Menu Planner because I make everything from scratch, and it's fresh and healthy.  Again everything in moderation.  There are a lot of healthy fats, good high quality Himalayan pink salt, and lots of cheese!  I love cheese!
Gluten Free Yam Poutine
Recipe type:
Appetizer, Side
Prep time:
Cook time:
Total time:
Ingredients
2 Yams, washed well and cut into wedges
2 Tablespoons of olive oil
salt and pepper to taste
¼ cup of finely diced white onion
1 clove of thinly sliced garlic
1 Tablespoon of butter
¼ cup of brown rice flour
2 cups of organic beef stock/broth
¼ cup of sliced buffalo mozzarella
Instructions
In a small sauce pot, heat up ½ a Tablespoon of olive oil with the garlic and onions.
Cook until golden brown and then add in the butter and melt.
Add in the flour to make a roux and cook out for a few minutes.
Add the beef stock in parts whisking vigorously to get out all of the lumps.
Let simmer for 5-10 minutes, and then season with salt and pepper.
Season the yams with salt and pepper and toss with the olive oil.
Broil in the oven until golden brown.
Melt the mozzarella cheese on top and ladle on the gravy
Does anyone have a dairy free alternative that they would use to replace the cheese? The gravy could be made with an extra Tablespoon of olive oil in place of the butter, but I am not familiar with a lot of dairy free alternatives so I would like to learn more.  Comment below with your suggestions.  Hopefully you guys have liked part 2 of many recipes that I hope will allow you to break free and indulge in a healthier alternative to traditional less than healthy staples.  Did you check out my turkey shepherds pie with butternut squash?  Make this recipe tonight by clicking here.  Have a happy Monday everyone.
You may also like :