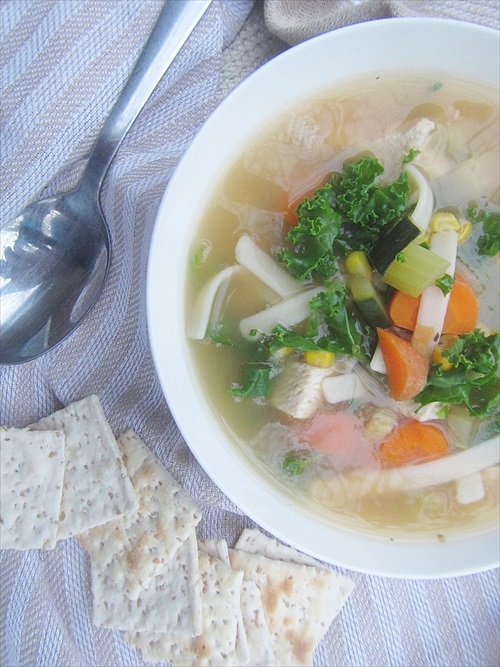 So Heather posted on Facebook today that she went from feeling great to getting sick super fast.  She left work early and finished up the rest of her work at home.  I thought this was the perfect time to whip up a turkey noodle soup recipe.  Yeah I decided I was too good for chicken and wanted to create my own super healthy version of this classic!
The problem is that I do have to be careful because Heather likes her soup a certain way, generally just meat and noodles.  I wanted to try and fit some vegetables in there, especially our super food friend kale.  I talked about kale's benefits in my first super foods post.  Read it here. It sadly didn't end up working out for her as she just ate the noodles, chicken and broth, and left me to eat the rest of the vegetables.  She did say that the soup was delicious (Phew!) but the veggies just weren't for her!
I think this soup is perfect for a day when you aren't feeling quite like yourself.  The turkey is a great replacement for chicken, and the rice noodles were a great addition.  I also didn't use an ounce of oil, everything was baked and thrown into the broth. Everything is all natural of course. There are lots of herbs,  some lemon juice, and even a bit of hot sauce to help burn out the sickness! Let's hope it works for my love!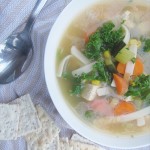 Gluten Free Turkey Noodle Soup
Ingredients
Gluten Free Turkey Noodle Soup

4-6 servings

1 

pound

of cooked and diced turkey breast

1

cup

of corn niblets

1/2

cup

of diced white onions

1

zucchini

diced

2

carrots

diced

1

clove

of garlic

finely chopped

1

teaspoon

of dried oregano

1

teaspoon

of dried basil

1

teaspoon

of hot sauce

1

liter

of chicken stock

2

cups

of water

1 1/2

cups

of rice fettuccine

broken into 1 inch pieces

the juice of half a lemon

1

cup

of finely sliced kale

salt and pepper to taste
Instructions
The turkey and chopped vegetables with garlic can be thrown into separate pans and baked at 400 degrees F until the vegetables are caramelized and the turkey is fully cooked.

Cut the turkey into a small dice, and set aside with the roasted vegetables.

Heat up the water and stock until it simmers and add in the raw noodles, and herbs and cook until al dente.  This will take anywhere from 7 to 9 minutes.

Add in the vegetables and turkey and simmer for another few minutes.  Season with salt and pepper, hot sauce, and lemon juice.  Enjoy!
This soup took me about 25 minutes to make, and there is enough soup for us for the next few days.  It's super easy, loaded with a lot of nutrients, and protein.  Lets just hope it helps Heather!

You may also like :