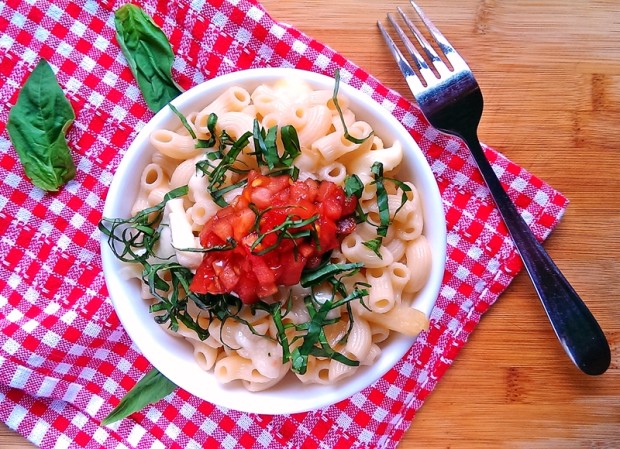 I want to try to make these macaroni and cheese recipes simple and easy.  It's so tempting to grab a microwavable processed version when you have had a long day.  These dishes can all be created in under a half hour, and the best part is, they are healthy.  They are made with natural ingredients, gluten free pasta, and some great cheeses.
Everything is better with cheese.  Especially Italian cheeses.  One of my favourite cheeses is really good buffalo mozzarella.  I love cutting up the little white balls of deliciousness with some vine ripened tomatoes and really old balsamic vinegar.  Also who doesn't love some fresh grated Grana Padano on some tasty pasta.
This mac and cheese recipe has the best of both worlds when it comes to Italian cheese.  It's a simple pasta with garlic, cheese, and diced tomatoes, and made with gluten free macaroni.
Making over classic dishes has been a lot of fun.  First it was my Turkey Shepherds Pie recipe, then my Gluten Free Yam Poutine, and I don't plan on stopping there.  I am even thinking of attempting some….BAKING recipes.  Baking scares the heck out of me, because cooking for the most part requires very little science, where ass if you don't add the right amount of liquid to your cookie recipe, then they will be hard as a rock!
I also have another plan to do a tasty recipe of a mac n cheese remake, and some more pasta favourites.  Pasta does get a bad reputation doesn't it?  Especially if it's a delicious pasta!  You'll just eat the whole pot of it won't you?  I know I have been guilty of it.  While I still don't recommend to eat that much of this macaroni and cheese in one sitting, you'll be happy to know all the ingredients are natural and healthy!  On to the recipe!

Prep time:
Cook time:
Total time:
Ingredients
4 cups of cooked gluten free macaroni
¼ cup of diced white onion
2 cloves of garlic, finely chopped
2 Roma tomatoes, ¼" diced
¼ cup of grated parmesan cheese
¾ of a cup of sliced buffalo mozzarella
1½ cups of organic vegetable stock
¼ cup of chiffonade basil
1 Tablespoon of olive oil
1 Tablespoon of balsamic vinegar
Salt and pepper to taste
½ cup of brown rice flour
Instructions
Cook the pasta according to the directions on the box, cool and set aside.
Mix the diced tomatoes with the balsamic vinegar and season with salt and pepper.
Heat up a pan with the olive oil and sauté the onions and garlic until translucent.
Whisk together the vegetable stock and rice flour until smooth.
Add into the pan and simmer until the sauce thickens and coats the back of the spoon.
Add in half of both cheeses into the pan and melt.
Toss in the macaroni and season with salt and pepper.
Serve into bowls, and top with the rest of the cheese, the tomatoes, and the basil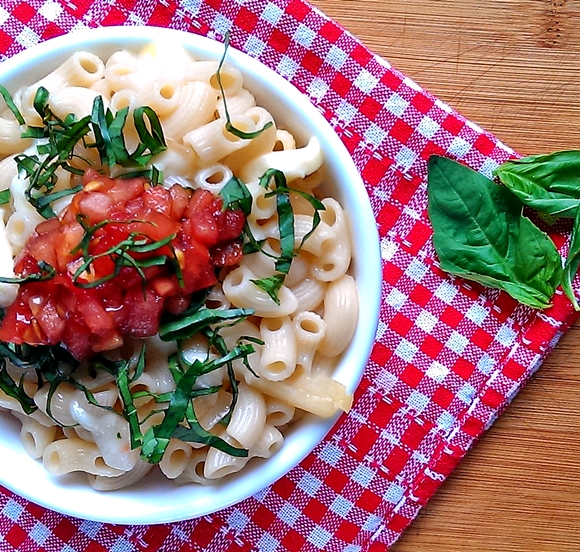 You may also like :