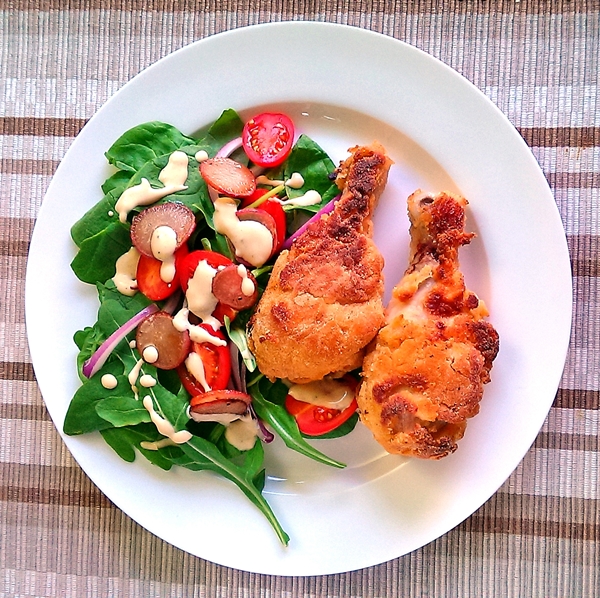 So by now I am sure you guys must be thinking that Heather and I are celiacs.  The last few recipes I have shared with you have been gluten free.  That is definitely not the case, Heather and I eat our fair share of pastas, it's one of our favorites!  I am simply offering some gluten free alternatives, but you guys can use whatever you like in these recipes.  I won't judge you.
Can you feel it?  I think it's almost spring time here in Calgary.  Supposedly we are getting some seasonal weather this week.  We always have this rule of thumb however.  We have a long weekend in May, and anytime after that we can take off our snow tires, or lock our shovels away in the garage for a few months at least.  I can't tell you how many times I have seen it snow in May.  I'm sure some of my American friends down south are wondering why the heck Heather and I put up with it anyways!  Apparently we are gluttons for punishment.
I wanted to try to create a really healthy version of one of our favorites, fried chicken.  If you live in Calgary and haven't been to Model Milk I suggest you try it as they have some of the best fried chicken in town.  What's even better is they serve it with waffles!  WAFFLES!
Anyway when I first made this dish for the blog, I must admit I made a fundamental mistake that I am going to share with you.  First you need to make sure that you flour the chicken first before you dunk it in the batter.  This will help the coating stick to the chicken.  If you don't do this the crispy bits fall off.  Don't let this happen to you.
Here is a simple recipe, for a crispy spicy fried chicken.  I didn't actually use a deep fryer, instead I pan fried it and finished in the oven.  It still stays nice and crispy, and you don't need as much oil.  Win win!  Feel free to add more hot sauce if you wish, I did!
Gluten Free Fried Chicken
Prep time:
Cook time:
Total time:
Ingredients
6 chicken drumsticks, seasoned well with salt and pepper
Flour Mixture
2 cups of brown rice flour. I use Bob's Red Mill
1 Tablespoon of chipotle powder
1 teaspoon of garlic powder
1 teaspoon of chili powder
Batter
1 cup of Greek yogurt
1 cup of water
1 Tablespoon of hot sauce (you may have to search for a gluten free variety, check the labels!)
the juice and zest of one lemon
1 teaspoon of honey
¼ cup of avocado oil, or olive oil
Instructions
Whisk together both the dry ingredients and the wet ingredients separately.
Dredge the seasoned chicken drumsticks in the flour mixture.
Shake off the excess and then dump the chicken into the wet mixture. Let sit for 5-10 minutes.
Shake off the excess again and dredge into the flour mixture one more time.
Note: Make sure to use different hands for each mixture, you don't want the batter to get clumpy.
Heat up the oil in a skillet or pan on medium high heat. Brown the chicken on both sides until lightly browned, but not too dark.
Transfer to a baking sheet with a wire rack. Cook in a 375 degree oven until the chicken is cooked. Use a thermometer and pull the chicken out when the temperature reaches 170 degrees F.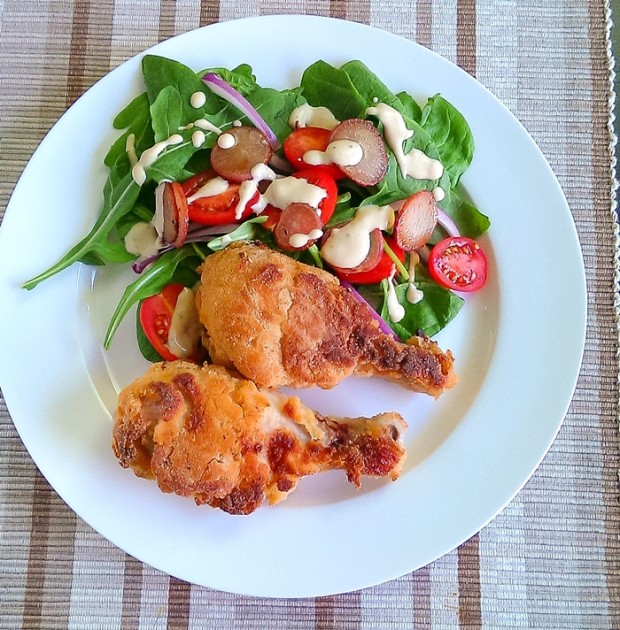 You may also like :