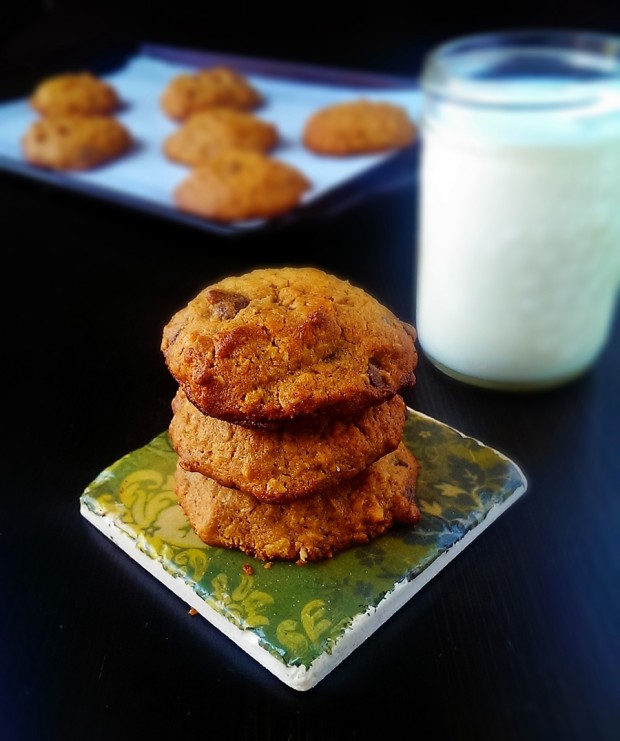 I did it!  I finally made a cookie recipe I like and can share with all my fellow Fresh Menu Plannerers.  Yeah I know, that didn't make any sense.  I'm just so pumped about these high protein chocolate chip cookies that I can't help it!  I've never really been much of a baker.  I took it in culinary school of course, but after I graduated, never really had to apply what I learned!  I find baking to be too much of a science most times, and that's why I prefer regular cooking.  You don't have to worry about adding too much flour, or moisture, or living at the wrong elevation (all of these things effect baking let me tell you!)
These chocolate chip peanut butter cookies are in fact gluten free.  I had to do my homework to make sure that quick cook oats were in fact gluten free, and traditionally they are.  A lot of times what happens is the oats are processed in a plant with grains and flours that are contaminated with gluten already.  I've mentioned them before, but Bob's Red Mill makes a few types of gluten free oats.  Just make sure to check the bag first!
I used organic coconut palm sugar, and organic peanut butter for these cookies.  Also because I am a guy and I love protein, I used a scoop of my favourite chocolate protein powder.  I shared these cookies tonight with Heathers family, and they really like it.  Heather liked them too which makes me know I made 'em right!  She was so proud of me!  The last batch of cookies I made before this were just…..ummm….awful to say the least.   I'm now inspired to make some more baked goods in the coming weeks so stay tuned for some healthy cookies, muffins, and more.
On to the recipe!  This recipe makes 15 cookies about triple the size of a toonie.  They are surprisingly light with the addition of the protein powder, but you won't feel like crap after eating a couple of these, which Heather and I did tonight!  Did I mention that Heather thought these were the best cookies she's ever had?  That's worth pinning to a healthy cookie board on Pinterest right? =-)  come on, you know you want to do it.
Please let me know what you think of this recipe, as I always appreciate any and all feedback, just send some comments my way!
Gluten Free Chocolate Chip Peanut Butter Cookies
Prep time:
Cook time:
Total time:
Ingredients
½ cup of organic peanut butter
¾ cup of coconut palm sugar
½ cup of soft butter
1 Tbsp. of milk
½ tsp. of ground cinnamon
1 egg
1 tsp. baking powder
1 cup of brown rice flour
1 cup of gluten free quick oats (I use Bob's Red Mill)
½ tsp. of salt
¾ cup of Camino's organic chocolate chips
¾ of a scoop of chocolate protein powder
Instructions
In a large bowl combine sugar, peanut butter, and soft butter and beat until creamy.
Beat in the egg and the milk until smooth.
In a separate small bowl, sift together the flour, cinnamon, salt, baking powder, and chocolate protein powder.
Add the dry ingredients to the wet ingredients.
Mix in the chocolate chips and gluten free oats.
Place Tablespoon sized spoonful's two inches apart on a baking sheet.
Bake at 350 degrees Fahrenheit for 12 minutes, or until golden brown all over.
Cool and serve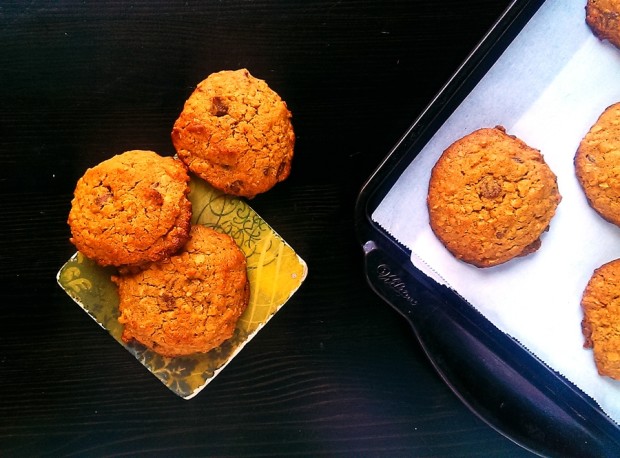 You may also like :