I had asked some people on the Fresh Menu Planner Facebook page for some requests on slow cooker recipes.  I got one request from a woman who wanted a crock pot dish that she could turn on first thing in the morning and have ready when she gets home.  She works 8-10 hours a day and needs something low maintenance that can simmer all day.
I chose a classic French dish and did my own twist on a beef bourguignon.  I love mushrooms and beef, and they are even better cooked for hours in a rich red wine gravy.  I have been using rice flour to thicken these crock pot dishes and it works really well too.
I cooked this dish for our friends last night for Heathers birthday party and it was definitely a hit.  I even had to drive some over to a friends house tonight!
It's really simple to put together and you can turn it on first thing in the morning and it will be ready when you get home from work.
Gluten Free Beef Bourguignon (Makes 6-8 servings)
2 pounds of stewing beef 1″ dice(I actually used outside round for this batch and it was perfect)
1 pounds of parsnips 1/2″ dice
1 pound of carrots 1/2″ dice
4 cups of cremini mushrooms 1/2″ dice
1 medium white onion 1/2″ dice
4 cloves of pureed garlic
2 Tablespoons of butter
2 sprigs of rosemary
1 cup of rice flour
1 cup of water
1 liter of beef stock
1 cup of red cooking wine
2 Tablespoons of olive oil
Salt, pepper, and steak spice to taste
Method
Heat up a large pot with half of the olive oil and butter.  Season the beef well with salt, pepper, and steak spice and brown the meat.  Deglaze the pot with half the red wine and add to the crock pot.
Add in the rest of the butter and oil and sauté the vegetables and garlic until they get some color on them.  Deglaze with the rest of the red wine and add to the crock pot.  Add the beef stock and rosemary and put on the lid.  Simmer for as long as you like, but it will at least take 4 hours to cook the beef.  With the last 15 minutes of cook time, create a slurry with the flour and water and add to the stew.  Let simmer and thicken and serve.
If you can't have dairy, feel free to use extra olive oil when browning the meat and vegetables.  I made a double recipe for our friends, and I think I still have a weeks worth left.  All of my dinners are taken care of for the week!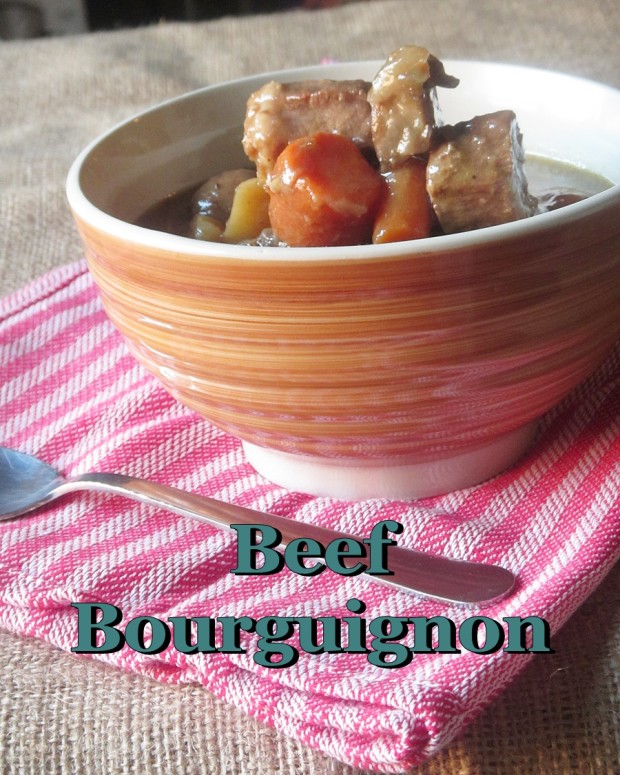 You may also like :