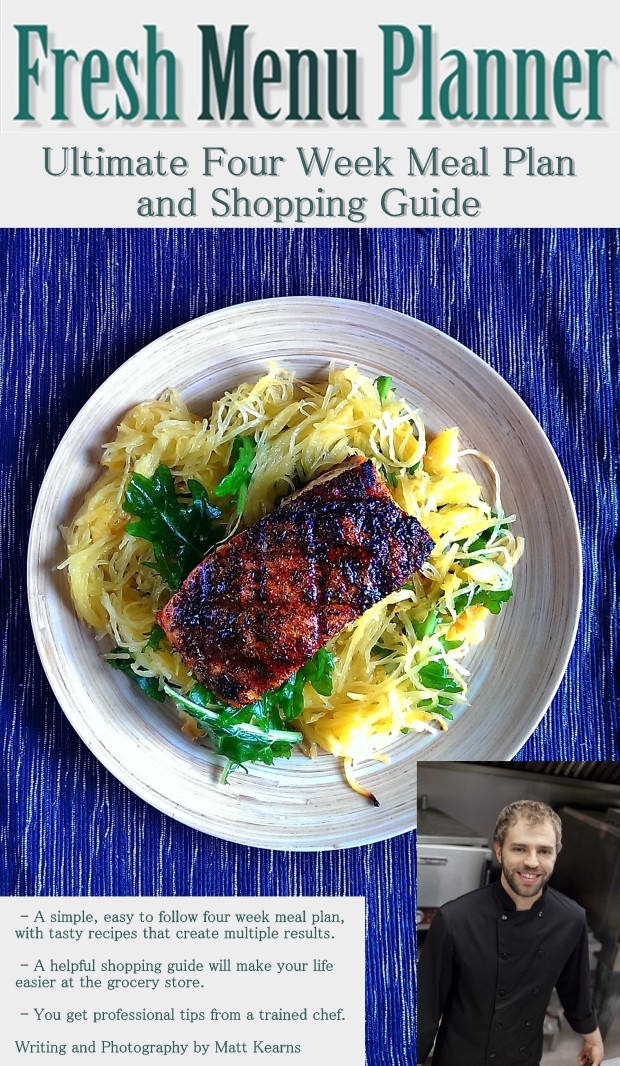 My first Kindle E-Book is finally here!  I'm so excited to share with you meal plans that can help make your life easier in the kitchen.  This helpful meal planning cookbook is designed to guide you through the meal planning process through the mind of a professional chef.  Which is me! Weekly meal plans should be simple, quick and easy, and effective with different delicious results each time, and this meal planner does just that. This book isn't filled with hundreds of recipes, but rather walks you through a weekly meal planner with nutritious meals that can be made simply and repeated over and over again. Think of this eBook as a "teach yourself to fish, and you eat for a lifetime," kind of approach.
Here is what this E-Book offers you:
Weekly Meal Planner
You get a four week meal plan with easy to create recipes that can be used over again and get different results each time.  You will get recipes for breakfasts, lunches, dinners and healthy snacks.
Shopping Guide with Itemized Lists
Each weekly meal plan will come with its own shopping list.  It will show you everything you need to buy from protein, vegetables, fruits and items from the pantry.  I even include a detailed grocery shopping guide with a bunch of tips to make life easier when shopping for food.
Professional Chef Tips
This meal plan will change each week depending on what protein, vegetables and starches you would like to buy.  I show you simple ways to prepare different items so they taste good, and are easy to store for the next day.  Everything from chicken, beef, seafood, and different types of produce can be prepared easily with this guide.
With this weekly meal planner E-Book you will get unlimited meal plans for under $5 US.  This book is great for anyone who struggles in the kitchen, or a family that is looking to try some different dishes that are still healthy.
This E-Book is available in the Kindle book store.  All you have to do is click on the picture above or you can click below and get your copy.
Thank you for checking out me E-Book, and leave a review and let me know how it helped you.  Keep it Fresh!