So as I have mentioned before, my wife Heather and I love fish tacos!  A lot of time when we go out for dinner if a place sells fish tacos, we will definitely try them.  Everybody makes them differently but one of the things I love about fish tacos, is that they are actually quite healthy!  The combination of healthy fats from the fish and homemade guacamole, plus any vegetables you add make these guys a great idea for dinner.
I have already shown you one way to make a delicious fish taco, but I know a lot of people are concerned with the amount of calories and sodium in any type of tortilla shell, be it whole wheat or white.
I tried out this recipe with pita, something that is lower in calories and sodium.  You can use whole wheat or white, but it is entirely up to you!
Here's what you will need for these delicious fish pitas
Blackened Fish Pitas With a Yogurt Chipotle Coleslaw
Ingredients: (Serves 4) Time to make – 20 minutes
Fish
1 pound of tilapia
1/2 cup of frozen corn
1 1/2 cups of thinly sliced red peppers
1 teaspoon of chipotle powder
1 teaspoon of chili powder
1 1/2 Tablespoons of olive oil
salt and pepper to taste
Coleslaw
3 cups of shredded purple coleslaw
1 cup of thinly sliced red onions
1 chipotle pepper  finely chopped (you can buy a can of chipotle peppers in the Mexican section of any grocery store)
1/2 cup of plain Greek yogurt
1/2 teaspoon of lemon juice
1 Tablespoon of apple cider vinegar
4 pitas cut in half and opened
Method
First heat up a pan with the olive oil.  Season the tilapia fillets with the spices and salt and pepper and sear in the pan.  Flip over the fish and top with the peppers and corn and broil in your oven for 3 to 5 minutes until the fish is flaky.
Mix together the yogurt, lemon juice, apple cider vinegar and chopped up chipotle peppers with a whisk and set aside.
Toss the dressing well with the cabbage and red onion.
Cut the pitas in half and distribute the coleslaw and fish mixture evenly between all of the pitas.  Enjoy!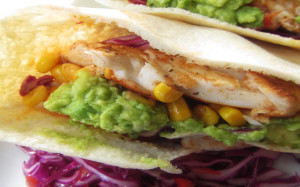 Here is my 5 minute guacamole recipe too if you want some delicious healthy fats to add to your pitas!
5 Minute Guacamole
2 ripe avocados, pitted and mashed into a bowl
1 Tablespoon of extra virgin olive oil
1 teaspoon of hot sauce
the juice of half a lime
1 clove of garlic, finely chopped
salt and pepper to taste
Method
Mix together all ingredients until still a little chunky but well incorporated.  Make sure to season with salt and pepper!
Let me know what you guys think of these pitas!
Nutritional Information (Per Serving) – 255  calories, 26 grams of protein, 23 grams of carbs, 297 mg of sodium, 4 grams of fibre, 7 grams of fat
You may also like :