I hope everyone had a fantastic Christmas this year!  Heather and I actually watched some movies on Christmas Day, and I didn't know it would have been so busy!  My wife knew better though.  She's so smart!
This simple recipe for a delicious breakfast uses up some leftovers from the holiday feast.  I am sure a lot of people still have a liter of cranberry sauce sitting in their refrigerator, as well as some mandarin oranges that weren't consumed.  This gave me a great idea for breakfast.
Steel cut oatmeal!  It's a great breakfast for before or after a workout, and it will keep you full and happy all day.  I used the Bob's Red Mill steel cut oats
, and they aren't gluten free.  Bob's Red Mill is a fantastic company though and also has gluten free steel cut oats
, so I won't be leaving any celiacs out on this recipe!
To sweeten this oatmeal I actually used organic sweetened dried coconut, as well as coconut palm sugar
, but feel free to use whatever you like.
Cranberry, Coconut, and Orange Steel Cut Oatmeal (Makes 4 servings)
2 cups of steel cut oats
4 cups of water
1 teaspoon of coconut palm sugar, or any sweetener you like
2 mandarin oranges, peeled and chopped
1 cup of leftover cranberry sauce
1 teaspoon of dried, sweetened coconut
OPTIONAL – 1 teaspoon of chia seeds or flax seeds
Method
Boil the water and add in the steel cut oats.  Add in a pinch of Himalayan salt and slowly boil until the oats are tender but still have a bite.  This should take 20-25 minutes.  Make sure to stir often and don't boil the oats too fast.  They will burn to the bottom of the pot.
Once the oats are almost cooked incorporate the palm sugar, and then add in the other ingredients.  Serve right away.
Another option would be to portion the steel cut oats into Tupperware containers and portion the fruit separately.  All you would have to do in the morning is put a batch of steel cut oatmeal into a small pot with the fruit and add 2 tablespoons of water and heat until hot.
I just had this oatmeal for breakfast after my workout today and it was perfect.  Try it out and let me know what you guys think!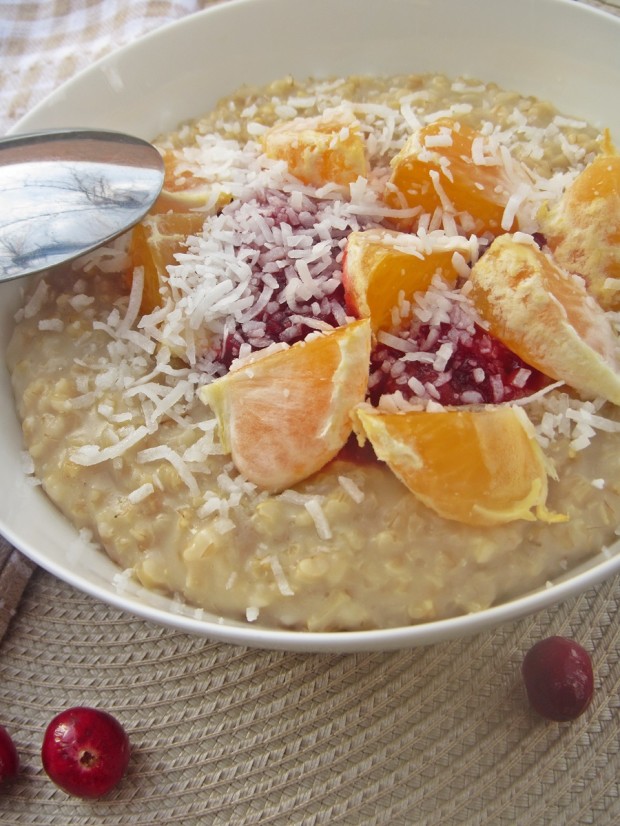 You may also like :